By David Russell
Great Atlantic & Pacific Tea (GAP) saw call buying Tuesday and is is fighting its way higher this afternoon, but one investor is taking the other side of the trade.
optionMONSTER's Depth Charge tracking system detected the purchase of 2,000 January 12.50 puts for $1.05 against open interest of 47 contracts. The trade pushed overall options volume in the name to more than four times greater than average.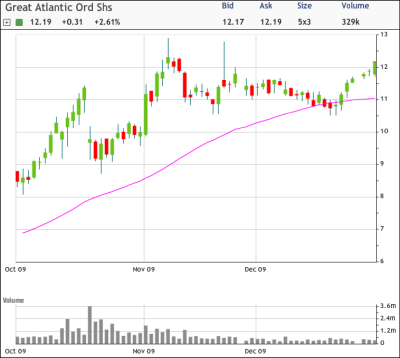 GAP is up 2.61% to $12.19 and has risen 8% in the last five sessions. The owner of A&P and Waldbaum's supermarkets gapped lower on a bad earnings report on Oct. 20 but has been pushing higher since then.
Yesterday Great Atlantic was the subject of bullish call buying as investors snapped up the January 12.50 calls for $0.50. GAP needs to fall at least 5% by expiration for today's put buyers to turn a profit.
Short covering is apparently a factor in the stock's movement because bets against GAP represented one-third of its float at the end of last month. Almost 12 millions shares had been sold short, about 14 times more than the average daily trading volume over the last three months.
If it breaks above resistance in the $12-13 area, it could be squeezed higher in a way similar to what occurred this month in Century Aluminum.
Puts account for 74% of the total options activity so far today in GAP.
(Chart courtesy of tradeMONSTER)