When we look at a drug from an investment standpoint, we want to look at how much revenue that drug can bring in. That revenue is derived from sales, and hopefully refills of the drug. Up-front sales are great and give a leading indication, while refills fill in the story of whether or not consumers are returning to use the drug again. As I have said many times, the key for investors is seeing how the data we can collect meets up to expectations of Wall Street. Wall Street's expectation may or may not be right, but it is the gauge which moves the equity.
We now have 20 weeks worth of sales data on Belviq, the anti-obesity drug from Arena Pharmaceuticals (NASDAQ:ARNA). This week we saw front end growth according to IMS (about 3%) and Symphony (about 7%), which is good and was received neutrally vs. street expectations. The refills were also fairly neutral in my opinion. See chart below: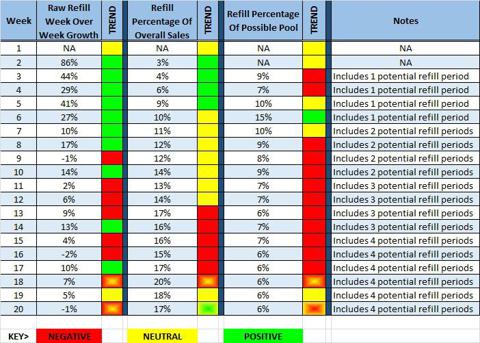 The raw refill growth week over week was modestly down, but essentially flat. I considered this to be negative/neutral, thus a red box blending to yellow. This is just the second time since the launch of Belviq that raw week over week refills have gone negative. The prior occasion was for the data reported involving Labor Day weekend. This week, the data would have included refills from two week free trials issued on Columbus day week. Thus, there is a reasonable explanation for why raw week over week growth was negative. With that being said, we are most certainly setting up for a very positive shift (or what appears to be one) in this category when we get the next data set on November 8th.
The refills as a percentage of overall sales measure the refills from the week compared to the overall sales in the same week. The concept here is to use this as a leading indicator. In essence, if we see impressive front end growth, this number will be lower. In this case, a low number is good. This week, the refills made up 17% of overall sales. That is trending down (and in the right direction) from the 20% we saw in this category just 2 weeks ago. I have categorized this as neutral with a bias to being positive. What we want to see is this number getting down to about 14% in combination with raw week over week growth. The trend is correct, we simply want to see it keep moving in that direction. With the data that will be reported on November 8th, we should see the impact of holiday's from the past shed influence. There will be the impression of impressive growth when we see the data next week.
With the refills vs. the possible pool, we are looking at ongoing refills of Belviq. I measure against the new prescriptions from two weeks ago to account for the free trial, and then go back in four week intervals to account for standard refills. I stop going back after that. Yes, some people will be on the drug longer than a free trial and 3 refills, but some will not as well. Through analyzing the data, I have set a parameter that I feel is reasonable and that can deliver results that we can monitor. This week, the refills represented 6% of the possible refill pool. I want to make it clear that this week's data does have a skew from holidays that carries a negative impact. I have characterized this week's data in this category to be neutral with a slight bias to negative. I expect next week's data to be positive as the holiday impact will not be a factor.
Overall, this week is what I would consider neutral. Please bear in mind that the sentiment is based on how I interpret the street's reaction to the data presented. The growth we are seeing with Belviq is good and still shows real potential. This is especially true when we consider that advertising, a bigger sales force, and seasonality of the anti-obesity market will begin to move to more positive areas in the months ahead. What I feel the street is expecting is modest growth through the end of the year.
We recently had Eisai report its quarterly results. That data given, while not full of exacting detail, demonstrates that the sales pace I have been projecting with weekly sales is realistic. This week we will see Arena report its numbers. That quarterly report is scheduled to happen on Thursday, November 7th, after the market closes. The results of that call can and likely will override the script data presented the following day. The good news is that I feel the script data will be well received. This is especially true with the refill component of the data. The bad news is that if the quarterly call is perceived as neutral or worse, a pop from the script data will not likely be high enough to offset the sentiment from the call. However, if the call is well received, the script data could be a catalyst to deliver a small pop.
Looking ahead to the data that will be presented on the 15th of November, we have minimal holiday impact. The data presented on the 22nd of November will carry Veterans Day. Investors need to bear this in mind. We will see a see-saw of sorts until the end of the year. If you are on the sidelines looking to get into this equity, the strategy would be to take advantage of the holiday dynamic when it presents itself. In my opinion, the next several weeks are about firming up positions and that the real growth potential will be a 2014 event. Stay Tuned!
Disclosure: I am long ARNA. I wrote this article myself, and it expresses my own opinions. I am not receiving compensation for it (other than from Seeking Alpha). I have no business relationship with any company whose stock is mentioned in this article.