The era of data collection and analytics (to increase efficiency and foster further innovation) is well under way. Massive amounts of data will need to be analyzed and managed. International Business Machines (NYSE:IBM) will be a big beneficiary of "big data" growth going forward, and shares are currently cheap. Data, mostly unstructured data, is expected to grow 800% over the next five years, and the company is positioning itself to capture much of this growth.
Betting big on "big data"
IBM has been aggressively expanding its big data portfolio, and is looking to increase its presence in enterprise data analytics. IBM is also specifically focusing on data visualization. Its Project Neo, for instance, is software that is capable of creating user-friendly graphical interfaces from large amounts of raw data. Set to Beta by early 2014, the software will allow business users to visualize their data without having to learn any new skills or analytics themselves. It will also be ran on the cloud.
Besides simplifying big data for enterprise users, IBM is also bolstering its cloud offerings to complement its analytics offerings. After recently acquiring IaaS provider SoftLayer, it looks like it will fit right in with Big Blue's long-term plans and also help it to better compete with Amazon (NASDAQ:AMZN).
A big acquisition
Prior to the IBM acquisition, SoftLayer was the largest privately held IaaS provider. SoftLayer differentiates itself from Amazon Web Services by its visibility into the actual hardware infrastructure of the cloud. The company's CEO Lance Crosby explained that:
"In SoftLayer, you can drill down to the server, the rack, the network board, the serial numbers ... everything down to the encryption level on the drive."
He continued with an example:
"We have a customer who is writing a big data solution for retail. They're using SSD drives, and their developers are saying "you should be getting better performance from the drives." The [customer's] develops guys looked into the drives, and their drives actually had two versions of firmware... They swapped the firmware on the drives -- they pushed a button and made an API call -- and performance went up 25 percent. In Amazon land, you've got to buy 25 percent more machine."
IBM is already deploying analytics solutions on its new acquisition, such as its SmartCloud Analytics-Predictive Insights. This software allows IBM's customers to sort through massive amounts of data related to IT operations in real time. This will apparently give enterprises the ability to avert potential problems before they become too large.
IBM plans to shut down its SmartCloud service and migrate users over to the SoftLayer public cloud platform by 2014. SoftLayer currently has a client base of over 21,000, which is rapidly expanding with IBM's backing. Crosby indicated that SoftLayer made 1,600 new customers in the past 90 days, largely because of the new association with the IBM name.
Cognitive computing and cognitive systems
IBM wants to lead in creating value out of big data. The company is using cognitive computing to help machines and computing systems "learn" and "understand"-- finding answers out of big data and learning from experiences. IBM sees that with big data comes the need to change how computing is done as a process.
Most modern computer systems have separate units for storing information and processing it sequentially, but like the neurons and synapses in our brains, IBM is developing computing systems that store and process information in a parallel way.
Take the company's SyNAPSE project for instance. In August of 2011, researchers at IBM successfully developed a "brain-inspired chip architecture based on a scalable, interconnected, configurable network of "neurosynaptic cores" that brought memory, processors and communication into close proximity." So what does this mean?
IBM's new neurosynaptic chips have the potential to spawn an entire new era of applications that mimic the human brain -- its cognition, its actions, and even its abilities of perception. The company's long-term vision is a chip system with ten billion neurons and a hundred trillion synapses, which use only one kilowatt of power and occupy less than two liters of volume. This system will be like the right side of our brains. This brings us to the left side -- Watson.
Watson and the future of computing
While IBM's new chips will address things like senses and pattern recognition, Watson will focus on language and analytical thinking. IBM intends to eventually merge the two, which will create "a holistic computing intelligence."
Watson will be a game-changer because of its potential ability to discover facts, form and test hypotheses, and generate conclusions from it all. The medical industry, for instance, is beginning to utilize Watson for analyzing unstructured patient records.
According to IBM, the amount of available medical information is doubling every five years, much of it is unstructured data, and is in "natural language." Watson's natural language capabilities give it the ability to mine relevant information from large amounts of this unstructured data to help physicians make a more accurate diagnosis, as well as "provide a list of potential diagnoses along with a score that indicates the level of confidence for each hypothesis."
Smarter cities and cars
IBM's Smarter Planet division, which encompasses its Smarter Cities projects, is helping cities with things such as water efficiency analytics, infrastructure planning, public transportation, and even crime fighting. Public agencies in major cities such as San Francisco, Boston, Toronto, and Hono­lulu currently use IBM's platform.
Urban populations are expected to continue to increase rapidly, and the need to make cities as efficient as possible is arising. IBM and competitor Cisco (NASDAQ:CSCO) are the top two smart city vendors. Globally, smart city technology markets will grow from $6.1 billion in annual revenue in 2012, to $20.2 billion by 2020, according to Navigant Research.
IBM also has another future growth driver up its sleeve with its MobileFirst solutions. Sprint (NYSE:S), for Instance, is utilizing this technology to enhance its Internet-connected car platform. Sprint will also be the first carrier to use IBM's MessageSight -- "an appliance designed to enable organizations to manage and communicate with the billions of mobile devices and sensors found in systems such as automobiles, traffic management systems, smart buildings and household appliances."
While MessageSight is still in its infancy stages, it will likely grow a lot more when the Internet of Everything, or IoE, really begins to kick in. The IoE is expected to be worth trillions, and IBM is positioned to profit from the connecting of machines, appliances, and devices to the Internet. It will also be a main player in data analytics and services as a result of all the data that's generated and collected from the IoE.
Fundamentals and valuations
IBM's recent quarter fell short in the revenue department, causing concern and a sell-off, but the company also maintained its full-year 2013 Operating EPS expectation of at least $16.25, or $16.90 when excluding a second-quarter workforce rebalancing charge. The solid earnings are encouraging, especially since gross profit margin was up a point as well. The company's massive backlog also expanded, reaching about $141 billion.
Revenues overall dipped, but revenues related to some key future initiatives actually grew. Business analytics were up 8% YTD, Smarter Planet up 20% YTD, and Cloud revenues were up 70% YTD. The cloud, the Internet of Everything, and big data analytics should all be growth drivers for the future. Smarter Planet revenue alone is projected to hit $10 billion by 2015, so Big Blue has numerous, diversified revenue streams on-line for the future.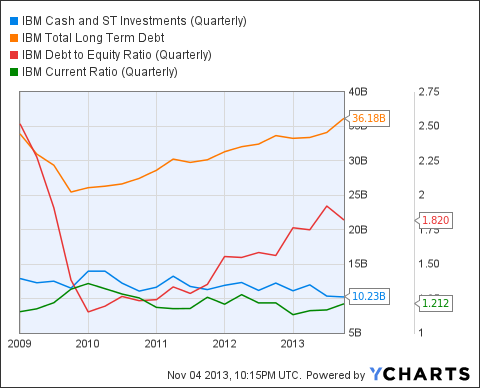 IBM Cash and ST Investments (Quarterly) data by YCharts
IBM's balance sheet is strong. While an initial impression of the company's debt levels may sound the alarm, much of this debt originates from its financing unit. Global Financing debt amounted to $25.8 billion, leaving Non-global financing debt at $10.4 billion. This means the company has about just as much in cash and short-term investments as it does in "core" debt.
The Global Financing segment is actually a money-maker -- which is why some refer to its debt as "good debt"-- and saw an increase of 6% in revenues, along with a 4% increase in pre-tax income. IBM is also continuing to see nice free cash flow (albeit it has dropped off a bit), which along with increasing earnings, helps protect its consistently increasing dividend. IBM shares currently yield a safe 2.1%, supported by a very low payout ratio.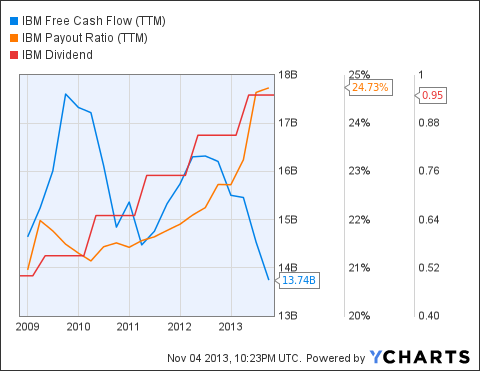 IBM Free Cash Flow (TTM) data by YCharts
The bottom line
IBM is being discounted because of short-term revenue concerns and possible long-term problems with its business model. The company, however, is known for adapting and overcoming. It has been heavily investing in the future of big data with both acquisitions and organic growth, which is lining it up for new growth initiatives and future revenue streams later down the road. With shares trading at only 10 times forward earnings, now looks like a good time to establish a position in Big Blue.
Disclosure: I am long IBM, CSCO. I wrote this article myself, and it expresses my own opinions. I am not receiving compensation for it (other than from Seeking Alpha). I have no business relationship with any company whose stock is mentioned in this article.