On Friday November 1, Energy Transfer Partners (NYSE:ETP) and Regency Energy Partners (NYSE:RGP) announced that their second natural gas liquids fractionator in Mont Belvieu, Tex., is now in service ahead of schedule and is pumping out ethane, butane and propane. The Lone Star Frac II is a 100K bbl/day fractionator that brings total fractionation capacity at Mont Belvieu to 200K bbl/day; a third fractionator may be on its way, pending approval of an air permit. In the wake of Friday's news I wanted to highlight a number of reasons behind my decision to remain long on shares of Energy Transfer Partners.
Recent Performance & Trend Behavior
On Monday shares of ETP, which currently possess a market cap of $18.68 billion, a beta of 0.72, a forward P/E ratio of 21.66, and a current dividend yield of 6.83% ($3.62), settled at a price of $52.99/share. Based on their closing price of $52.99/share, shares of ETP are trading 2.36% above their 20-day simple moving average, 3.42% above their 50-day simple moving average, and 9.89% above their 200-day simple moving average. These numbers indicate a short-term, mid-term, and long-term uptrend for the stock which generally translates into a moderate buying mode for most near-term traders and longer-term investors.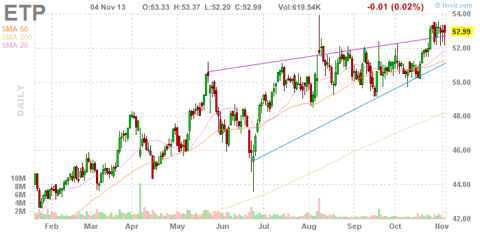 Recent Dividend Behavior
Between August 5, 2008 and August 1, 2013 Energy Transfer Partners maintained a quarterly distribution of $0.894/share. On October 31, 2013 the partnership increased its quarterly distribution by $0.01125/share or 1.15%. In my opinion, the company's forward yield of 6.83% ($3.62) makes this particular MLP play a highly attractive option, especially for those who may be in the market for a higher-yielding stream of quarterly income.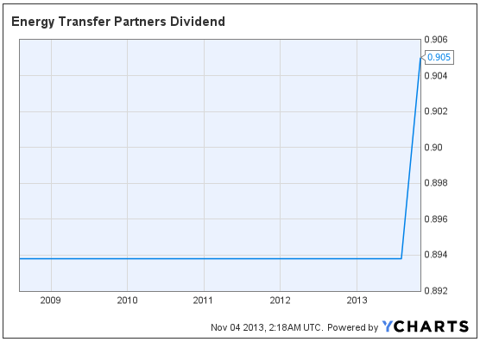 Upcoming Earnings
On Tuesday November 5, Energy Transfer Partners will report its earnings for Q3 2013 and analysts are expecting the partnership to report net income of $0.59/share and revenue of $11.43 billion. In my opinion, Energy Transfer Partners could surpass both earnings and revenue estimates especially since the partnership noted in the previous quarter that it had placed more than $2.5 billion in growth projects into service over the last twelve months. These projects may in fact help the partnership demonstrate increases in both adjustable EBITDA (my expected Q3 estimates fall into a range of $2.07 - $2.18 billion) and Distributable Cash Flow (my expected Q3 estimates fall into a range $925 - $970 million), as well as net income (my expected Q3 estimates fall into a range of $0.62/share - $0.65/share) and revenue (my expected Q3 estimates fall into a range of $11.50 billion to $11.85 billion).
Recent Developments at Trunkline
On Tuesday, October 1, Energy Transfer Equity (NYSE:ETE), Energy Transfer Partners and BG Group (OTCQX:BRGYY) (OTCQX:BRGXF) announced an agreement to jointly develop the liquefied natural gas export project at the existing Trunkline import terminal in Lake Charles, La.
According to Energy Transfer's press release, "The proposed project will include the construction of three liquefaction trains and will use the existing LNG storage and marine berthing facilities owned by Trunkline LNG Company, LLC (a wholly-owned subsidiary of Energy Transfer). Energy Transfer has also secured all property rights required for the site of the liquefaction facility. Energy Transfer will own and finance the proposed new liquefaction facility, and BG Group will have a long-term tolling agreement with Energy Transfer for the offtake, although BG Group may choose to assign some of its capacity or off-take to third parties. Trunkline Gas Company, LLC (a wholly-owned subsidiary of Energy Transfer), will provide pipeline transportation services to supply natural gas to the project".
When it comes to the LNG export project at Trunkline I think the prospects look fairly promising, since the US government has conditionally granted the authorization to export up to 15 million metric tons per year. That being said, I also think that the prolonged timetable may be cause for a slight concern since construction isn't set to begin until 2015 and exports aren't expected until 2019.
Risk Factors to Consider
According to Energy Transfer Partner's most recent 10-K, there are a number of risk factors all investors should consider. These factors include but are not limited to the fact that the partnership may sell additional limited partner interests, diluting existing interests of unitholders, the partnership's debt level and debt agreements may limit its ability to make distributions to unitholders and may also limit any future financial and operating flexibility, and lastly, any increase in interest rates could adversely affect the partnerships business, results of operations, cash flows and current or future financial condition.
Conclusion
For those of you who may be considering a position in Energy Transfer Partners, I'd keep a watchful eye on a number of catalysts over the next 12-24 months as each could play a role in the company's long-term growth. For example, near-term investors would want to focus on the company's recent performance and trend behavior, while long-term investors would want to keep an eye on the company's continued distribution behavior (which has been positive over the last few years) as well as any further developments that may occur as a result of its partnership with Regency Energy Partners or the LNG export project located at Trunkline.
Disclosure: I am long ETP. I wrote this article myself, and it expresses my own opinions. I am not receiving compensation for it (other than from Seeking Alpha). I have no business relationship with any company whose stock is mentioned in this article.