So far this earnings season, 1,444 companies have reported their quarterly numbers. Through Monday afternoon, the average stock that had reported had gained 0.18% on its report day. (For companies that report in the morning, we use that day's change. For companies that report after the close, we use the next day's change.)
Below is a chart showing the average stock's one-day change on earnings for each earnings season going back to 2003. As shown, if this season's average holds in positive territory, it will be the sixth consecutive quarter in which stocks have averaged gains on their earnings report days. Prior to the current streak, we'd only seen four consecutive quarters of gains back in 2005.
Earnings season can really be a rough time for the market, but over the past year-and-a-half, it hasn't made investors very scared at all.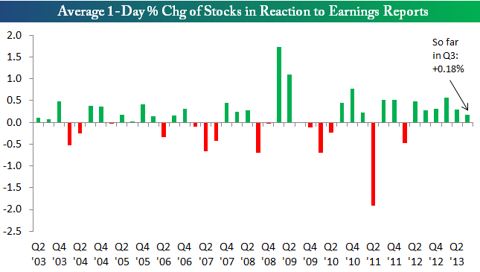 Click to enlarge