Bristol-Myers
Bristol-Myers (NYSE:BMY) showcased the strength of its key marketed products in its third-quarter report. The firm experienced a 9% increase in net sales and a 12% jump in non-GAAP diluted earnings per share. Bristol-Myers also confirmed its 2013 non-GAAP earnings per share range of $1.70 to $1.78 per share.
Looking at its current marketed portfolio, Abilify, its largest revenue generator, faced a 16% decline, though this was offset by strength in Yervoy, which grew 33%, Orencia, which grew 22%, and Sprycel, which grew 20%. Yervoy doesn't lose exclusivity in key markets until after 2020 (2023 in the US), Orencia loses exclusivity in Japan, the EU, and the US between years 2017 and 2019, and Sprycel doesn't lose exclusivity until 2020. We show the firm's current estimated year of basic exclusivity loss for its key products below: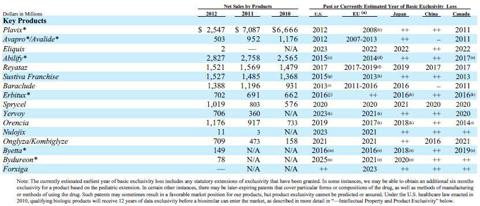 Image Source: Bristol-Myers
We like that the company's three largest revenue growth drivers won't lose exclusivity until 2017 at the earliest, and we're big fans of Bristol-Myers' pipeline. We agree the firm's "pipeline is one of the most innovative in the industry."
<< Select link for Bristol-Myers' 3Q pipeline.
Eli Lilly
Eli Lilly (NYSE:LLY) reported better-than-expected third-quarter results Wednesday that showed revenue increase 6% and net income fall 6%. Worldwide revenue was driven by solid growth for Cymbalta, Alimta, Humalog, and Cialis, though Zyprexa was an expected headwind (down 26%). Earnings per share on a non-GAAP basis advanced 41%, to $1.11.
Lilly continues to recover from the loss of expiring patents, though we do like the firm's commitment to expanding its late-stage pipeline (it completed four regulatory filings this year alone). The company also noted that it believes the current dividend payout is a floor and that it plans to continue to repurchase shares under its recently-authorized $5 billion program. Lilly narrowed its earnings-per-share target for 2013 to the range of $4.10-$.4.15 (up 21%-22%), though revenue for the year is still expected to be between $22.6 billion and $23.4 billion.
The following represents Eli Lilly's patent expiration profile (source: 10-k):
The most relevant U.S. patent protection or data package protection for our larger or recently launched patent-protected marketed products is as follows:
• Alimta is protected by a compound patent (2016), as extended by pediatric exclusivity (2017), and a vitamin dosage regimen patent (2021), as extended by pediatric exclusivity (2022).
• Cialis is protected by compound and use patents (2017).
• Cymbalta is protected by a compound patent, as extended by pediatric exclusivity (December 2013).
• Effient is protected by a compound patent (2017).
• Evista is protected by patents on the treatment and prevention of osteoporosis (March 2014).
• Humalog is protected by a compound patent (May 2013).
Outside the U.S., important patent or data package protection includes:
• Strattera is protected by a patent covering its use in treating attention deficit-hyperactivity disorder (2016), as extended by pediatric exclusivity (2017).
• Tradjenta and Jentadueto are protected by a compound patent (2023), and Boehringer Ingelheim has applied for a patent extension to 2025 under the patent restoration laws.
• Alimta in most major European countries (compound patent 2015, vitamin dosage regimen patent 2021)
• Cialis in major European countries (compound patent 2017)
• Cymbalta in major European countries (data package protection August 2014)
• Zyprexa in Japan (compound patent 2015)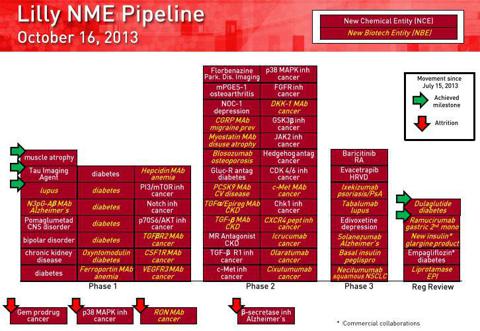 Image Source: Eli Lilly
AbbVie
AbbVie (NYSE:ABBV) issued fantastic third-quarter results Friday and raised the low end of its full-year guidance. Revenue advanced 3.3%, which was strong given currency exchange fluctuations and the loss of exclusivity on TriCor/Trilipix. As expected, Humira led the charge, delivering 19%+ global sales growth. Synthroid, Creon, Zemplar, and Duodopa also helped drive top-line expansion, offsetting weakness at AndroGel, Kaletra, and Niaspan. Third-quarter adjusted earnings per share jumped to $0.82 per share, above the previous guidance range, prompting the company to raise its 2013 adjusted earnings per share guidance to $3.11-$3.13. Of note, the patent covering Humira is expected to expire in December 2016, and the equivalent European Union patent is expected to expire in the majority of EU countries in April 2018.
<< Select link for AbbVie's pipeline.
Valuentum's Take
We like what we're seeing in Big Pharma during the third quarter, especially with respect to pipelines. Still, we think the best way to gain exposure to the healthcare space is via the Healthcare Select SPDR (NYSEARCA:XLV), which coincidentally has our favorite dividend growth idea in the healthcare space, Johnson & Johnson (NYSE:JNJ), as its top holding.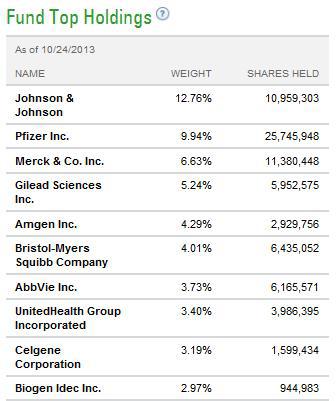 Image Source: State Street
Disclosure: I have no positions in any stocks mentioned, and no plans to initiate any positions within the next 72 hours. I wrote this article myself, and it expresses my own opinions. I am not receiving compensation for it (other than from Seeking Alpha). I have no business relationship with any company whose stock is mentioned in this article.
Additional disclosure: XLV included in the portfolio of our Best Ideas Newsletter and JNJ is included in the portfolio of our Dividend Growth Newsletter.