Three months ago I wrote about a disconnect that I perceived between investor assessments of Whirlpool (NYSE:WHR) versus homebuilders like Tri Pointe Homes (NYSE:TPH). I concluded the following, based on the last earnings results for these companies at the time:
I think a major disconnect exists in the way homebuilder companies are being treated versus other companies highly dependent on a strong housing market. Most are declaring messages from the same themes. Whirlpool is still able to ride a story of improved margins and strong leverage. The margin story is no longer working for homebuilders…This disconnect should get resolved in due time. In the meantime, I am still getting ready to accumulate more homebuilders on lower prices.
Fast forward to November 4th and the same disconnect exists and in some cases is even larger. In a timely article, Jim Cramer of TheStreet.com wrote an article on what he calls the "The Dichotomy in Housing." He makes an observation similar to the one I made:
The dichotomy between the housing stocks and the stocks of companies that make goods that go into new homes is about as stark as I can remember. And the disparity is growing.
Cramer explains that the homebuilders are expensive relative to earnings while the housing-related stocks are not. He thinks that the fiscal fiddling in Washington DC has damaged consumer confidence so much that it is impacting home sales. However, this same damaged psyche is not impacting sales of products that go into homes because they represent "… pent-up demand to spend on a house you already own, knowing that your house is done going down in value." Seemingly supporting these claims, last month the remodeling index created by the National Association of Homebuilders (NAHB) rose for a second quarter in a row to levels last seen in 2004.
Cramer includes Whirlpool in his list of housing-related stocks that are doing well because of spending on one's home. So, I went back to WHR's latest earnings conference call on October, 22, 2013 for confirmation of Cramer's premise.
Management expressed the same themes that have recurred over the past year. WHR remains bullish on demand and raised guidance again. Management also made some VERY surprising observations and assessments about the housing recovery that I did not expect to see. It turns out that WHR is not bearish on home construction like Cramer. Moreover, WHR expects to benefit directly from new home construction. Essentially, the housing recovery looks fine from Whirlpool's perch. Here are the choice quotes from the Seeking Alpha transcript (emphasis mine):
Positive trends in the U.S. housing continue, including both new constructions and existing home sales. In addition, we see increased demand for replacement purchases, as well as discretionary purchases, driven by improving consumer confidence.

…on the demand, we're bullish in North America, and let's be clear, particularly in the United States. And that is because, from peak to trough, we're down 28%. The market is up 8% to 9% so far this year. So we still have a long way to go in terms of the drivers of demand. The housing market is moving in the right direction, we're very bullish on that. We think we'll see, over time, an acceleration in the replacement cycle based on the installed base. We expect to see - and then very positively have seen the return of discretionary purchasers. So I think we're, as we've said before, at the beginning of a 3- or 5-year up cycle in demand.

…just for Q3, the business which we call contract, i.e., these are the national, large national builders and also some of the small builders, has been very strong. We're talking about in the ballpark of 40% to 60% up. So this industry is growing exceptionally strong. I know there's been a lot of press reports about housing slowing down. We don't see that.
After these comments, the stock closed the day with an 11.6% one-day gain that almost erased all of the previous one month of losses. The stock is once again toying with all-time highs.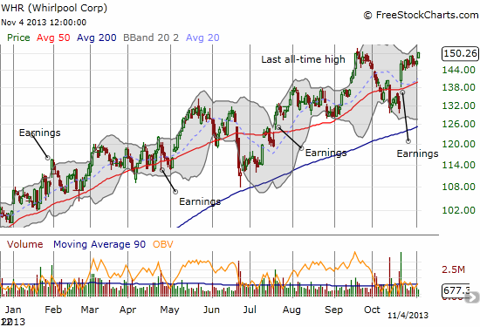 Click to enlarge
A steady march higher for Whirlpool
Source: FreeStockCharts.com
Investors once again rewarded WHR but ignored the homebuilders.
While I am pleasantly surprised to read WHR's commentary, it has not reconverted me into a raging bull: I fully recognize the headwinds as outlined by the NAHB last month. WHR does underline the potential upside surprise ahead for housing if the economy does not suffer any severe setbacks. So, unlike Cramer who does not want to bother holding onto homebuilder stocks waiting for them to grow into their presumed lofty valuations, I am holding onto the small amount that I have. Analogous to Cramer's desire to buy housing-related stocks on pullbacks triggered by (temporary) economic setbacks, I am still primed to do the same on homebuilder stocks.
Be careful out there!
Disclosure: I am long TPH. I wrote this article myself, and it expresses my own opinions. I am not receiving compensation for it (other than from Seeking Alpha). I have no business relationship with any company whose stock is mentioned in this article.