Allegheny Energy Inc. (AYE) has requested Virginia State Corporation Commission for permission to withdraw its previously submitted application to build the Potomac-Appalachian Transmission Highline (PATH) project in Virginia. The company has teamed up with American Electric Power Company Inc. (NYSE:AEP) in the project.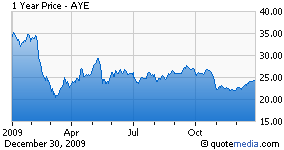 Allegheny Energy's request for withdrawal from the project comes after considering new information provided by regional grid operator PJM Interconnection (PJM), suggesting the project appears unnecessary in 2014. The project was contemplated to resolve reliability problems on the electric grid. PJM is in the process of preparing its more comprehensive 2010 Regional Transmission Expansion Plan (RTEP) to identify the problems in the grid. Allegheny Energy estimates based on the delivery of the 2010 RTEP later next year, a new application in Virginia is not expected before the third quarter of 2010.

Headquartered in Greensburg, Pennsylvania, Allegheny Energy is an electric utility company with over $3 billion in annual revenues. The company is engaged in both regulated electricity and natural gas distribution utility operations as well as in the unregulated wholesale energy markets. It owns and operates generating facilities and supplies electricity to approximately 1.6 million customers spread across Pennsylvania, West Virginia, Maryland and Virginia. We reiterate our Neutral recommendation on the shares.

Shares of Allegheny rose 14 cents on Tuesday to $24.36. Going forward, Allegheny Energy's positive investment factors include higher generation rates in Pennsylvania and Maryland, higher residential usage and ongoing transmission projects. Looking ahead, we expect that the company's regulated delivery utility business will provide steady earnings growth while the disposal of retail distribution operations in Virginia will infuse liquidity. However, the positives would be offset by lower industrial demand and higher emission and hedging costs. We reiterate our Neutral recommendation on the low dividend yield stock.