LinkedIn (NYSE:LNKD) is one of the high-flying stocks in the market where a lot of future growth is already baked in the price. By looking at the current price of the company, it is easy to see that the investors have very high expectations of LinkedIn. Currently the company trades for 20 times its revenues and about 730 times its earnings, which indicates that the investors see LinkedIn growing its revenues by about 18-20 times and its earnings by about 73 times sometime in the future. While this may or may not happen, the company is already seeing slowing in its revenue and earnings growth.
According to the latest earnings report, LinkedIn now has 259 million members and it adds about 2 new members every second (this comes down to 120 members per minute, 7,200 members per hour, 172,800 members per day and roughly 63 million members per year). The company reports 184 million monthly unique users to its website and applications, which means that only about 71% of LinkedIn's members visit their profile once per month. If every third member doesn't even visit their profile at least one per month, many of the company's members might not be very engaged, which I will come back to later.
LinkedIn was able to grow its quarter-to-quarter membership number by 8.11%. In the last 10 quarters, the quarter-to-quarter membership growth average was a little over 9%, which means we are seeing a slowing in the company's membership growth. In the last 2 years, LinkedIn's membership base grew by 154% which might be reaching near saturation.
This was the first quarter ever since the company's IPO that the number of unique visitors fell quarter-to-quarter. After growing at an average quarter-to-quarter rate of 7.49% since LinkedIn's IPO, the number of unique visitors fell by 0.40% since the last quarter. This might mean that we are at or near the peak for the website's unique user growth but we need more data points to be able to see an actual trend.
In the last quarter, there were 11.6 billion page views (81 pages per unique visitor per quarter; less than one page per unique visitor per day). This is down from last quarter's 11.7 billion page views. While this figure is clearly up from the 7.1 billion we saw at the time of the IPO, it may be nearing a peak. Last year in the same quarter, each unique visitor was viewing about 90 pages per quarter, which shows that visitors are spending less time at the website than they were a year ago.
More importantly, LinkedIn's rate of monetizing content is also slowing down sharply. Just two years ago, LinkedIn's revenue growth rate was around 120%, which fell to 80% last year and it is currently sitting slightly above 40%. The company's revenue growth is slowing down sharply and at this rate, we will be looking at a revenue growth of 20% next year, 10% in the year after and nearly no growth in 2015 and beyond. This is very alarming because LinkedIn is currently priced as if it will see 50% or more growth for the next 7-8 years or so.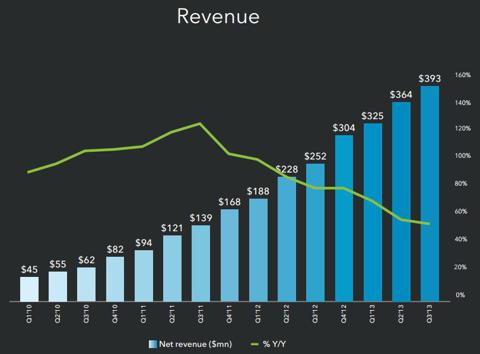 The company's margins also fell for the second quarter in a row. In the last quarter of 2012 and the first quarter of 2013, the company's EBITDA margin was around 25% which seems like the peak since the IPO. Currently, the EBITDA margin is closer to low 20s and LinkedIn seriously needs to move the needle quickly if it wants to keep people invested.
For the next quarter, LinkedIn expects to generate $415-420 million in revenues, which indicates further slowing in revenue growth. We are looking at a quarter-to-quarter revenue growth of 6.36% and year-to-year revenue growth of 37.5%. The company also expects to be marginally profitable for the fourth quarter and the full-year. For the fourth quarter, LinkedIn expects $98-99 million in EBIDTA, which would translate into a loss of $1 million after deducting $44 million in depreciation and amortization as well as $56 million in stock based compensation LinkedIn expects to incur. For the full-year, the company sees an EBIDTA of $364 million, which will translate into $35 million of profits before taxes. This is very poor, considering the fact that LinkedIn's market value is $25 billion.
What happens in the long run if LinkedIn's slowing revenue growth trend continues as we move forward? Well, the company will generate about $1.5 billion in revenues this year. Next year, assuming a 38% growth rate would give us a revenue generation of $2.07 billion. In 2015, if this trend continues, the revenue growth drops to 28% and LinkedIn generates $2.65 billion. In 2016, the revenue growth slows down to 20% and the company generates $3.17 billion. As you can see, there is no justification for the company's current value of $25 billion at the current growth rate (LinkedIn should shoot for a price to revenue ratio around 1-2 in order to be "eventually" fairly valued).
The problem with LinkedIn is that the company's membership growth is nearing saturation and its ability to monetize the existing members seems limited (at least in proportion to the company's market value). In the western world, most people have already heard about LinkedIn and those who are interested in joining have already done so. Then, those who have joined the website don't seem very engaged with it. For example, Facebook's users are very engaged because they can login to the social network to play games, share music, photos, chat with their friends and engage in a variety of activities. In LinkedIn, what one can do with his or her account is very limited and most users seem to login to their LinkedIn account once in a while just to log back off soon after. There isn't really anything to do on LinkedIn unless you are actively searching for a job or immediate networking opportunities.
Besides, LinkedIn currently enjoys nearly no competition in the market. What if Facebook (NASDAQ:FB) or Google (NASDAQ:GOOG) launch a career networking product to compete with LinkedIn? The company's already-slowing revenue growth would slow down at an even faster rate.
Currently, LinkedIn looks overvalued, just like many other social media stocks (Yelp and Pandora to name a couple) but I don't expect these stocks to "crash and burn" anytime soon. As long as the Fed provides free money to the markets, these stocks can continue to fly against logic and fundamentals. Once the Fed stops providing free money to the market, then these high-flyers will be the first ones to take the hit. I advise investors of social media stocks to be careful and watch the Fed's actions very closely in the coming months.
Disclosure: I have no positions in any stocks mentioned, and no plans to initiate any positions within the next 72 hours. I wrote this article myself, and it expresses my own opinions. I am not receiving compensation for it (other than from Seeking Alpha). I have no business relationship with any company whose stock is mentioned in this article.
Additional disclosure: I'm long both calls and puts of the company as I expect high volatility for this stock but can't tell which direction it will go to in the short to medium term.