I am a firm believer in Nokia's (NYSE:NOK) resurgence and the company has a lot of ground to regain. Nokia's share price has declined from $15.62 on March 29, 2010 to $1.71 on July 16, 2012: A loss in market capitalization of 89%. During this time period Nokia was arguably exhibiting its worst performance yet due to underperforming product launches and declining market shares. From 2011 to 2012 Nokia's net sales decreased 22% from $38.7 billion to $30.2 billion. Nokia's device unit booked even higher declines in net sales which dragged the entire group performance down and overshadowed Nokia's other segments NSN and HERE: Net sales declined 34% from $23.9 billion to $15.7 billion.
Gross profit for the group declined 26% from $11.4 billion in 2011 to $8.4 billion in 2012. More importantly, losses more than doubled y-o-y: A loss of $1.2 billion in 2011 massively widened to a loss of $3.1 billion in 2012 and led to a collapse in EPS figures and shareholder remuneration.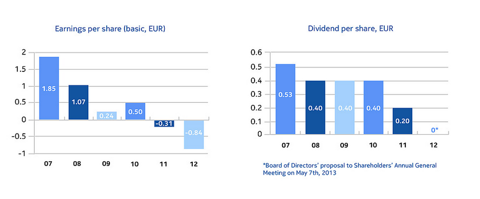 Click to enlarge
As is often the case in the stock market, a stream of investment opportunities present themselves where few are looking.
Background
Nokia's strategic partnership with Microsoft (NASDAQ:MSFT) established in 2011 eventually led Microsoft to launch a successful $7.2 billion bid for Nokia's device unit which was highly loss making. Google's (NASDAQ:GOOG) purchase of Motorola Mobility is another example that loss making hardware units can be sold. The sale to Microsoft was a critical catalyst for Nokia and will be instrumental in helping define 'the new Nokia' in the future. The new Nokia still needs to be defined and a coherent strategy needs to be presented by management to make the market understand what segments Nokia is going to comprised of going forward and how the company intends to capitalize on its patent portfolio.
It is a positive that the stock held up nicely after the announcement of Microsoft's unit purchase. Nokia trades now at $7.75 which is substantially more than the $4 pre-announcement price. I believe the transaction is a critical turning point for Nokia to develop an alternative vision for the company that includes the location/mapping business HERE and Nokia Solutions & Networks (NSN).
Q3 results at the end of October have shown that the company continues to face revenue challenges in both HERE and NSN. HERE revenues were down from $233 million in Q2 2013 to $211 million in Q3 2013 (minus 9%). HERE revenues in Q3 2012 stood at $265 million and mark a y-o-y decline of 20%. Revenues were impacted by currency fluctuations and lower seasonal sales to vehicle customers. Nonetheless, Nokia's HERE unit has a strong market position in mapping and location services particularly in the automotive industry. The explosion in mobile devices as well as the offering of enterprise-directed solutions could provide Nokia with meaningful revenue growth in the future.
Nokia's NSN unit
I see huge upside potential for Nokia's network unit in the future. Q3 results were affected by a seasonally weak quarter with net sales down 26% from $3.5 billion in Q3 2012 to $2.6 billion in Q3 2013 but the company expects a meaningful turnaround in the fourth quarter of 2013 supported by strong industry seasonality. Nokia remains committed to reduce NSN's non-IFRS operating expenses and production overhead by more than EUR 1.5 billion by the end of this year vs. 2011. NSN's contribution to Nokia group's gross cash stood at EUR 2.7 billion at the end of the third quarter and NSN could very well develop into a cash cow in the future. A prospect that the market continues to discount.
Catalysts
Nokia is still a restructuring entity and offers a variety of catalysts as a result:
Nokia's core business units HERE and NSN are operating in high-growth markets with substantial revenue potential. Mobile broadband is likely to be one of the fastest growing segments in the tech space with smartphone sales and -usage increasing exponentially.
Cost restructurings in NSN are still ongoing and unit margins still have potential to increase. Nokia will have to deliver more in this regard, but once it achieves a turnaround Nokia shares have substantial upside.
Nokia holds about EUR 9.1 billion in gross cash at the end of Q3 with chances that a good chunk of it is going to be used to remunerate shareholders either in form of a special dividend or share repurchases.
The market still regards Nokia as an incomplete restructuring play. As such, expectations and confidence are low leading to a low valuation compared to the earnings- and cash flow prospects of the new company.
Conclusion
I believe Nokia still offers much upside potential mostly because its operating segments HERE and NSN are underestimated by the investor base. Both companies operate in very promising, high-growth markets with tremendous revenue potential in the future. Short-term revenue declines should not obstruct the view of the big picture. I also estimate that investors will gradually become more interested in Nokia once NSN and HERE are sustainably profitable with higher margins and the company manages to carve a niche out for itself in location-based services and mapping technology. The sale of Nokia's device unit was the right move to get rid of a loss-making hardware business operating in a highly-competitive field. The sale proceeds allow the company to funnel substantial amounts of cash back to shareholders and I wouldn't be surprised if Nokia declares a special dividend. Dan Loeb, a renowned activist hedge fund manager, also bought a stake in Nokia in anticipation of a distribution of Nokia's sale proceeds. I believe that once Nokia has completed a turnaround for all its business segments, completed its cost restructuring program in NSN and distributed cash to shareholders, shares can reasonably double to reflect the earnings power of the New Nokia.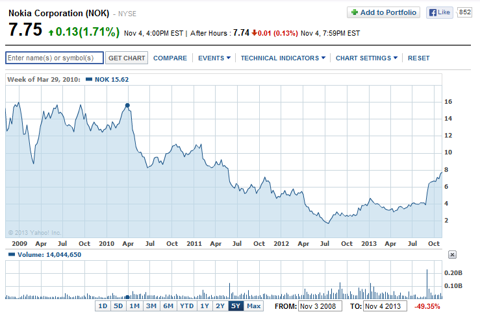 Click to enlarge
Disclosure: I am long NOK. I wrote this article myself, and it expresses my own opinions. I am not receiving compensation for it (other than from Seeking Alpha). I have no business relationship with any company whose stock is mentioned in this article.