I wanted to write about Air Liquide (OTCPK:AIQUF) because many totally risk-averse persons I know have it in their portfolio as the strongest long-term share for maximum peace of mind. In France, Air Liquide is typically called "Air Solide".
AIQUF is the global leader in industrial gases, employs more than 43,000 people and operates in more than 80 countries. It supplies various industries such as the medical or the chemical sectors.
The French company was founded in 1902 and was already present in more than fourteen countries in 1914, which underlines its international and growth oriented culture. The group hasn't stopped expanding yet.
AIQUF has been present in the US since 1986 after the acquisition of Big Three Industries. Its strategy is to face new challenges maintaining its leader position and developing a policy of a long-term sustainable growth as stipulated in its strategic plan ALMA 2015.
The key objectives of the plan are:
Sales growth of 8 to 10% in a normal environment
Efficiency > to €200 million per year on average
ROCE 12% - 13% range in the period
Engagement in responsibility objectives
To do so, Air Liquide is focusing on energy & environment businesses, emerging markets, last generation products and healthcare.
AIQUF is to me the strongest French stock and offers great perspectives to long-term investors in terms of dividends and growth. This article mainly concerns investors who want to buy a stock resilient to crisis and volatility, keep it twenty plus years, see it grow and get the dividends.
You can see below the evolution of the revenues, EPS, cashflows and dividends over the last 30 years: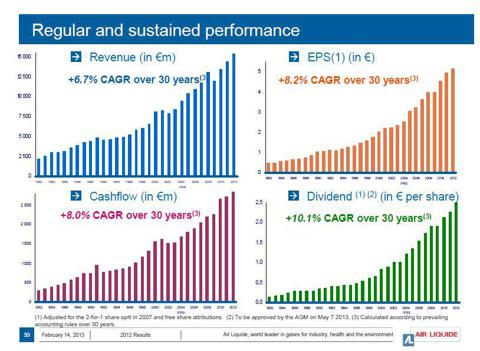 Click to enlarge
Source: 2012 financial report
I believe that the main risk when buying AIQUF is to overpay it. The company has been resilient to crises and the stock hasn't been too volatile (Beta of 0.53) over the last years and, as a consequence, it could be overvalued by the market.
Growth opportunities
The group should benefit from the increasing demand for industrial gases in emerging markets, the dynamism of the hydrogen market in the US and the development of the healthcare segment in Europe. According to Global Industry Analysts, the industrial and specialty gas market should reach 11 trillion cubic feet by 2017.
Air Liquide has been able to globalize its operations in order to reduce its exposure to Europe and to benefit from various growth engines such as the electronic business in Asia and healthcare in developed countries.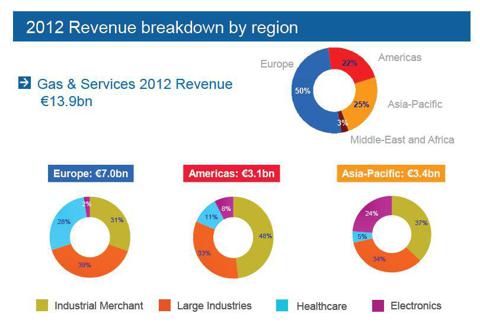 Click to enlarge
Source: Financial report
Dynamism of the US market
The group has developed a strong presence in the US market, especially in the hydrogen segment. Air Liquide mainly developed its Industrial Merchant and Large industries activities. According to research from Global Industry Analysts, hydrogen represents the fastest growing segment in the global industrial gas sector, and is expected to reach a yearly rate of 3%, driving the US market to almost $26 billion in 2015.
Air Liquide should be impacted very positively by the economic rebound in the US. Indeed, 3Q13 revenues increased by more than 9% yoy.
New Electronic business in Asia
Air Liquide provides gas to electronic device manufacturers, especially in Asia. This business is expanding very quickly and should benefit from the expansion of the telecom and mobile markets in emerging countries. AIQUF also started supplying the photovoltaic industry, especially in China.
3Q13 Electronics revenues increased by 4.2% yoy, mainly thanks to new carrier gas contracts in China.
Mobile cellular subscriptions (%)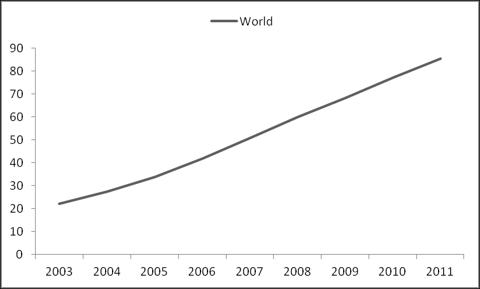 Click to enlarge
Source: World Bank
Opportunities in Healthcare in Europe
I believe that one of the strongest growth opportunities for Air Liquide is the aging of the population. Indeed, the French company produces medical gases but also develops home healthcare and hygiene services. In fact investing in Air Liquide can be an interesting idea to get exposure to this growth driver without risking too much considering the core business and the fundamentals of the company.
Healthcare already accounted for 30% (+3.3% yoy) of the revenues in Europe in 2012 and should keep increasing over the next years considering AIQUF's strategy and acquisitions. 3Q13 Healthcare revenue showed a significant rise of +13.2% mainly attributable to higher volumes and the acquisition of both LVL Médical and Gasmedi.
Health expenditures per capita (ppp $):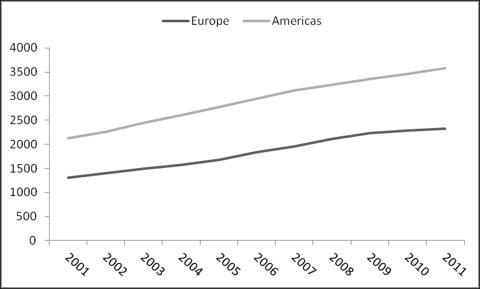 Click to enlarge
Source: World health organization
Sustainable CSR strategy
One of Air Liquide's main assets is its corporate social responsibility strategy (NYSE:CSR), which is entirely part of the strategy and should drive the revenues long term. I believe that companies that focus on such a strategy and manage to link it with innovation will be more profitable and last longer.
AIQUF's CRS strategy relies on several key points:
Safety. The group is committed to protect its workers and the environment, which could avoid reputational hazards at medium and long term.
Innovation & environment. Air Liquide's innovation strategy focuses on developing new technologies (clean gases) in order to deal with upcoming environmental challenges.
Ethic.
I believe that Air Liquide's CSR strategy will help reduce the extreme risks and maintain its leader position in the long term in terms of innovation, revenues and image.
Financials and competition
Air Liquide's main competitors are Air Products and Chemicals (NYSE:APD), Praxair (NYSE:PX) and the German company Linde AG (OTCPK:LNAGF).
| | | | | |
| --- | --- | --- | --- | --- |
| $m 2012 | Air Liquide | Praxair | Air Products and Chemicals | Linde AG |
| Revenues | 19,649 | 11,224 | 9,612 | 19,590 |
| growth yoy (%) | 6.0 | -0.2 | -4.7 | 10.8 |
| EBITDA margin (%) | 24.7 | 31.2 | 24.7 | 24.7 |
| Net margin (%) | 10.5 | 15.1 | 12.1 | 8.2 |
| debt/EBITDA (NYSE:X) | 1.6 | 2.1 | 2.0 | 2.2 |
| Dividend yield (%) | 2.5 | 1.9 | 2.6 | 1.9 |
| EPS | 6.6 | 5.6 | 5.4 | 8.9 |
| PE | 19.5 | 22.1 | 20.4 | 20.8 |
Source: Financial reports
The French company maintains improving revenues, good margins and a low PE ratio compared with its peers.
AIQUF also has a strong debt profile with a low debt/EBITDA ratio and a good maturity schedule: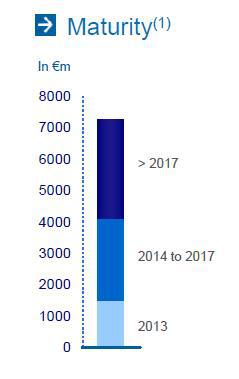 Source: Financial report
To buy or not to buy

Click to enlarge
Source: Yahoo finance
3Q13 results showed improving results and 2013 objectives are maintained. The company is also in line with its $300m cost reduction objective.
The stock is currently almost trading at its highest level and looks expensive but I don't believe that the company is too overvalued (PE of 19.5). Moreover the 2.5% dividend yield remains appealing compared with its competitors considering the fundamentals and the growth opportunities.
The best way to buy the stock would probably be to wait for a pullback.
Disclosure: I have no positions in any stocks mentioned, and no plans to initiate any positions within the next 72 hours. I wrote this article myself, and it expresses my own opinions. I am not receiving compensation for it (other than from Seeking Alpha). I have no business relationship with any company whose stock is mentioned in this article.