On Tuesday Judge Robert C. Chambers, of the United States District Court for the Southern District of West Virginia, ruled that CONSOL Energy Inc's (NYSE:CNX) Fola Operations near Bickmore, West Virginia, can continue operations past the judge's previously imposed deadline of Jan 23, 2010.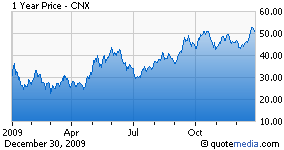 The ruling granted relief to CONSOL's Fola Coal subsidiary against the Nov 24, 2009 ruling, which found deficiencies in the permit notification process by the U.S. Army Corp of Engineers. The Nov ruling was followed by a stay issued for 60 days, in order to allow Fola to appeal or seek other relief.

The recent ruling is a rejoicing news for Fola's 500 employees, who were issued a WARN notice on Dec 8 stating that the company would cease mining operations from Jan 23, 2010 and begin lay-offs on Feb 7, 2010. With the favorable Fola ruling, the company plans to operate the Fola complex safely, efficiently and in an environmentally sound manner.

CONSOL Energy, based in Canonsburg, Pennsylvania, is a multi-fuel energy producer as well as energy services provider, primarily catering to the U.S. power producers. The company's deep and diversified portfolio, primarily comprising coal and natural gas, is well positioned to benefit from the growing energy demand around the world and provides it with significant long-term growth potential. The company has 12 bituminous coal mining complexes in six states. At the end of 2008, it had about 4.5 billion tons of proven and probable coal reserves, the second largest among U.S. coal producers, and 1.4 trillion cubic feet of net proven natural gas reserves, of which around 97% were coal-bed methane.