We have been waiting for final phase II data on Micromet's (NASDAQ:MITI) lead pipeline candidate blinatumomab, which was presented earlier this month at the American Society of Hematology (ASH) meeting. The company's product pipeline consists of novel antibodies generated with the proprietary bispecific T-cell engager (BiTE) antibody platform, as well as conventional monoclonal antibodies. The data is from a phase II clinical trial of the drug that was conducted with patients suffering from B-precursor acute lymphoblastic leukemia (ALL). Blinatumomab is a recombinant single-chain BiTE molecule targeting a protein called CD19, which is highly expressed in cancer cells. However, no treatment targeting CD19 is currently commercially available.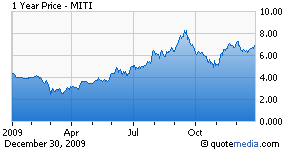 Patients with ALL are typically treated with complex and highly toxic chemotherapy regimens, which may be followed by bone marrow stem cell transplantation for eligible patients. After chemotherapy, patients with ALL may have a low number of residual tumor cells left in their bone marrow, a condition referred to as minimal residual disease (MRD). These patients have a very high risk of early relapse.

The primary endpoint of the phase II trial, carried out with 21 patients, was the reduction of these cancer cells to an undetectable level in at least 22% of the patients. We are pleased to observe that 80% of the evaluable patients (16 of 20 patients) achieved the primary endpoint during the first treatment cycle.

Overall, blinatumomab was well tolerated. The drug scores with respect to relapse time also - patients had free of relapse period for up to 15 months. This is quite significant as patients with MRD-positive ALL have a very high likelihood of relapse after first line therapy. We believe encouraging results from the clinical trials should enable the company to plan a pivotal trial with blinatumomab in ALL patients in 2010. In November 2009, Micromet signed an agreement with MedImmune, a wholly owned subsidiary of AstraZeneca (NYSE:AZN) to buy out the latter's right to blinatumomab in North America for an upfront payment of $6.5 million in installments through December 2010.We view Micromet's re-acquisition of its blinatumomab rights from MedImmune to be of great significance as with impressive data, the company will be able to re-license the drug at more attractive terms. We are Neutral on the stock.