"Now is the accepted time to make your regular annual good resolutions. Next week you can begin paving Hell with them as usual." - Mark Twain

"We will open the book. Its pages are blank. We are going to put words on them ourselves. The book is called Opportunity and its first chapter is New Year's Day." - Edith Lovejoy Pierce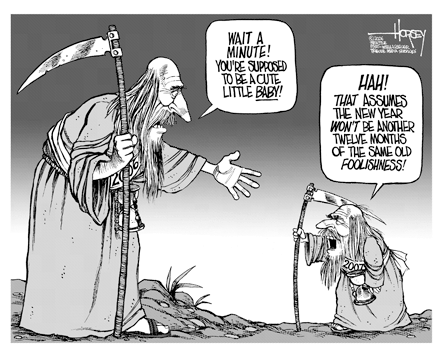 I'd like to take this opportunity to wish all of my readers a very happy New Year. 2009 was challenging to say the least - clearly it was the best of times and it was the worst of times, but if 2009 has taught us anything, it's that there is always an opportunity for the perseverant. We went from the depths of despair in March straight into a 9-month rally of epic proportions. While we may question the wisdom of the underlying fundamentals, we cannot question the evidence of just how resilient our economy and our people really are and that, if nothing else, gives me great hope for our future.
I myself have gone from being the lone market optimist back in March (see our Crisis, Year One Review) to being one of the 11% of the remaining pessimists as the market takes back over 50% of its losses (I am arguing that it's less than 50% in my Last Charts of the Decade). Whether we are, as I think, at the apex of a very normal Fibonacci retracement, or whether we are at the mid stage of a full recovery back to our 2007 glory, remains to be seen but for now, I can re-use the same statement I made to Members when I argued the media was too bearish in March (click on image for great video):
"Television is a powerful and emotional medium, it is very difficult to go against the will of ALL these 'experts' when they get on TV and all tell you to sell (or buy) and then their TV station backs them up with bearish news and bearish guests - it's a natural bias that develops, they aren't going to make their own paid personalities look foolish by contradicting them with facts and dissenting opinions."
Substitute bullish for bearish and we have my quote of the day for December 31st, 2009. If you do nothing else today in the markets, at least consider the idea of establishing at least some hedges - just in case we open the new year on a down note. On December 9th I wrote an article called "Hedging for Disaster" and we've taken hits for being cautious early, but having the downside hedges has allowed us to let our bullish positions run. We can revisit those trades as a way to give ourselves some easy holiday weekend protection as well as building a long-term cushion against which we can make some bullish bets if the markets do break over our levels next week:
DXD Apr $26/33 bull call spread was taken for net $3, now net $2.40, down 20% - I still like this one.
FAZ July $20/35 bull call spread at $2.80, now $2.60, down 7% - I still like this one.
FAZ July $14 puts sold for $2.10, now $1.70, up 19% (pair trade to offset the above) - I still like this set but with the $15 puts sold at $2.10 now.
SDS March $38/50 bull call spread at $2, now $1.10 - down 45% - This was our high risk trade with a 6:1 payoff and a new $2 spread can be made at $34/44 but it's just a 5:1 payoff with the lower VIX so not as good as the above plays.
SMN Apr $11 calls at $1, now .50, down 50% - this was another high-risk play that we have rolled down to the Apr $9 calls, now .85 as it makes sense that if the economy begins to fall, materials will pull back.
So that is the cost of insurance but (and you can read the original articles for the full logic and details), if the market does turn down sharply, putting just 5% of your portfolio into those hedges can save you from a very bad situation. Our actual entries were at much better prices because December 9th was an up day and we waited until that Thursday, the 11th, to trigger the covers, just 100 Dow points below where we are right now. The time to buy your insurance is when it's cheap and the combination of a low VIX and a market at 52-week highs makes your downside protection as cheap as it's likely to get, so Happy New Year!
McClatchy has a great article this morning claiming that our friends at Goldman Sachs (NYSE:GS) and other IBanks ran what amounts to a $1.3Tn Ponzi scheme on their own clients from 2002-2007, secretly packaging a new breed of offshore securities, and giving prospective investors a little hint that many of the deals were so risky that they could end up losing hundreds of millions of dollars on them.
McClatchy claims to have documents that include the offering circulars for 40 of Goldman's estimated 148 deals in the Cayman Islands over a seven-year period, including a dozen of its more exotic transactions tied to mortgages and consumer loans that it marketed in 2006 and 2007, at the crest of the booming market for subprime mortgages to marginally qualified borrowers. In some of these transactions, investors not only bought shaky securities backed by residential mortgages, but also took on the role of insurers by agreeing to pay Goldman and others massive sums if risky home loans nose-dived in value — as Goldman was effectively betting they would. Goldman, of course, said those investors were fully informed of the risks they were taking.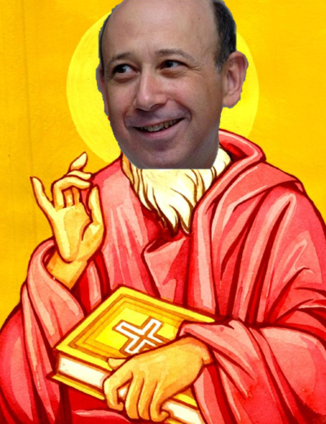 Whether Goldman was evil or "lucky" or simply, as Lloyd Blankfein says, "doing God's work," remains to be seen but, either way, this makes me wonder if GS can ever earn the returns people are betting on on a go-forward basis, since the money they made betting on a housing crash and the money they made this year using HFT programs in a relentlessly up market were possibly a couple of unique situations that investors can't count on GS repeating in the future.
Hong Kong and Japan were closed this morning but the Shanghai added 0.5% to their streak, heading for a triple test of 400 early next week. Europe is flat and closing early, much more sensibly than our markets with Germany not even bothering to show up at all.
The Dow needs to do very little to hold a 20% gain for the year, up 61% from the March lows, while the S&P is right on the 25% line. Both indexes don't hold a candle to the Nasdaq, up 45% in 2009 as tech was the place to be in an early cycle recovery. There's a lot of interesting things going on this last day of the year so I'll just mention a few (from Seeking Alpha Market Currents):
So the madness continues right into the new year. I hope yours is a happy and healthy one.
All the best,
- Phil