Hmmmm....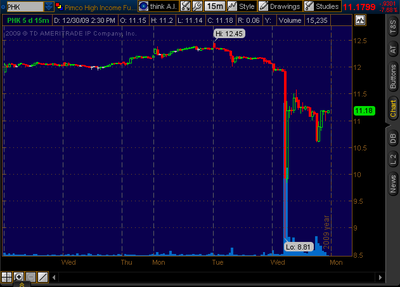 Someone smelled a bit of smoke Tuesday, but the real fire sale was Wednesday morning.....
To put this in perspective, that issue traded nearly 8 million shares today, against a normal volume of 1/10th that.
PHK is a closed-end PIMCO fund. What's in there? As of September 30th, Pimco disclosed the holdings - have a look....
There's a pretty good mix of "stuff", including a fair bit of mortgage-related exposure.
What would prompt "someone" to unload nearly $80 million bucks worth of this issue more-or-less "all at once" earlier today - and with what looks like a market order - a "get me out right now irrespective of price" sort of circumstance?
I have no clue, but this sort of closed-end fund doesn't normally see this kind of volatility, and a quick perusal of the credits in their latest disclosure leads one to wonder: does someone smell smoke - serious smoke - in enough of this fund's exposure to be willing to accept a price SOME TWENTY PERCENT OFF ITS CURRENT TRADING LEVEL to get out RIGHT NOW?
Sure looks that way to me......
(At a dividend yield of 11.8% it's pretty tough to argue that you're not taking significant risk in this thing. Bill Gross and PIMCO always seem to have the inside edge for some odd reason.... until they don't. Is this one of those times?)
Hattip Zerohedge for the original look....