This will be a relatively short, yet rather powerful read for those of you looking into insight on Tesla's (NASDAQ:TSLA) numbers after market today. Tesla is set to report after hours, today, Tuesday for quarter 3; and judging by yesterday's stock movement, people are all of a sudden expecting some major results from the electric car maker.
Paulo Santos wrote a an awesome article this morning, talking about VIN number counting to keep track of how many vehicles Tesla has sold over the course of a period. He points out the fine work of a guy named Craig Froehle, who took to the process of monitoring VIN numbers to perform an analysis that could offer a relatively accurate snapshot into Tesla's production.
Mr. Froehle's data set can be found here.
In essence, it's not a bad way to do things - finding people on the Tesla forums that have bought, and playing "connect the dots" with their VIN numbers.
Mr. Santos points out a couple of conclusions that he can draw from this article:
The really large surprise is not in the fact that Tesla ought to exceed its guidance. The really large surprise in Craig Froehle's work is that it's now signaling a significant slowdown in Tesla Model S production. The VINs, which in late September got to a pace of 725 cars per week, have now decelerated substantially. Indeed, over the last month (October) the production pace seems to have gone to just 407 cars per week, and over the last couple of weeks things have gotten even slower at just 376 cars per week. This makes for a quarterly pace of 4887-5288 cars, and this is for U.S. and European production, combined.
I'm going to conclude by what, if this data set holds up to be relatively accurate, we should know about Tesla's upcoming earnings today:
1. Based on the company's 2 month rolling VIN # average, Tesla could report up to 8,000 vehicles sold for the third quarter. If the previous month was higher, possibly more.
2. Even with a large margin of error (cars being used for promotional purposes/testing/etc), Q3 is likely to smash estimates (with high estimates coming in yesterday at almost 6,000).
And, while it seems that guidance for Q4 might suggest a bit of a slowdown (~5000 vehicles/quarter), Paulo's "slowing down" thesis doesn't take into account:
1. Any type of plant malfunction or variable that could have slowed down VIN production, but not reduced demand or backlog.
2. The government shutdown, which was likely (at least for companies like Ford) to push October sales forward into November.
3. The upcoming Holiday season, where sales in all sectors generally come in above estimates during the year.
So, based on this, I'm taking the good but leaving the bad. I like the prospect of this data showing us a blowout Q3, but question if the variables going forward weren't effected by something intangible that cannot be found on this data chart - the pullback on the scatter chart seems a little too "direct".
(courtesy bidnessetc.com)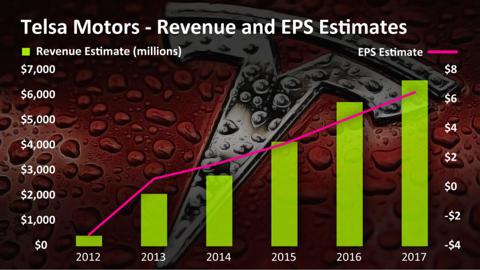 (Click to enlarge)
In any account, I'm adding to my long position today, Tuesday - and I'll see you on the other side of earnings after hours today. Thanks to Paulo for his great article, and best of luck to all Tesla longs.
Disclosure: I am long TSLA. I wrote this article myself, and it expresses my own opinions. I am not receiving compensation for it (other than from Seeking Alpha). I have no business relationship with any company whose stock is mentioned in this article.