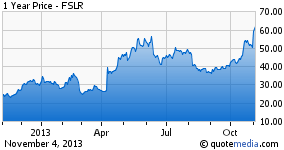 Shares of First Solar (NASDAQ:FSLR) reported a strong set of third quarter results on Thursday after the close. As First Solar reported very strong headline results for the third quarter, investors and analysts become wildly enthusiastic.
After shares have already advanced 37% over the past month, the short to medium upside potential is limited to my opinion. Long term appeal remains, as long as First Solar continues to remain on track to achieve those goals.
Third Quarter Results
First Solar generated third quarter revenues of $1.27 billion, up 50.8% on the year before. Analysts were looking for revenues of just $989 million.
Net earnings rose by 121.8% to $195.0 million. Given the dilution from the secondary offering and the deal with General Electric (NYSE:GE), earnings growth was less pronounced. Earnings rose from $1.00 to $1.94 per share. Note that analysts were looking for earnings of just $0.83 per share.
CEO Jim Hughes commented on the third quarter results, "The third quarter marks a key milestone in our Company's progress in achieving the strategic objectives we outlined during our Analyst Day event in April. During the quarter we delivered on several key objectives, including additional bookings of 860MWdc, significant reductions to our module manufacturing cost, and strong financial performance."
Looking Into The Results
The very strong revenues being reported are driven by higher systems business project revenues, including recognition from the Desert Sunlight project and the sale of ABW projects in Canada.
Reported earnings were very strong compared to a year earlier, but the reported earnings of $1.94 per share were even stronger compared to second quarter earnings of $0.37 per share. Note that earnings were even impacted by pre-tax impairment charges of $56.6 million, related to the sale of the Mesa, Arizona facility.
Despite the strong sales leverage, gross margins rose by merely 30 basis points to 28.8% of total sales. Selling, general and administrative expense fell in absolute dollars, resulting in costs of just 5.1% of total revenues, an improvement of 370 basis points compared to a year earlier. These improvements, driven by lower effective tax rates resulted in the strong earnings growth.
Full Year Outlook
For the full year of 2013, First Solar sees sales of $3.4 to $3.6 billion, down from a previous guidance of $3.6 to $3.8 billion.
Gross margins are now expected to increase from a previous guided 22-23% to 24-26%, resulting in operating income of $470 to $490 million.
This should result in earnings per share between $4.25 and $4.50, up from a previously guided $3.75 to $4.25 per share.
Valuation
First Solar ended its third quarter with $1.53 billion in cash, equivalents and short term investments. Total debt stands at $229 million, for a net cash position of around $1.3 billion.
Revenues for the first nine months of the year came in at $2.54 billion, up 10.8% on the year before. Positive sales leverage and much lower restructuring and asset impairment charges boosted the bottom line. The company reported net earnings of $287.8 million for the nine month period, compared to a $250.5 million loss last year.
Trading around $59 per share, the market values First Solar at $5.8 billion, or operating assets at $4.5 billion. This values operating assets at 1.3 times annual revenues and roughly 10 times earnings.
First Solar does not pay a dividend at the time.
Some Historical Perspective
Shares of First Solar rose from merely $25 in 2006 to levels above $300 per share in 2008. Shares have seen a continued slump as they fell to nearly $10 per share in 2012. Ever since, shares have seen a steady recovery to levels around $60 per share.
Between 2009 and 2013, First Solar is expected to increase its cumulative revenues by some 70% to $3.50 billion. The company reported a $640 million profit in 2009, which was followed by modest losses in 2011 and 2012. Earnings are expected to recover to about $400 million this year.
Investment Thesis
First Solar's quarterly results show a great deal of volatility, often driven by arbitrary revenue recognition practices and occasional restructuring and warranty charges, hitting the bottom line.
Yet the very strong earnings report cannot be entirely be attributed to recognition practices alone. First Solar recorded roughly half the revenues expected from the Californian Desert Sunlight project during the quarter. Back in August, First Solar only expected to record a third of revenues for the 550-megawatt project.
Despite the very strong results, First Solar lowered its full year outlook in terms of revenues, as some projects were moved into 2014. The guidance implies that fourth quarter revenues are seen around $960 million.
Overall the market is happy with First Solar's strategic progress. Strict cost control has resulted in the return to profitability, while the company continues to operate with a solid balance sheet. This came after years of a strong correction in the solar industry, driven by Chinese subsidies and a cut in incentive programs amidst European fiscal consolidation. To combat these headwinds, First Solar focused on US utility projects as well as international markets, a roadmap being applauded by shareholders.
Back in August of this year, I last took a look at First Solar's prospects. I concluded that the sell-off on headline numbers provided investors with a nice entry point at $42 per share. Shares have risen some 40% in the meantime, largely on the back of the third quarter results.
I concluded that the strong outlook from April's Investor's Day accompanied with strong partnership with GE, resulted in continued long term appeal for First Solar. These development continue to built out the current pipeline while creating superior technological offerings.
I concluded that the strong comments at the Investor Day put a floor around $30 per share. For now the roadmap of $4.5 billion revenues in 2015 and continued earnings growth should be attainable. The continued strength of the balance sheet is very important in the financially challenged solar industry.
Given the strong third quarter performance, I remain very optimistic. That being said, I believe in general that investors look too much into the headline numbers as being reported by First Solar. With the operating assets trading around 1 times annual revenues for 2015, earnings should be able to return to about $600 million per annum again, valuing the business at 7-8 times earnings.
I reiterate my point, although the strong recent momentum has made me a bit cautious to pick up some shares for the short to medium term, although long term appeal remains.
Disclosure: I have no positions in any stocks mentioned, and no plans to initiate any positions within the next 72 hours. I wrote this article myself, and it expresses my own opinions. I am not receiving compensation for it (other than from Seeking Alpha). I have no business relationship with any company whose stock is mentioned in this article.