Following a bit of a recovery from the price drop earlier this year in response to anxieties about rising interest rates, municipal bond closed end funds have suffered yet another drop. Many have given back the paltry gains they had shown. While frustrating to holders of muni bond CEFs, there are, once again, potentially rewarding buying opportunities for investors looking for tax-free income. In most cases declines in market price have again exceeded declines in NAV, opening wider discounts or closing premiums relative to a fund's normal levels. In addition to a buying opportunity, the drop also opens the opportunity for strategic tax-loss selling, using the proceeds to purchase an equivalent fund.
I am going to review a few funds that are interesting to me. The list is by no means exclusive or complete; there are many to choose among. This is just a sampling of representative examples. Interested readers can follow up by screening available offerings at cefconnect.com.
Leverage: How Effective Is It?
Municipal bond CEFs run the gamut of leverage from none to close to 50%. Increased leverage should increase yield, but such is not always the case. Increased leverage will also increase risks. The increased yield that leverage should, but doesn't always, bring is of course welcome, but the increased risk that leverage carries should be borne in mind.
The chart below plots distribution yield vs. effective leverage for 128 muni bond CEFs (data from cefconnect.com, 3 November 2013).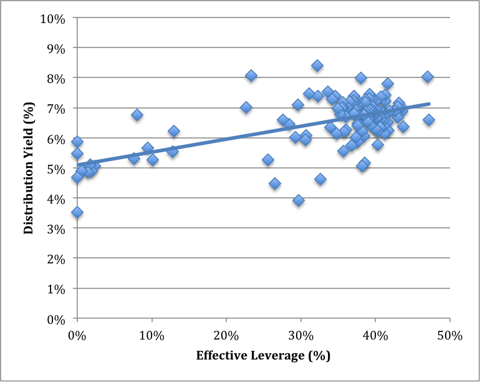 Several interesting trends are evident. First there is strong tendency to relatively high leverage in muni bond CEFs, with a dense cluster in the 35-45% range and relatively few with modest to low leverage. Second, and to me quite interesting, is how poorly yield correlates with leverage. The solid line in the chart represents the linear regression for yield vs. leverage. The coefficient of determination (r2) for the relationship is 0.37. In simple terms that r2 means only 37% of the yield variation for these 128 funds can be explained by the amount of effective leverage the fund employs. Is that adequate return for the leverage risk? Not sure, but it seems low to me.
Certainly many other factors come into play when choosing funds for investment, but I would certainly look for a history of high reward for taking on the risks of high leverage. While it is true that the lowest yielding fund is among those that do not employ leverage, there are examples of funds leveraged in low- to mid-single-digits with quite competitive distribution yields.
Consider, for example, Invesco Muni Income Opps Trust (NYSE:OIA), which manages a 6.75% yield with only 8% effective leverage, or Eaton Vance Municipal Income Term Trust's (NYSE:ETX) 5.86% yield with no leverage, and compare these with BlackRock CA Muni 2018 Term (NYSE:BJZ) returning 3.9% on 30% effective leverage or BlackRock Municipal 2020 (NYSE:BKK)'s 4.63% on 33% leverage. Now, these comparisons may not be quite fair as some investors may, for their purposes, find the target-date funds justify a reduced return, but it does illustrate some of the extremes of the leverage-yield relationships.
Overview of Funds
I'd like to discuss 6 funds here. The two low-leverage funds mentioned above and EV Municipal Income (NYSE:EVN), MFS High Income Municipal (NYSE:CXE), Dreyfus Strategic Municipals (NYSE:LEO) and Pioneer Municipal High Income (NYSE:MHI).
 

Inception

Assets

Leverage

Distribution Yield

Avg Daily Vol.

Morningstar

Rating

CXE

2/18/1989

$258.872M

35.61%

7.18%

90,056

**

ETX

3/26/2013

$166.791M

0.00%

5.86%

59,457

-

EVN

1/29/1999

$361.868M

47.00%

8.03%

89,872

**

LEO

9/23/1987

$731.527M

27.30%

7.54%

58,424

***

MHI

7/17/2003

$101.000M

23.32%

8.07%

28,425

****

OIA

9/19/1988

$324.264M

8.03%

6.76%

134,871

**
Expenses for the funds are tabulated below:
| | | | |
| --- | --- | --- | --- |
|   |   | Interest Expense | Total Expense |
| CXE |   | 0.17% | 1.73% |
| ETX |   | NA | * |
| EVN |   | 0.34% | 2.01% |
| LEO |   | 0.10% | 1.32% |
| MHI |   | 0.00% ?? | 1.05% |
| OIA |   | 0.06% | 0.71% |
*None listed at this time although the prospectus projects near 2% as the fund moves to a leveraged positions (see discussion below).
Tax Benefits
The tax benefit of municipal bonds obviously depends on one's marginal tax rate. Fund literature typically lists equivalent tax-free returns using the highest marginal rates. Here's a table where I've calculated the tax-free equivalent return for these 6 funds for marginal tax rates from 25% through the top 2013 rate of 39.6%.
Fund

Distribution Rate

Taxable Equivalents for Marginal Tax Rates

 
 

25%

28%

33%

35%

39.60%

CXE

7.18%

9.57%

9.97%

10.72%

11.05%

11.89%

ETX

5.86%

7.81%

8.14%

8.75%

9.02%

9.70%

EVN

8.03%

10.71%

11.15%

11.99%

12.35%

13.29%

LEO

7.54%

10.05%

10.47%

11.25%

11.60%

12.48%

MHI

8.07%

10.76%

11.21%

12.04%

12.42%

13.36%

OIA

6.76%

9.01%

9.39%

10.09%

10.40%

11.19%
The table does not include consideration of Alternative Minimum Tax (NYSE:AMT). The funds have a portion of their holdings that provides income exempt from AMT and other holdings that are subject to AMT. Readers whose tax status makes them subject to AMT should investigate carefully the extent to which any muni bond fund is subject to AMT. I'll note, too, that there are CEFs that are entirely AMT-free.
Discount/Premium
Two of these 6 funds, EVN and MHI, have a current price at a premium to their NAV. The other 4 are priced at discounts to NAV. The current market prices for the discounted funds range from 469 to 829 bps below their 52 week average price to NAV. The funds selling at premium are also below their 52 week average premiums, but only by 110 to 250 bps.
 

Price

NAV

Prem./Disc.

52 Avg P/D

Change from Average

CXE

$4.47

$4.97

-10.06%

-1.77%

829bps

 

ETX

$14.51

$16.30

-10.98%

-6.29%

469bps

 

EVN

$11.12

$10.64

4.51%

7.01%

250bps

 

LEO

$7.74

$8.14

-4.91%

0.55%

546bps

 

MHI

$14.07

$13.16

6.91%

8.01%

110bps

 

OIA

$6.16

$6.87

-10.33%

-4.92%

541bps

 
Five of the 6 funds have distributions in excess of their total return on NAV (there is no data available on this metric for ETX, which has less than a year since its inception). But none of them has negative undistributed net investment income (UNII).
Yield Stability
There have been recent reductions in distributions for 2 of the funds. CXE's distribution was reduced by -12.9% in October 2012 and EVN's distribution was reduced by -4.21% September 2013. The others have seen no recent changes: LEO has not reduced distributions since 2005 and its most recent change was an increase in 2010. MHI has had a stable distribution since 2011 preceded by several raises beginning in 2007. OIA has had a stable payout since 2009.
Summary
The 6 funds described here provide a sample of the range of investment opportunities in closed end, tax-free, municipal bond funds. They are not, however, truly representative as I selected them based on one or more criteria that appealed to me.
ETX is a new fund and lacks the long histories of the others. Its current portfolio is completely unleveraged, which is what first attracted my attention. However, the prospectus indicates that the managers can, and likely intend to, operate at up to 45% leverage. One should expect an increase in leverage for the fund, presumably accompanied by an increase in yield - currently the lowest of the group.
OIA has a history dating to 1988. It is leveraged at only 8% with only a modest reduction in yield relative to more aggressively leveraged funds. Note that CXE, which carries quite high leverage at 36%, is only beating OIA's yield by 42bps. OIA has additional attractive features as well. Its average daily volume is the highest of the group, perhaps providing some enhanced liquidity which is always an issue in the CEF space. It has the lowest fees, likely a factor in its attractive distribution rate. Its current discount of -10.33% is 541bps below its 52 week average discount. The fund sold at a premium briefly at the end of last year and early this year. Since that time it has fallen as low as a -12.67% discount.
LEO is a highly regarded fund that also has a long history, having been in existence since 1987. Morningstar rates LEO at 3 stars above all but MHI from the list. It is a fund that typically has sold at a premium to NAV with a current market price nearly 5% below its NAV.
MHI is a ten-year-old fund, and one of 2 here that retains a premium at its market price. It has a modestly leveraged portfolio and returns an attractive 8% to its shareholders. At its current price, it may represent less of a bargain purchase than some of the others. Morningstar rates this fund at 4 stars.
EVN, a second and more firmly established Eaton Vance fund, has a history dating to 1999. It is the other fund currently selling at premium to NAV, which has been EVN's case for the past 7 years. The current premium is somewhat low by the fund's historical standard. It stands at 250bps below the 52 week average. It is returning 8% to shareholders. It is also the most highly leveraged of the 6 funds at 47%.
Prospects for the Future
High-income investors have long looked to municipal bonds to provide tax-free income. Depending on one's marginal tax rate, the effective yield can be enhanced considerably by the tax-free status of the distributions. However, there has been much discussion from DC of late on the need for raising revenues, which most observers see as essential, but not raising marginal tax rates, which would be all but sure to face insurmountable opposition in the legislature. The proposed solution to this apparent paradox has been to enhance revenues by closing "loopholes." Among the "loopholes" discussed are such things as the home mortgage interest deductions, capital gains rates, inheritance taxes, and eliminating the tax-free status of municipal bonds.
Each of these proposals will, of course, run against opposition from affected taxpayers and interest groups. Some, for example the home mortgage interest deduction, will be difficult to enact for a variety of reasons, not the least of which is the size and breadth of the affected populations and the negative impacts on an already fragile economy. Others would appear to be politically less charged because affected constituencies are generally more well-to-do and perceived as better positioned to absorb the increase (not to mention sufficiently fewer in overall numbers as to provide less political blowback). The status of muni bonds would seem, at first glance, to fall into the latter category. However, the tax exemption has another, large and powerful constituency: The municipalities who issue these bonds and depend on investors accepting lower coupon rates because of the tax savings.
This will not, in my opinion, be an easy "loophole" to close. Issuers of municipal bonds have seen extremely difficult times in recent years as revenues from local and national sources have dried up. There is, I submit, sufficient awareness and concern of the plight of municipal bond issuers that the tax-free status will likely be sustained. Modified to eliminate some categories of muni bonds, perhaps, but by and large sustained. Regardless of anyone's opinions on the matter, muni bond investors certainly will have to give some careful consideration to the possibility that the favored tax status may disappear in the future.
As always, I remind readers that I am an individual investor doing my homework. I have no claims to professional expertise of any sort in stock evaluation or tax matters. I am simply sharing my own research in the hope that it may be useful to others. Any actions a reader may want to take based on this research must necessarily include his or her own careful due diligence and full consideration of his or her individual goals, requirements and tolerances.
Disclosure: I am long LEO, MHI. I wrote this article myself, and it expresses my own opinions. I am not receiving compensation for it (other than from Seeking Alpha). I have no business relationship with any company whose stock is mentioned in this article.
Additional disclosure: I may initiate a long position in OIA in the next 72 hours.