What we have seen recently in the market is the depreciating euro against the dollar due to Fed's statement less dovish than expected. Additionally, we saw some poor Eurozone unemployment data and consumer price index down to 0.7% (lowest rate in four years). These all had a bad influence on euro.
Let us take a look at the possible threats for the euro in the near future:
Fed Taper
At the Fed's widely expected announcement on Wednesday, it maintained its optimistic assessment of "growing underlying strength in the broader economy." Another risk is some testimony from Janet Yellen at her congressional approval hearings that may up taper expectations. Simply, Fed taper uncertainty drives markets into volatility and put open positions in jeopardy.
At this stage, we must be watching carefully the non-farm payroll data that will be announced on 8 Nov.
Worrisome Macro Trends in the Eurozone
Last summer, we had some better-than-expected data from the Eurozone that spurs optimism. The market consensus was that the Eurozone was back in the spotlight. PMI polls demonstrated that the economy had clear signs of recovery. Apart from this, Spain's economy exited a two-year recession. These are all remarkable fundamentals that drive the euro upside.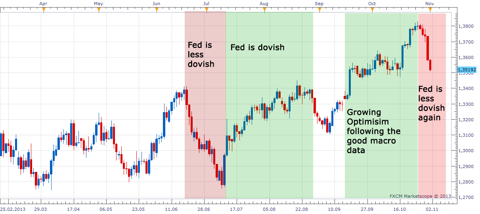 Click to enlarge
There are also some special cases that may establish some downside risks for the euro. For example, Greece and Portugal hope to get the new tranche of bailouts in 2014. The contrary situation may lead to new undesirable political risks in the Eurozone.
An appreciating euro against the dollar will hurt the exports of Euro Area countries. In such a case, ECB will cut interest rates to stimulate the export, or another LTRO may be crucially necessary.
On the other hand, the expected regulations in the Eurozone banking system may end up with a sharp rise in the euro demand. Because in order to comply with the new regulations, the European banks will have to sell their assets outside the Euro Area, that are classified as "risky" in the stress tests.
However, expectations for a downside trend line on EUR/USD is much stronger.
EUR/USD is now being traded at 1.35 and, sank from 1.38. This decrease is mainly caused by the development I mentioned above and euro's weakness may persist this week too and its break below 1.34 against dollar will come as no surprise.
The first rule in the financial markets is to be calm for making good assessment decisions. The current volatility makes this rule much more significant at this stage, as we have to be careful in the market today, than we have never been before.
Disclosure: I have no positions in any stocks mentioned, and no plans to initiate any positions within the next 72 hours. I wrote this article myself, and it expresses my own opinions. I am not receiving compensation for it (other than from Seeking Alpha). I have no business relationship with any company whose stock is mentioned in this article.