Among the high-yield stocks in my portfolio, Prospect Capital (NASDAQ:PSEC) has probably been one of the most stable. The company is a business development company, or BDC, which typically invests in private company equity or debt and mezzanine loans. Unlike some other financial stocks, Prospect Capital deploys relatively low leverage. Instead, the company achieves its high ROE via higher spreads by taking on higher credit risk borrowers. At current prices, Prospect Capital yields north of 11.50%.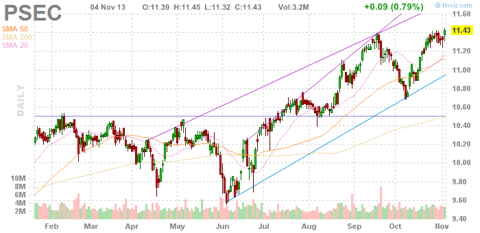 Click to enlarge
(Click to enlarge)
Q3 2013 Overview
On November 4, Prospect Capital reported its Q3 2013 results. For the quarter, the company posted net investment income, or NII, of $82.3M, or $0.32 per share. This compares to NII of $74M, or $0.46 per share, last year. Do note that comparisons to last year are difficult due to a 60% increase in share count over the past 12 months.
Prospect Capital saw an increase in total investment income of around 30% to $161.0M, compared to $123.6M last year. However, this was more than outpaced by a 58% increase in total operating expenses to $78.7M, compared to $46.6M last year.
In terms of NAV, Prospect Capital performed okay. As of September 30, Prospect Capital's NAV was around $10.72 per share, a 1.5% decrease from $10.88 reported last year, but flat compared to last quarter.
Using solely NII, Prospect Capital's dividend coverage for Q3 was slightly below 1.00X. To put this another way, Prospect Capital generated less in investment income than it paid in dividends over the past 3 months. For the quarter, I estimate that this dividend "shortfall" was under $3M.
Do note that as an income stock, Prospect Capital typically aims to payout a very high monthly dividend. Oftentimes, such as for most of 2013, a small part of its dividend is actually a return of capital from gains from investments. This usually has a negative impact on NAV, but is offset by NAV gains from issuing stock at above NAV. At current prices, Prospect Capital is trading at about a 6.6% premium to NAV.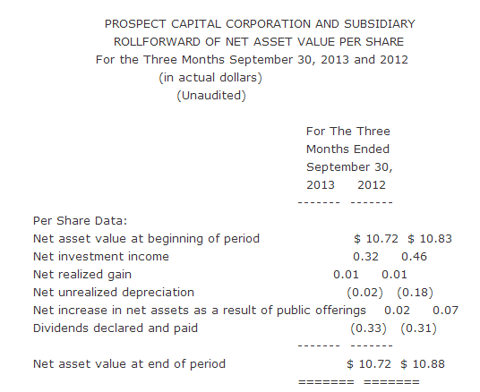 Click to enlarge
(Click to enlarge)
Monthly dividends declared through June 2014
Continuing its practice of declaring monthly dividends well in advance, Prospect Capital recently announced monthly dividends for the months of April, May, and June 2014.
Below is a summary of the details:
11.0400 cents per share for April 2014 (record date of April 30, 2014 and payment date of May 22, 2014);

11.0425 cents per share for May 2014 (record date of May 30, 2014 and payment date of June 19, 2014); and

11.0450 cents per share for June 2014 (record date of June 30, 2014 and payment date of July 24, 2014).

These distributions mark Prospect's 69th, 70th, and 71st consecutive cash distributions to shareholders.
Do note that these announced monthly dividends are all very small increases from prior year levels. As an example, the April 2014 dividend of $0.11040 per share is a 0.27% increase from the April 2013 dividend of $0.11010.
While not spectacular dividend increases, it is still growth. This compares very favorably to the recent dividend decreases for many of the highly levered agency mREITs.
Loan Originations may have stalled for Q4
During Q3, Prospect Capital completed 18 new and follow-on investments for $556.8M. However, the company also sold two other investments and received repayment on seven other investments in the quarter. In addition, Prospect Capital repayments were $164.2M, which resulted in net total investments of about $392.7M.
As for Q4 2013, Prospect Capital appears to be slightly behind pace compared to Q3. The company has currently invested a total of $105.7M in 11 new loans and follow-up investments. This implies a quarterly run rate of less than $300M in organizations for Q4.
I have previously noted that the pace of loan originations is a key metric for Prospect Capital. Due to its business model, the company needs to be constantly recycling new and returned capital into investments in order to generate an adequate ROE. This needs to be done without increasing credit risk.
However, Prospect Capital has really never had a problem in terms of loans on nonaccrual status. As a percentage of total assets, nonaccrual loans stood at 0.3% as of quarter end, This is way down from 1.9% last year.
As of quarter end, Prospect Capital still had a relatively large $869M in new investment capacity, a 32% increase from $660M last quarter. This may imply that the company may be becoming more picky as to who it allows to borrow.
Final Thoughts and Conclusion
I am also currently not pleased by Prospect Capital's high dividend payout ratio of over 100%. This would have normally resulted in a slight decline in NAV per share. However, NAV did hold strong, allowing the company to issue more shares at above NAV, hence offsetting this decline.
Overall, I would say that Prospect Capital had a fair quarter. Increases in NII may be nice in dollar terms, but adjusted for the increases in share count, they were lackluster. Do note that this may be caused by the company seeking to improve loan quality, as noted by the decline in nonaccruals.
For those seeking income, Prospect Capital appears to be a stock worth considering. However, do bear in mind that this stock does carry relatively high risk.
Disclaimer: The opinions in this article are for informational purposes only and should not be construed as a recommendation to buy or sell the stocks mentioned. Please do your own due diligence before making any investment decision.
Disclosure: I am long PSEC. I wrote this article myself, and it expresses my own opinions. I am not receiving compensation for it (other than from Seeking Alpha). I have no business relationship with any company whose stock is mentioned in this article.