When a flight is delayed due to harsh weather conditions, travelers may get angry for not being able to reach their destinations on time. Nonetheless, despite the delay, those travelers will eventually reach their destinations. Investors in Bombardier (OTCQX:BDRBF)(BBD.B on the TSX) felt very frustrated at the delayed take-off and received a big scare on Halloween when the company reported disappointing earnings. Bombardier, which manufactures mobility solutions ranging from airplanes to trains, experienced a violent 15% decline because it missed quarterly earnings estimate and refused to give clear short term EBIT margin guidance because of near-term uncertainty.
Investment Thesis:
"The best thing that happens to us is when a great company gets into temporary trouble...We want to buy them when they are on the operating table" Warren Buffett
The 15% price decline in the stock price, since reporting earnings on Halloween, presents a great buying opportunity for long-term investors. The author believes that the price decline is due to temporary factors and investors can benefit while Bombardier is on the operating table, as outlined in the Buffett quote above. To put the 15% price decline into perspective, the decline erased $1.4 billion from its market capitalization when the company only missed consensus revenue estimate by $40 million and EPS estimate by a penny (around $17.4 million in earnings). The disappointing earnings does not justify a $1.4 billion loss in market value because of lower-than-expected earnings and short term margin weakness. It appears Mr. Market overreacted and shrewd investors can take advantage of this mispricing.
The positive catalysts that will drive the company's share price higher include (1) strong long term industry fundamentals (2) Low valuation in relation to its long term earnings power.
(1) Strong Long Term Industry Fundamentals:
Despite the near-term economic headwinds, the long-term trend towards greater mobility will benefit Bombardier. These long-term drivers are often under-appreciated because they do not influence near-term financials (i.e. next quarter's earnings).
Key Drivers for Bombardier's Aerospace Division:
Fuel Efficiency: One of largest costs for airlines is fuel. Given the recent volatility in oil prices, the only way for airlines to hedge against this volatility is to utilize lower cost fleets because airlines cannot raise prices easily in a perfect competitive industry. The demand for newer and more fuel efficient planes will lead to additional revenue for Bombardier's newer products such as the C-series jets and Learjet 85.
Replacement of Demand: The average fleet in service is 16 years. Significant replacement is needed 5-10 years after delivery. Therefore, if the global economy improves, the pent-up demand will lead to more aircraft orders.
Emerging Market Growth: The growth of the middle class in countries such as China, India and Latin America will lead to more air travel. Countries, such as China, are loosening airspace regulation, which allows airlines to service more locations. The higher growth in emerging markets will lead to additional demand for business travel, which benefits Bombardier's leading business aircraft division. Furthermore, the improving infrastructure in these countries will also lead to more air travel and demand for aircrafts.
Key Drivers for Bombardier's Transportation (Rail/train) Division:
Urbanization and Population Growth: The urbanization trend is underway especially in emerging markets. As cities grow, they will need a more efficient transportation such as metros or light-rail.
Movement Towards Greener Transportation Options: Rail is 2-5 times more efficient in terms of energy consumption and emit little CO2 emission compared to other transportation options (road, water or air). The company's new PRIMOVE technology is a game changing technology that charges electric vehicles wirelessly and emit zero emissions. Also, Bombardier's ZEFIRO high speed train technology has one of the lowest energy consumption per seat.
Replacement of Aging Rail Equipment: Aging fleets upgrades, replacements and extensions will boost demand. North American cities such as New York, San Francisco, Toronto, and Montreal, are still in the process of upgrading and replacing their fleets.
The company will benefit from increasing transportation usage because it provides a broad range of comprehensive solutions to meet its customers' needs. (Please see the Bombardier Aerospace and Bombardier Transportation presentations for visuals outlining the markets they cover). The company offers either new products (trains or planes), repair services, and support services (i.e. signaling services for rail). The company has leading market positions in business jets (#1 market share), commercial jets under 149 seats and rail solutions. The large economies of scale of Bombardier's business can help retain customers and provide unique solutions in either rail or air.
(2) Low Value in Relations to Its Long Term Earnings Power
Because of near-term headwinds, sell-side analysts cut FY2013's EPS from $0.40 to $0.38. Also, the FY2014 EPS was cut from $0.52 to $0.47. On a forward basis, the stock is trading only at 9.7X compared to the peer average of 14X (Rival Airplane/Rail makers). One of the main concern is the future outlook regarding its EBIT margins. Looking at figure 1, it appears current EBIT margins are at average levels. Despite the uncertainty regarding its EBIT margins, the roll-out of new products, such as the C-series jets, will likely boost margins in the long run. The author assumes a long term EBIT margin of 6%, in line with the margin during the last 11 quarters, although margins could surprise on the upside given current expectations are low.
The author predicts EPS of $0.51 for FY2014 using EBIT margin of 6%, estimated revenue of $19.5 billion and an effective tax rate of 25%. The author believes Bombardier's multiple will expand over time as new orders are booked. The current 9.7X forward multiple is unjustified and should revert to 12X, halfway between 9.7X and peer average of 14X. Using the multiple of 12X and estimated EPS of $0.51, the author's price target for Bombardier is $6.10, which is 33% higher than the current price of $4.58. Even if the multiple only reverts back to 10.5X, the multiple on the stock before the bad earnings report, this would still imply a 17% upside. Thus, the author sees a favorable risk/reward ratio for investors buying the stock at the current price of $4.58.
Figure 1: Historical Quarterly EBIT Margins (2011-2013Q3)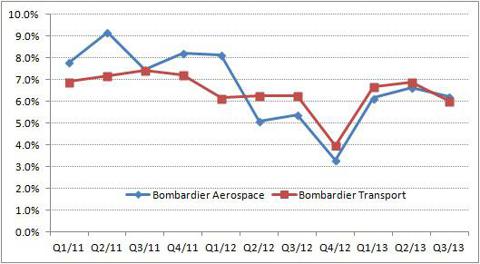 Source: Historical Quarterly Reports
Risks:
The main risk facing the company is its highly levered balance sheet. Despite Bombardier's total debt is 6 times its trailing 12 month EBITDA, liquidity is not an issue because the company has $2.6 billion of cash on the balance sheet (enough to cover debt repayments until 2020) and a $1.4 billion revolving credit facility. Also, there is no significant debt maturity until 2020. The backlog is strong with the current backlog able to sustain 4 years of production. Furthermore, capital expenditures (capex) will decrease as the company recently competed its C-series and other development programs. The gradual decrease of capex from the current $2 billion run-rate to $1 billion over the next few years will free up cash to repay debt and de-lever the company's balance sheet. Figures 3 and 4 provides excellent charts to illustrate the point.
Figure 2: Bombardier's Long Term Debt by Maturity (in millions)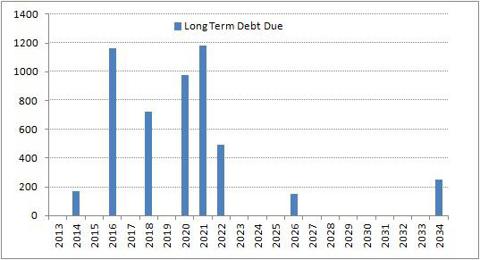 Source: Note 24 in FY2012's Annual Report
Figure 3: Historical Capex (in millions) from 2000-2012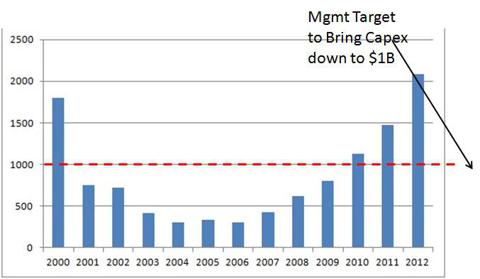 Source: Historical Annual Reports
Figure 4: Free Cash Flow (in millions) Appears Trending Up Again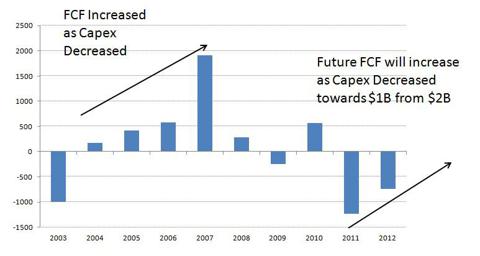 Source: Historical Annual Reports
Although the highly indebted balance sheet is a big risk if the company cannot repay its obligations, equity holders benefit tremendously from the highly leveraged capital structure. The company was able to deliver a 321% book value growth last year according to the Globe & Mail, the second highest in the S&P TSX Composite Index. There is a high correlation between book value growth and share performance.
Conclusion:
The 15% decline after its Q3 earnings report presents an excellent buying opportunity. Investors should look through the near-term headwinds and be greedy when others are fearful. Even the technicals (see figure 5) suggest that price may bottom out soon near the $4.30-$4.50 support zone. With a forward P/E of just 9.7X, it appears significantly undervalued given it has delivered solid returns on equity and book value growth in the past few years.
Investors in Bombardier may have a delayed flight, but they will eventually reach their destination. The combination of solid industry fundamentals and strong long term earnings power will propel the stock towards the author's $6.10 price target.
Figure 5: Chart of Bombardier's Stock Price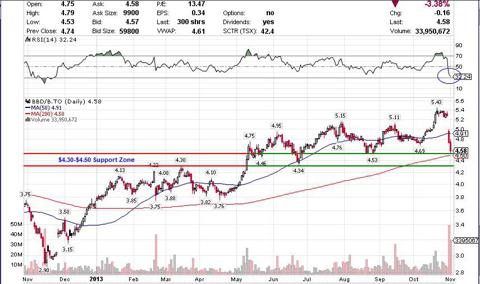 Source: Stockcharts.com
Disclosure: I have no positions in any stocks mentioned, and no plans to initiate any positions within the next 72 hours. I wrote this article myself, and it expresses my own opinions. I am not receiving compensation for it (other than from Seeking Alpha). I have no business relationship with any company whose stock is mentioned in this article.
Additional disclosure: This article is for informational purposes only and does not constitute an offer to buy or sell any securities discussed in the article. The stock mentioned in this article does not represent financial advice. The target price presented in this article is based on current information and are subject to change without further notice. Investors are recommended to conduct further due diligence before committing capital to any investment.