The retail sector continues to remain weak with just a few bright spots. We hardly find this surprising, and it is the main reason we have been of the mindset that trying to pick individual names for turnarounds in the sector was pointless. Our plan for the past few months has been to buy the retail apparel names outside of the good performers via retail ETFs and thus far that plan has worked. Sure a few names which have seen good quarters were missed due to their businesses appearing to have turned the corner, however far more landmines have been avoided as meltdowns continue within the sector.
We continue to like the story at Michael Kors (NYSE:KORS), and today's results reaffirmed that belief, but we also see the need to diversify profits as names such as Coach (NYSE:COH) try to regain lost market share in North America and Europe. Coach is a name which we were bullish on, but we are very close to wanting to move bearish on that name and simply move that capital into the ETF trade for readers. We will give it one more quarter, because if it cannot deliver a good holiday shopping season, then the chances are it cannot deliver a good 2014 and we want no part in that.
Chart of the Day:
Some were quite doubtful of our call to move out of Gap (NYSE:GPS) and other names where we had profits and into the broader retail sector via the SPDR S&P Retail ETF (NYSEARCA:XRT), well the results speak for themselves as the ETF is trading near a 52-week high while some of those other names have fallen quite significantly from their highs.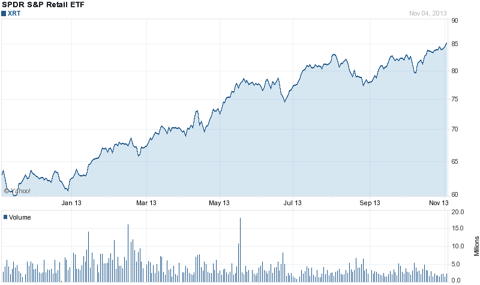 Source: Yahoo Finance
We have economic news today and it is as follows:
ISM Services (10:00 a.m. EST): Est: 54.0
Asian markets finished higher today:
All Ordinaries -- up 0.77%
Shanghai Composite -- up 0.35%
Nikkei 225 -- up 0.17%
NZSE 50 -- up 0.57%
Seoul Composite -- down 0.56%
In Europe, markets are trading lower this morning:
CAC 40 -- down 0.96%
DAX -- down 0.57%
FTSE 100 -- down 0.56%
OSE -- down 0.41%
Retail Still Hit or Miss...
Retail is still very much hit or miss these days with very few companies doing well in the apparel space. Just a handful of companies have any momentum in the stock market and fewer seem to have real traction with today's fickle retail consumer. It used to be Gap which was the darling of the retail space as it had all three of its brands drawing customers in, but even their star has lost its glimmer. One of the last few names investors can count on in the apparel retail sector is Michael Kors which again reported strong results. The company's quarterly results can be found here.
Michael Kors beat analysts' expectations on the EPS figure by $0.03 as revenues also came in strong. The company is seeing tremendous growth as consumers are drawn to the brand for its accessories as well as fashionable apparel. Also helping Kors is their expansion in Europe which is also being aided by the economic recovery taking hold on the continent. Same store sales in North America, a market which has hurt many of Kors' competitors, saw a rise of 21%. In North America it is the accessory business which is powering sales higher, which is an important fact to take note of.
Kors is one of the few names we would want to own individually, however like our call with Gap we would want to be taking profits off the table right now and reinvesting in the retail space via ETFs to get broader exposure to the sector.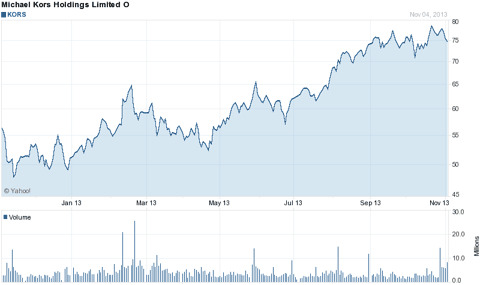 Source: Yahoo Finance
Michael Kors shares are up about 4% in pre-market trading on the news and the company is holding a conference call as we speak. Readers should watch to see if the shares are able to take out their old all-time high today on the back of these solid results as well as the good guidance provided for the current quarter and the rest of 2014.
Disclosure: I have no positions in any stocks mentioned, and no plans to initiate any positions within the next 72 hours. I wrote this article myself, and it expresses my own opinions. I am not receiving compensation for it (other than from Seeking Alpha). I have no business relationship with any company whose stock is mentioned in this article.