Chemed Corporation (NYSE:CHE) is the parent company of two subsidies: 1) Roto-Rooter and 2) VITAS. Roto-Rooter operates through 110 company-owned branches and independent contractors, and over 400 franchisees. VITAS focuses on curative hospice care that helps make terminally ill patients' final days as comfortable and pain free as possible. The question is: how can the parent's management be effective operating in two distinct industries?
One thing is certain though: Chemed Corporation isn't the next Berkshire Hathaway (BRK.A, BRK.B). Similar to Berkshire though, the company is a cash generating machine, posting $17.4m, $14.6m, $22.2m, and $26.7m in net income, the past four quarters, on a US GAAP basis. On an Adjusted EBITDA basis the company made $201.4m in 2012, $197.3m in 2011, and $189.4m in 2010. And, as the years have passed (no pun intended), management has decided to repurchase the company's shares.
The number of shares outstanding since 2010 has steadily been decreasing as the Board of Directors has announced share buybacks of $70m in 2010, $100m in February 2011, $100m on November 2011, and more recently another $100m in February 2013. The share count as of December 31, 2012 was 19.3 million. The Chemed share buyback program almost seems like that of some tobacco companies; given enough years, there'll be no more shares to buy back!
As a market participant I know from past market activity if an activist investor wants to split up a company, the activist will start with purchasing common shares. Chemed is low hanging fruit so to speak for an activist, and with such a low share count, volume activity will be noticeable and the common shares will rise.
Caution Ahead
Cash generator, share buy backs, shareholder friendly...is Chemed Corporation to good too be true? As a deep value investor, I enjoy a good scandal at a company as it provides a great opportunity to buy shares cheaply. Upon further research, VITAS, the hospice care subsidy, has faced allegations of committing fraud by falsifying the acute care diagnosis of patients, which has led to improper reimbursement from Medicare and Medicaid. Lying to the federal government is obviously a serious offense and has its downside. But since these allegations have surfaced in early 2005 and more recently May 2013, I would be hard-pressed to think management or the BOD have no controls in place to mitigate the risks of improper billings and/or improper patient diagnoses, given the allegation are eight years old.
The reason for this belief stands on the fact they are dealing with the government. In order to receive government aid, operators have to go through a screening process to ensure certain standards are met, which include how patients on Medicare or Medicaid are diagnosed. Whether management is competent or not isn't the question; what an investor should ask is why would management want to kill the goose who laid the golden egg (in this case the government reimbursing them). Management would do what it has to to increase the controls in place just enough to continuing receiving reimbursements from the government.
In addition, for the BOD to be announcing share buy backs of over $370m if fraud was occurring would be clearly irresponsible and illogical.
Roto-Rooter to the Rescue
More important than the Post Office in most cases, when in need of plumbing Roto-Rooter is the solution. Roto-Rooter generates about 25% of Chemed revenue. Though not significant, it is material to the consolidated financial statements. (Refer to graph below)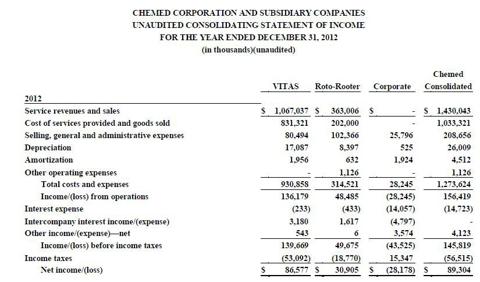 Case for a Strategic Breakup
VITAS and Roto-Rooter are on two different planets when it comes to sharing synergies from a business operations perspective, aside from reporting up to Chemed. One subsidiary deals with people in the last phase of their life and the other subsidiary is involved in performing house calls to help with plumbing issues. In order to unlock shareholder value at Chemed, investors need a white knight, like Carl Icahn, who has experience with taking over companies or invoking change. Carl's recent investments have included Apple Inc (NASDAQ:AAPL), Netflix Inc (NASDAQ:NFLX), and Dell Inc, (NASDAQ:DELL). Chemed Corporation only has a market capitalization of 1.3B, so he probably wouldn't be interested; but Bill Ackman might! A message to Bill would essentially entail splitting up Chemed into two operating entities, mitigating VITAS litigation issues from Roto-Rooter and/or hoping to find two strategic buyers. The benefits would be to find a larger business or a REIT (refer to a previous article 'Sabra Health Care REIT - Built On a Solid Foundation') who would have interest in VITAS' hospice services for operating in their facilities. For Roto-Rooter, how about merging with a home service division like Sears Holding Corporation (NASDAQ:SHLD), which also performs home services?
Summary
Bottom line, Chemed Corporation generates a substantial amount of cash and is currently suppressed in the market by litigation issues. If either division were separate operating entities or merged with other companies, such an event would unlock shareholder value and be more acceptable to institutional investors. Currently I have no position in Chemed, but if it turns out the company is not committing fraud regarding its Medicare and Medicare claims, the stock price could rise from its current levels around $70 per share to $90 in less than a year, simply if management continues to repurchase shares at its current pace.
Disclosure: I have no positions in any stocks mentioned, and no plans to initiate any positions within the next 72 hours. I wrote this article myself, and it expresses my own opinions. I am not receiving compensation for it (other than from Seeking Alpha). I have no business relationship with any company whose stock is mentioned in this article.