On October 20th, Crown Castle International Corp. (NYSE:CCI) announced it acquired rights to lease and operate ~9,700 AT&T (NYSE:T) communication towers for $4.85 B in cash. Under the contract, CCI has the right to lease and operate the AT&T towers for an average of approximately 28 years. More importantly, CCI has the option to outright purchase the towers at the end of the lease for roughly $4.2 B.
Why is this such a big deal for CCI? To start, the transaction increases CCI's tower count by almost 30% while increasing EV by only 15%. Therefore, there is a 15% accretive benefit to shareholder value post deal.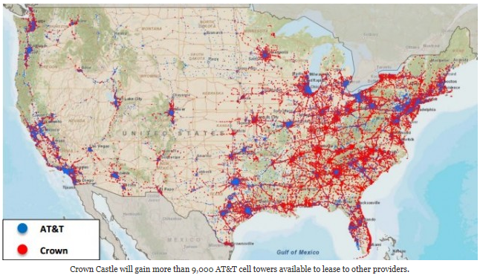 Click to enlarge
Also, many of the towers are attractively located in major cities across the US, providing CCI with attractive market exposure.
Ben Moreland, Crown Castle's President and CEO, stated, "...our agreement with AT&T, which strengthens our position as the largest provider of shared wireless infrastructure in the US, which we believe is the largest, fastest growing and most profitable wireless market in the world."

He continued, "...nearly half of the AT&T towers are located in the top 50 markets, where we expect the majority of network densification and upgrade activity to occur."
The new 9,700 towers have an average of 1.7 tenants per site, while CCI's towers average ~2.8 tenants per site, which clearly shows AT&T's inability to market to and possibly negotiate with competing carriers. Once CCI is able to better lease out open space to other carriers, the acquired assets will become highly accretive to CCI. So why did AT&T sell such seemingly attractive assets?
For starters, AT&T is seeking to monetize an extensive portfolio of cell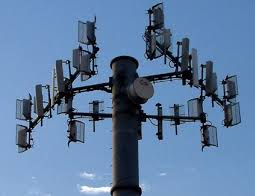 towers while protecting their right to access this valuable space. CCI will guarantee the carrier leases for $1,900 per month per site, with annual increases of 2%, with rights to renew. AT&T will also have access to additional space on the towers in the future if needed. The new money will help AT&T fund $14 B worth of upgrades to their network as well as a means to fund an expensive stock buyback that should top over $10 B in the near future, not to mention their healthy dividend that many say may be relatively underfunded by cash flows.
As a whole, it appears both CCI and AT&T entered into a mutually beneficial arrangement. CCI bought geographically appealing assets with financially accretive profiles with high possibilities for growth due to vacant space. Most importantly for shareholders, the transaction increases CCI's tower count by almost 30% while increasing EV by only 15%. So as long as CCI can find additional tenants for the new towers, shareholders should be rewarded. On the other side of the coin, AT&T received desperately needed cash for their balance sheet, while keeping their valuable tower space they will obviously need in the future, as the smartphone market expands going forward. On the whole, this agreement reaffirms the strong relationship CCI has with AT&T, its largest tenant, and is mutually beneficial to both parties.
Disclosure: I am long CCI, VZ, AAPL, GOOG. I wrote this article myself, and it expresses my own opinions. I am not receiving compensation for it (other than from Seeking Alpha). I have no business relationship with any company whose stock is mentioned in this article.