Jacobs Engineering Group Inc.
provides professional, technical, and construction services. Its principal services comprise various aspects of engineering and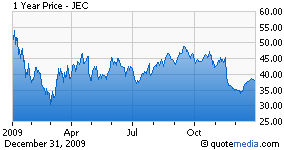 construction, operations, and maintenance, as well as scientific and specialty consulting services. They serve companies and organizations including industrial, commercial, and government clients across multiple markets and geographies.
Primary service markets include aerospace and defense, automotive and industrial, buildings, chemicals and polymers, consumer and forest products, energy, environmental programs, infrastructure, oil and gas, refining, technology, and pharmaceuticals and biotechnology. Jacobs Engineering has about 160 offices in 20 countries, with operations in North America, the United Kingdom, Europe, India, Australia, and Asia. JEC was founded in 1947 and is headquartered in Pasadena, California.
Due to its oil and gas industry exposure Jacobs earnings and share price peaked in 2007-2008. Shares hit highs of $99.60 and $103.30 in those years before toughing at $26 when the market melted down last November. The share price recovered to $54.70 early in 2009 before settling back to this morning's price of $37.80.
Why did the price drop back again? Management lowered FY 2010 expectations. While there is no clear consensus Zacks now sees FY 2010 and FY 2011 at $2.38 and $2.75 while Value Line is looking for $2.60 and $2.69 respectively. Standard & Poors now carries estimates of $2.50 and $3.15.
Here are Jacob's per share [split-adjusted] numbers from continuing operations as reported by Value Line:
33.60-46.60

38.30-99.60

26.00-103.30

30.20-54.70

* FYs end Sep. 30th of the same year
Jacobs has steadily raised it sales per share and book value without the need for borrowing. As of Oct. 2, 2009 their total debt was $18.2 million against corporate cash of $1.033 billion. Management expects to use their strong balance sheet to finance some acquisitions which should add to future growth.
Even using the lowest estimates, JEC now trades for 16x this FY's and 14x FY 2011's earnings. Those are very low multiples for a high-quality issue while EPS are near a cyclical low point. Once earnings begin to pick up again it seems likely we'll see a P/E expansion coupled with EPS of at least $3. A bounce back to even 18x normalized earnings would bring JEC back to the mid-$50's.
Value Line
notes Jacob's financial strength as 'A' and puts both their 'price growth persistence' and 'earnings predictability' in the 90th percentile (with 100th being best). Standard and Poors gives JEC their highest [5-Star] rating and lists a 12-month target price of $52 /share.
Is that a reasonable goal price? Just a glance at the chart above shows historical trading of $54 - $103 during each of the calendar years 2007 – 2008 – 2009.
I'm using the present share price weakness to add to my JEC position. I'm also selling LEAP puts for 2011 and 2012 to bring in premium now while locking in even more favorable net buying prices in the event I get exercised between now and their expiration dates.
Here are some attractive puts available as I'm writing…
Writing any of the above puts would provide decent margins of safety from the present quote of $37.80 while presenting the chance for nice gains should JEC advance to $40 - $50 over the next 12.5 – 24.5 months.
Disclosure: Author is long JEC shares and short JEC options.