Even with the price of gold down over 20 percent year-to-date, there are several gold mining companies which remain profitable and solid investments going forward, even if the price of gold remains weak.
Alamos Gold (NYSE:AGI) is in this camp; the company remains one of my favorite gold mining stocks because of its industry-leading cash costs, solid balance sheet and outstanding growth potential.
Alamos recently dipped from $16 a share to just under $15 a share following quarterly results and an analyst downgrade, but I believe this dip should be bought by investors. The company continues to execute its strategy and is in a great position to make more acquisitions to grow its low-cost growth profile.
Company Profile
Alamos Gold owns and operates the Mulatos Mine in Sonora State, Mexico. The company has 2013 production guidance of 180K - 200K ounces of gold, at an all-in sustaining cost of just $785-$825.
This is among the lowest in the industry, as you'll see below.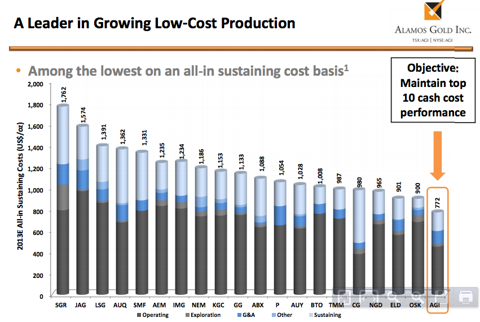 Click to enlarge
- The company also has a pipeline of development projects that could provide tremendous growth in the future. These projects include the Canakkale project in Turkey, the Esperanza Gold Project in Mexico and the Quartz Mountain Project in Oregon, US.
- The Esperanza project was a great acquisition in my view, with all-in sustaining costs estimated to be just $900 an ounce with average annual production of over 100K ounces.
- Following the Esperanza acquisition, the company has an impressive resource base of 2.37 million ounces of gold on a proven and probable basis, 6.56 million ounces measured and indicated, and 2.98 million ounces inferred. The acquisition of Esperanza was small, but still managed to increase Alamos' M&I reserves by 29 percent.
- The Orsa Ventures project in Oregon has an inferred resource of 2.85 million ounces of gold and could be a long-term growth driver for the company.
- A Pre-Feasibility Study was released on the company's projects in Turkey (Kirazli and Agi Dagi), which shows that the projects could produce more than 242,000 ounces of gold combined at low cash costs. Pre-production capital expenditure costs are relatively low for a mine of this size ($424.4 million, which will most likely be funded with cash on hand). The fact that the company will most likely not have to issue equity or take on debt to get this project into production is a big win for shareholders.
Initial production is expected in the first half of 2015. This is the most important project for the company, in my view, as it could double production by 2015. The project also has exploration upside.
- It's important to note that the company has tremendous growth prospects, but even more important is that the growth is expected to be low-cost - in both pre-production capital requirements and all-in sustaining costs of production.
This means that even with gold below $1,400 per ounce, Alamos should continue to be quite profitable. The focus on cost of production is important, plain and simple, and Alamos gets this.
Of course, if gold rises, the story just gets more compelling. Between all of Alamos' projects, the company could easily become a 400-450K+ producer.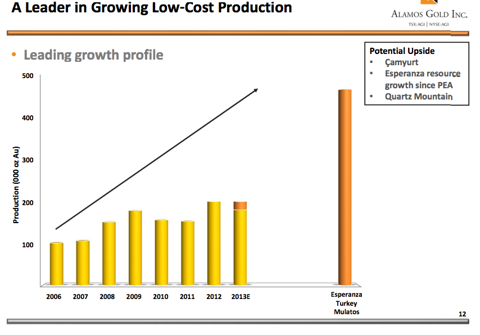 Click to enlarge
Alamos Remains One of the Best Performing Miners
This year has not been kind to the gold miners, with the gold miners index (NYSEARCA:GDX) down over 50 percent year to date. However, if you pick your gold stocks instead of investing in the GDX you should be able to outperform the index.
You will see below that Alamos Gold has outperformed the GDX as well as two of its competitors: Goldcorp (NYSE:GG) and New Gold (NYSEMKT:NGD). You will see that Alamos is ahead of the pack by a large margin.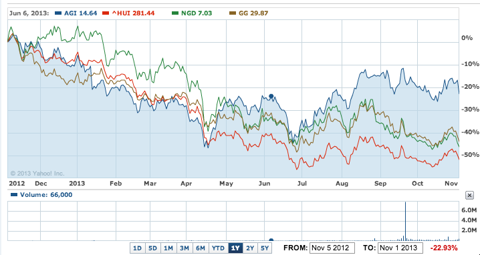 Click to enlarge
I believe the outperformance is due to the company's low cash costs and earnings results as investors are willing to pay more for a gold miner that is profitable, no matter what the price of gold. Alamos has even outperformed all of the gold and silver streaming companies, such as Silver Wheaton (NYSE:SLW) and Royal Gold (NASDAQ:RGLD), which tend to outperform other miners.
Alamos Gold - Still Profitable With Depressed Gold Prices
Alamos reported Q3 2013 results on Oct. 31:
- For the quarter, the company reported an average realized gold price of $1,329 per ounce for revenues of $64 million.
- Cash Flow from operations before changes in non-cash working capital of $26.4 million or $0.21 per share.
- Earnings were $9.2 million or $0.07 per share.
- The company has reported year-to-date production of 151,000 ounces at total cash costs of just $461 per ounce and all-in sustaining costs of $810 per ounce, putting them in a great position to meet full-year guidance of 180,000 to 200,000 ounces at total cash costs of $500 to $520 per ounce.
- Solid Balance Sheet: The company finished the quarter with $434 million in cash and short-term investments and no debt, despite the Esperanza and Orsa acquisitions. The company is in a great position, period.
- The company continues to return capital to shareholders, paying their seventh consecutive semi-annual dividend for $12.7 million - and bringing the total cash returned to shareholders in dividends to over $71 million.
- Alamos currently has a dividend yield of 1.40 percent. While this isn't spectacular, the dividend is definitely sustainable and investors are essentially getting paid to wait for an increase in the gold price. A good strategy, in my opinion, is to simply re-invest the dividends.
Potential Mexican Mining Reform Should Not be Ignored
There has been one recent development that is a potential negative for the company.
On the recent company earnings call, James R. Porter, Chief Financial Officer at Alamos Gold, discussed changes to the Mexican tax code that are expected to become law on January 1, 2014.
The following is from the Q3 2013 earnings call transcript:
The President of Mexico presented his tax reform bill to Congress back on September 8, 2013. In mid-October, the Lower House of Congress passed the bill with certain modifications and the bill has now effectively received tentative approval and is expected to become law with an effective date of January 1, 2014.

The aspect of the tax reform that will have the highest impact on the mining industry is the 7.5% mining royalty calculated on earnings before interest, taxes, depreciation and amortization.

The 7.5% mining royalty is deductible for tax purposes. After tax and at current gold prices we estimate that this is equivalent to a 2.5% NSR, or royalty calculated on revenues. In addition to the 7.5% royalty, a 0.5% environmental fee calculated based on revenues will be charged. Again, this is tax deductible, resulting in a net 0.35% revenue royalty.

We are reviewing the legislation as approved and evaluating a number of strategies to minimize the impact on our operations. With our recent acquisition of Esperanza and the elimination of the flat tax system, we have a number of tax planning opportunities newly available to us that we expect will be successful in minimizing the net cost of the tax reform.
This is somewhat worrisome for shareholders, as a 2.5% NSR would take a bite out of the company's profits, but I believe management has already taken the necessary steps to diversify out of Mexico and limit the tax effects. It is very early to say just how much of an impact this tax ruling will have on Alamos, and it is definitely something to keep an eye on. However, I certainly don't believe it should be a reason for investors to abandon ship.
The fact that Alamos has projects in Turkey that should be in production by 2015, makes the situation a lot less worrisome in my view.
Bottom Line - Alamos is a Buy
I believe this is one of the lowest risk gold miners out there as Alamos has industry-leading cash costs and a rock-solid balance sheet.
I also believe Alamos has far more growth potential than some of its peers as they hold the potential to double production in just a few years. Alamos also pays a decent-sized dividend, allowing investors to dollar-cost average their positions on any dips if they wish. Alamos Gold is one of my top picks among the gold miners and I will keep a close eye on the company going forward.
Disclosure: I am long SLW. I wrote this article myself, and it expresses my own opinions. I am not receiving compensation for it (other than from Seeking Alpha). I have no business relationship with any company whose stock is mentioned in this article.
Additional disclosure: I may purchase shares of AGI in the following months.