As we enter 2010, the risks and rewards of investing globally must be considered by all investors. Beyond deeper issues than emerging market vs. developed market diversification, an investor must choose what stocks to invest in within each individual market. In order to create a more effective portfolio risk model, correlations and covariances for sectors and investing styles need to be measured.
The stock market contagion we collectively witnessed in 2008 may be receding, but what the U.S. market does will most certainly have dramatic effects from China to Greece. This afternoon on CNBC Jordan Kotick argued that the "U.S. will provide the direction (up, down, sideways), and the emerging markets will provide the leadership." This viewpoint revolves around the understanding of country beta relative to a global stock portfolio. Higher beta countries, the EMs, will be crucial to outperformance if the bull market is real; conversely, they will eat investors' equity alive if another crisis or significant pullback occurs.
Thus, no matter your macro view, understanding global correlations is important. For the purposes of this article, I focus on the classifications of growth vs. value stocks (determined by Price-to-Book), market capitalization size, and different sectors that span all markets. The basic idea is that industry and style position sizes should be considered in risk models in a way similar to that of country position sizes. While most investors will factor in a 15% portfolio allocation to India and a 60% allocation to the U.S., how many will consider a 30% allocation to growth equities in both countries and a 70% allocation to value? Likewise, an industry such as energy will remain a significant correlation risk because of the universal nature of energy prices. If my view is that Indian equities will be excellent performers in 2010, but the U.S. will go sideways, I should be simultaneously measuring the correlation and returns on my growth/value and sector portfolios across both markets.
A recently published article in the American Journal of Finance by Bekaert, Hodrick, and Zhang suggests that industry and style correlations should play a significant role in understanding your portfolio's globalized risk. International Stock Return Comovements is an analysis of the factors and trends underlying global stock correlations. Written in June 2008, the piece is pre-Fall 2008 but uses the financial crises of the late '90s and the collapse of the tech bubble as reference points. The researchers use both an APT and a Fama-French based model to analyze the factors and betas involved in comovements. While correlations increase markedly as stock volatility surges, a collapse in volatility is normally associated with significant divergence in global indices.
The authors argue that increased financial market integration is not reducing the benefits of international diversification to a significant extent. Additionally, they point out that industry-based portfolio groupings [within one industry, across all countries studied] have a higher correlation (.63) than do country-based portfolio groupings. Yet, it is important to note that periods of higher volatility will cause correlation shifts based on the source of volatility.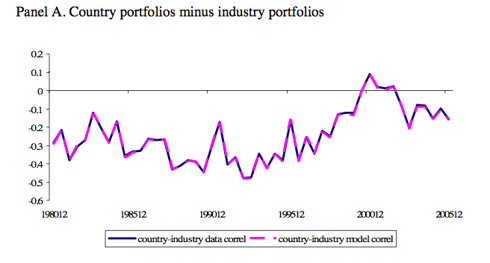 To put this into English, we can't determine if global volatility with reduce the benefits of country or sector diversification more unless we know the source of the volatility. If oil prices collapse, it is likely that sector correlations increase, while country correlations may remain constant or even diverge. Simultaneously, if country-specific factors are the cause of volatility (ex: major trade sanctions are exchanged by China/U.S.), then correlation between countries could rise.
The article goes on to observe that the relation between large-cap growth stocks across the world has shown a meaningful uptrend over the previous 20 years. Simultaneously, we've seen a divergence in the correlation between small-cap and value stocks. This trend should be seen as particularly useful to a diversified investor. After all, the historical high returns associated with holding small-cap growth also seem to be providing the investor with better country-based diversification. Small-caps in emerging markets remain undervalued compared to large-cap EM stocks because of the lack of public exposure and Wall Street analyst coverage they receive. If 2010 does prove to be a good year for emerging markets, a strong case could be made that small-cap value will do especially well. Simultaneously, an investor would be able to reduce his cross-country risk!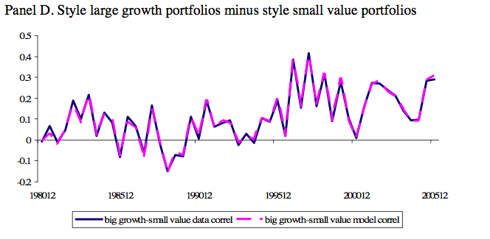 Disclosure: None