After a big boost from the highly successful September IPO of A123 Systems (AONE), the fourth quarter was not kind to stocks in the energy storage sector. With the exception of Hong Kong Highpower (HPJ), which chalked up a 112.2% run, Active Power (ACPW), which gained up 23.3%, and A123 which settled 5.3% higher after rollercoaster post-IPO volatility, the rest of the stocks in my universe of 17 pure play manufactured energy storage device companies were down. The following table summarizes the fourth quarter price performance of the companies I follow.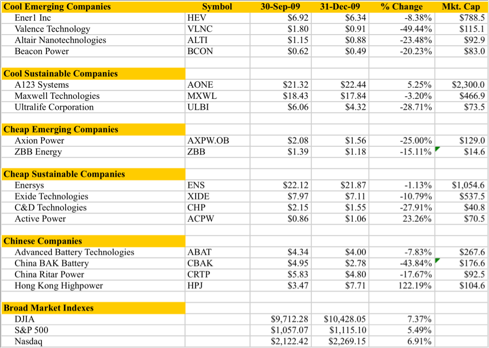 Click to enlarge

The next table summarizes the portfolio performance that a hypothetical investor would have realized over the last three months if he had invested $1,000 in each company on September 30, 2009. It also presents comparable data for the broad market indexes.

| | |
| --- | --- |
| Broad Market Indices | +6.59% |
| Cool Emerging Companies | -25.38% |
| Cool Sustainable Companies | -15.96% |
| Cheap Emerging Companies | -20.05% |
| Cheap Sustainable Companies | -4.14% |
| Chinese Battery Companies | +13.21% |

I remain convinced that energy storage will become a dominant investment theme over the next few years as the world strives to eliminate waste of scarce resources and respond to perceived environmental issues like global warming. The recent pullback in prices may well prove to be a good buying opportunity for investors who have been evaluating energy storage as an investment theme.


Disclosure: Author is a former director Axion Power International (NASDAQ:AXPW) and holds a large long position in its stock. He also holds small long positions in Exide (XIDE), C&D Technologies (CHP) Active Power (NASDAQ:ACPW) and ZBB Energy (ZBB).