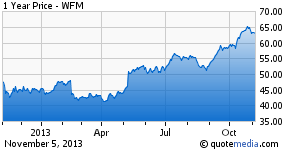 Whole Foods (NASDAQ:WFM), the specialty, organic retailing juggernaut, reports their fiscal q4 '13 earnings after the bell on Wednesday, November 6th, 2013.
Analyst consensus is expecting $0.31 in earnings per share (EPS) on a little over $3 billion in revenues, for expected year-over-year growth of 3% in EPS and 4% in revenues.
Coming out of the August '13 report, WFM management guided somewhat cautiously around the run rate of current q4 '13 comps, which were slightly below Q3's 7.5%. [With Starbucks's (NASDAQ:SBUX) 8% America's comp growth reported last week, and the tight correlation between WFM and SBUX, I would expect WFM comps for the 4th quarter to be inline with estimates, and hold no surprises.]
WFM will be lapping easier comps particularly in late '13 and early '14 as the Northeast laps Sandy and Nemo Superstorms.
The stock is up 39% year-to-date, not including the dividend.
Here is our 3rd quarter preview, and from a longer-term perspective, the issue for WFM is the same: superbly-managed retailer, with a stock that always looks priced for perfection.
At least in Chicago, WFM has a strong presence, but I've begun to notice more and more competition at least in the Near North area of Chicago. Mariano's is opening stores, and I've now begun shopping at Plum Market, which is a "Whole Foods" look (and feel)-alike.
However, from a local market perspective, what Whole Foods and Plum are doing is pushing some of the traditional, higher-cost grocery chains (like Dominick's and Jewel) from the marketplace, by offering fresher and healthier product at equivalent or lower price points, and with a lower (non-union) cost structure.
At least in the parts of the local market that I can observe, there seems to be a shift going on in the retail grocery model, and while Whole Foods is seeing more competition, they are also at the forefront of the shift.
While we prefer to have a specific, actionable point around our earnings preview and analysis, the issue we struggle with in terms of investing client money is that WFM gives us so few lower-risk entry points, at which we would want to add to our position for clients.
We currently have around a 2% position within client accounts.
In terms of valuation, for fiscal 2014, consensus analyst expectations, are calling for 18% EPS growth on 14% revenue, with current consensus at $1.73 and $14.78 billion respectively. Trading at 36(x) the expected 2014 estimate, and 30(x) the expected fiscal '15 estimate, WFM is once again priced for perfection, which in their case, the retailer often achieves.
At 15(x) cash-flow and 30(x) free-cash-flow, we are unexcited about adding to the stock at current levels, although the price action pre-earnings, tells me that the fiscal 4th quarter will be fine, and fiscal '14 guidance will hold no surprises. The 4% free-cash-flow yield metric is also unexciting, but this is what we typically see with growth stocks.
WFM has been generating positive free-cash-flow for some time, and has been returning that cash to shareholders. Today, WFM is returning 75% of 90% of free-cash (after capex) to shareholders in the form of dividends and share repurchases.
Morningstar's discounted cash-flow model values WFM at $43, per share, while our internal model which puts a premium growth, more so than terminal growth, values WFM at closer to $100 per share. I think both these valuations are too extreme and polarized, thus $70 seems to be an appropriate mid-point valuation for the stock, if we split the difference.
There are many investors today that thumb their noses at "growth" stocks and growth valuations, but superb execution and a market leadership position like WFM show retail investors that growth stock investing can payoff over the short and long term. The key is to remain disciplined and patient, and manage your risk with regards to positions.
We would increase our position nearer to $50 or the current 200-day moving average, and are happy to wait for a market correction.
The key long-term question for me remains what is WFM's maximum store target for the continental U.S.? WFM gave a 1,000 store target a few years ago (early 2011), and with 350 stores currently, that puts us 35% of the way through the expected build out. Is that realistic? Is increasing competition in urban areas threatening comps (not yet)? And can this store growth be financed with free-cash-flow (i.e. internally) thus crimping return of capital (which is often offset with stock price appreciation)?
Like Starbucks, Whole Foods is truly an amazing retailer. Just be patient with the stock.
Disclosure: I am long WFM, SBUX. I wrote this article myself, and it expresses my own opinions. I am not receiving compensation for it (other than from Seeking Alpha). I have no business relationship with any company whose stock is mentioned in this article.