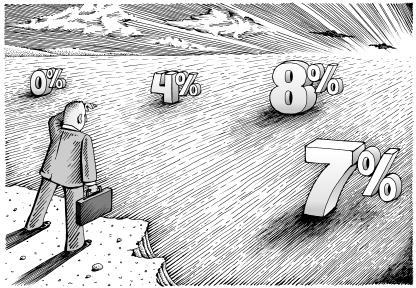 CEF Weekly Review: The 13 closed end fund [CEF] types on average posted a 0.3% decline for the week ending 12/31/09. On an aggregate, unweighted basis, the weekly average price change for the 507 CEFs decreased 0.05%.
The weighted 49 CEFs comprising the Claymore CEF Index registered an average decline of 0.7% for the week. The S&P 500, as measured by the SPDR S&P 500 ETF (NYSEARCA:SPY), declined 0.9% during the slow holiday shortened week.
(Click Here for YTD CEF Performance. The table is based on a 273 CEF sample size as all the data fields are not available for the CEF universe.)
Click to enlarge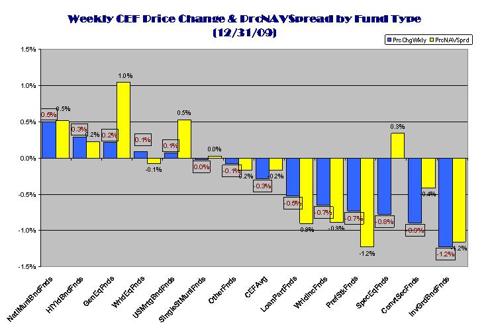 The Eqcome CEF Fear Index experienced a miniscule uptick (-0.06) after several weeks of easing. The aggregate weekly price change decreased slightly while NAV increased (-0.05%, 0.01%, respectively). The CBOE Volatility Index (VIX), which typically moves inversely with the stock market flat-lined after dropping precipitously the previous week (10.2%). Volume for the week was anemic at 2.4 million shares.
CEF Weekly Fund Type Performance: The price performance of the 13 fund types for the week was a curious mix of interspersed equity and debt-oriented fund types. This was most likely a function of year-end portfolio adjustments and investors enjoying the last days of the decade. As a result, there probably isn't much relating to investment trends that can be gleaned.
Nonetheless, there were some interesting bifurcations of note. National and single state munis which typically trade together were separated by other fund types. An even wider gulf separated high yield bond funds and investment grade bond funds. Concerns about future inflation and higher interest rates seem to be bubbling to the surface.
In terms of PrcNAVSprds[1], there were several fund types where there was a notable divergence of share price and NAV. GenEqFnds NAVs advanced greater than price (1.0% versus 0.2%, respectively). There may have been some "catch up" from the previous week when share price materially exceeded NAV. To a lesser extent, NAV noticeably exceeding price was evident for USMrtgBndFnds.
A divergence in price and NAV was recorded for SpecEqFnds. While prices declined 0.8%, NAVs expanded 0.3%. This was a general phenomenon as various sectors within the fund type were dispersed.
CEF Winners and Losers: The CEF with the greatest positive PrcNAVSprd for the week was Gabelli Health & Wellness Trust (NYSE:GRX). GRX's PrcNAVSprd was 6.3% for the week, with share price advancing 5.7% while its NAV declined 0.6%. It would appear that some investors are trying to play the health and wellness trend in the wake of the passage of the health care bill in the senate. At this point it's hard to determine who the winners and losers are with regard to H.R. 3200.
For those investors looking at this trend, there are three other health care related CEFs. They are H&Q Healthcare Investors (NYSE:HQH), H&Q Life Sciences Investors (NYSE:HQL) and BlackRock Health Sciences (NYSE:BME). These health care CEFs have more of a biotech orientation.
This week's CEF with the greatest negative PrcNAVSprd was Pimco High Income Fund (NYSE:PHK). PHK's PrcNAVSprd was -11.9% resulting from a 11.1% plunge in the stock price and an increase 0.8% change in NAV. The stock which was trading at a 3 month average volume of 700,000 shares, spiked in the last two days of the year. On Thursday the 30th, the stock traded 8.2 million shares and the following day it traded an additional 2.2 million shares.
Some investors speculate that it was a significant holder who made considerable money on the position and was doing some year-end house cleaning. There are other speculations regarding the price adjustment with relationship to its premium, the potential for a dividend reduction and the end-of-the-line for high yield bond appreciation. There is a lively discussion on SeekingAlpha in the CEF category for those interested.
Economic & Earnings Outlook: (Click Here for next week's economic calendar; click Here for earnings announcements and estimates.)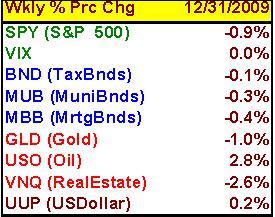 ETFs: (Click Here for ETF YTD sector performance.)
Insider Trading: CEF Insider trading for the last week of 2009 ended in a whimper. Horejsi Group continued its insider buying in both Boulder Growth & Income Fund (NYSE:BIF) and Denali Fund (DNY) in a subdued manner.
Horejsi added another 66,772 shares at around $5.71 per share capping off a significant month when it acquired an additional 1,047,665 shares of BIF for a total monthly expenditure of almost $6 million dollars. Horejsi currently owns 27% (6,891,990) of BIF's shares outstanding. With regards to BIF there are elements of a spy novel (See: "CEF Focus for the Week" below.)
The only other insider trade that was of interest was John F. Cogan, Jr., Director and CEO of Pioneer High Income Trust (NYSE:PHT). Mr. Cogan, Jr., who disposed of 17,600 shares in the mid-$14's reduced his holdings to 94,000 shares. One can only speculate whether this was year-end tax planning or an affirmative move to reduce exposure to a stock that has doubled since year-end and is currently selling at a premium.
There was scatter buying and selling of a deminimous nature in other CEFs. (Click here for a hyperlink to the Joe Eqcome CEF Weekly Insider Report.)
CEF Distribution Announcements This Week: The following is a link to a table of CEF distribution announcements this week as well as the previous week's with yet expired ex-dividend dates. The list is not intended to be inclusive. (Click Here for Weekly CEF Distribution Announcements.)
CEFs Focus for the Week: The focus stock of the week is Boulder Growth & Income Fund (BIF).
BIF provides elements of a spy novel. A fellow contributor of SeekingAlpha, "Student of CEF's", posted an intriguing theory regarding BIF, Horejsi, Doliver Capital, LLC and Cornerstone Progressive Return Fund (NYSEMKT:CFP) to which I've provided a link to his blog under the comment: "CEF Weekly Review: Equity Sugar High". Essentially, my simple interpretation of his postulation is that Horejsi is positioning BIF to take a "page" out of the Doliver's CFP's playbook with a likely greater degree of success.
Horejsi, unlike Doliver with CFP, is not only the largest shareholder of BIF but it is also the owner of the advisory which manages BIF. Horejsi has accumulated a significantly larger stake in BIF post a rights offering at a premium in early '08. Subsequently, BIF suspended its managed distribution policy. The latter caused the stock to plunge from a premium to a significant discount which allowed Horejsi to buy BIF on the cheap.
The thesis is that once Horejsi has accumulated a significant enough position, it would re-institute a managed distribution policy with a significant return-of-capital component in the hopes that the stock price, like that of CFP, would move to a significant premium, at which time Horejsi would sell its position over a period of time at a substantial profit.
It is nonetheless an extremely interesting analysis and one step further than I'd taken it. Whether it can stand up to scrutiny is subject to further analyses.
For those of you who have further interest in the "story", I've provided a link to an article written earlier this year outlining the curious circumstances regarding insider buying at BIF: "Insider Buying at BIF: A Case of Manipulation or Hallucination?" (5/7/09).
Consider it food for discussion.
Disclosures: Owns a diversified portfolio of CEFs including a long position in BIF.
---
[1] A positive PrcNAVSprd can be interpreted as negative because it typical signals a share price movement less favorable than the NAV. All things being equal, price and NAV should move in tandem. A price movement greater than the NAV may indicate the stock is overvalued relative to its NAV which in theory is the stock's intrinsic value. The opposite would be true for a negative PrcNAVSprd.