Every once and a while you find yourself going through the stock screener, doing some due diligence and trying to put a couple of new potential winners on the trading radar screen.
The purpose of this article is to introduce three stocks that I'm bullish on, that you may not have heard of. These are three stocks that I think can provide significant gains, despite their lack of coverage on major news networks and on investment sites.
Natural Gas Services Group - (NYSE:NGS)
Several months ago, I recommended buying a little known company called Natural Gas Services at around $22/share. Today, NGS is trading at over $27 and I'm still bullish on the company.
As a whole, I never really paid attention to the natural gas market, but as of late it's been in the forefront of a lot of energy sector headlines. After doing considerable research, natural gas is starting to appear more and more like the future of energy - making it a potentially lucrative investment. NGS is the ideal vehicle for an investment in natural gas, and here's why.
From NGS's website :
Headquartered in Midland, Texas, Natural Gas Services Group, Inc. sells and leases compressors used in the production of natural gas. We are a leading provider of small to medium horsepower compression equipment. We focus primarily on the non-conventional natural gas production business in the United States (such as coalbed methane, gas shales and tight gas), which, according to data from the Energy Information Administration, is the single largest and fastest growing segment of U.S. gas production.
NGS has fared well for investors of late, up nearly 10% in the last three months alone and yielding close to 70% for those that have been on board for the last twelve months.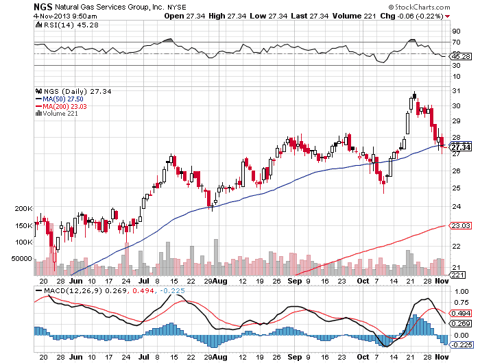 Click to enlarge
(Click to enlarge)
The big difference maker for natural gas has been the mainstream introduction of fracking - which supports 2.5 million jobs as of 2012. Fracking is basically the cracking of rocks through hydraulics that allows fluids like gas, petroleum, and uranium bearing solutions to migrate to a well. Fracking had been around for years, but only recently has there been cost effective ways to combine it with drillings that can yield natural gases. It has its risks, like safety of the job and potential damage to the environment - but, love it or hate it, it's not going anywhere anytime soon.
Natural gas prices have been sliding, but that shouldn't be an indication as to exactly how much gas is being produced and/or held in reserves. It's classic supply and demand - the more supply we have, the cheaper it gets.
This investor believes that it's never been clearer that natural gas is going to be a sector that booms in the next couple of decades. There's going to be a lot of competition, and it's going to get a lot of coverage. Many power plants are making switches from coal to natural gas to help with emissions. Many corporations like Waste Management (NYSE:WM) are powering their corporate vehicles with natural gas, as well. You'd be hard pressed to find people that haven't noticed an increase in vehicles on the road that say "Powered by Natural Gas" on the side of them. Companies in other industries, like chemical production, are also increasing their use of natural gas.
In addition, the U.S. is starting to export about 2% of our production through liquid natural gas - and this number is expected to rise as well. It's looking like the foreign demand isn't' going to ease up either, based on the prices overseas for LNG, which are exponentially higher than they are in the U.S. Bears on LNG, however, don't want the same supply and demand correction that's happened with the price in the U.S. to happen overseas.
Interestingly enough, as companies are turning to natural gas for more favorable emissions, the process in which the gas is being procured in the first place remains under debate. However, with this much focus on natural gas production, it's likely these methods of obtaining it are only going to get more efficient and better for the environment, as we start to figure out other methods.
Over the past year, NGS has taken major fundamental steps to sure up its business : it nearly eliminated all of its debt, while continuing to grow both its rental fleet, EBITDA, and quarterly rental revenue.
Up to this point, NGS's business relies mainly on flares and incinerators - supplemented by the rental of their compressors which are used to help facilitate the production of natural gas. As the natural gas craze continues to roll forward, the prospects for growth for NGS have never been greater. The company has been seeing their supplemental growth with compressors turn more towards primary, as international sales of compressors grow, as stated by CEO Steve Taylor in the company's 2012 annual report to shareholders:
Our sales business also grew in 2012 over the prior year. Flares and incineration systems had record revenues and compressor sales exhibited some recovery, although this business has not yet re-established its former levels of revenue. The business should show improvement over time, but visibility remains elusive. However, the compressor sales business has benefited over the last couple of years from increased international sales. This is certainly positive and we anticipate growth in that realm.
The company has been showing great growth, just as natural gas has, with plenty of room to grow further, in my opinion. Here, I contest there's money still to be made on the long side of things despite the already massive run up to $22. I'm a bull, and here's 5 reasons why.
(All slides source from NGS 3/2013 Investor Presentation)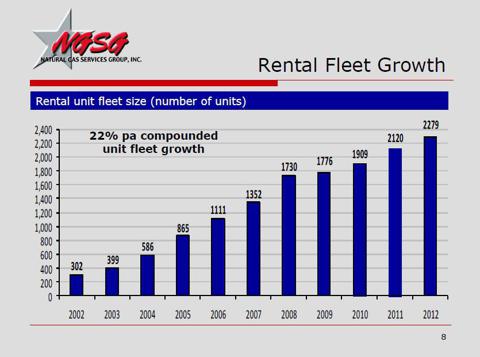 Click to enlarge
(Click to enlarge)
The company's rental fleet numbers continue to grow, commensurate with a company that is going to continue growing revenue. These slides from the company's March 2013 investor presentation say a lot.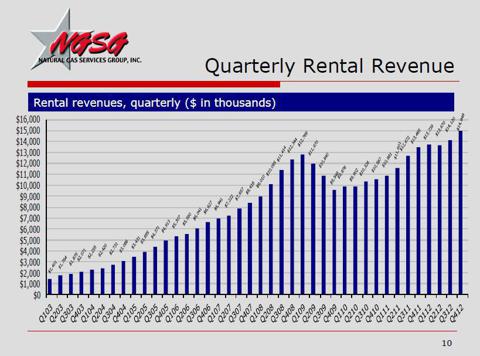 Click to enlarge
(Click to enlarge)
NGS reports November 7th, and I am expecting all-time company records in both EBITDA and revenue for the quarter, and a continued increase in the company's rental fleet growth.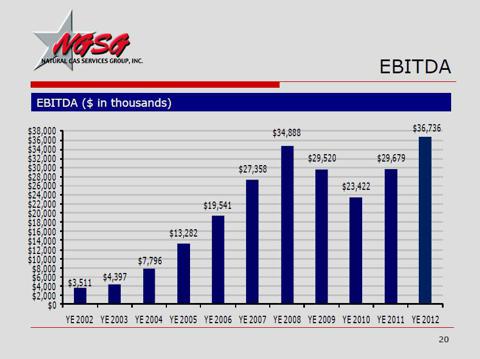 Click to enlarge
(Click to enlarge)
As the natural gas sector continues to push forward, I'm expecting investors in NGS - a small company with insiders holding significant amounts of stock - to reap the benefits of its growth.
Pacific Healthcare Organization - (OTCQB:PFHO)
Pacific Healthcare Organization has an extremely low float (around 800k), major insider holdings, and has shown explosive growth.
From Pacific Healthcare Organization's website:
Pacific Healthcare Organization, Inc., through its subsidiaries, engages in managing and administering health care organizations (HCOs) and managed provider networks in the state of California. The HCOs are networks of medical providers established to serve the workers' compensation industry.

Pacific Healthcare Organization, Inc., through its two HCOs, offers injured workers a choice of enrolling in an HCO with a network managed by primary care providers requiring a referral to specialists; or a second HCO, where injured workers do not need any prior authorization to be seen and treated by specialists. The company was formerly known as Clear Air, Inc. and changed its name to Pacific Healthcare Organization, Inc. in January 2001. Pacific Healthcare Organization, Inc. was incorporated in 1970 and is based in Newport Beach, California.
PFHO has traded exceptionally well over the past couple of years - offering investors many multiples on their investment, depending on how far back they first invested. Over the last year alone, PFHO has offered 190% gains. Don't let that deter you, I think this one is still just getting started.

Click to enlarge
(Click to enlarge)
Set to report on November 14th, PFHO is likely to continue trending in the direction that it went in after reporting second quarter - up in all key metrics: balance sheet, revenue, EPS, and earnings per enrollee.
(All numbers in thousands)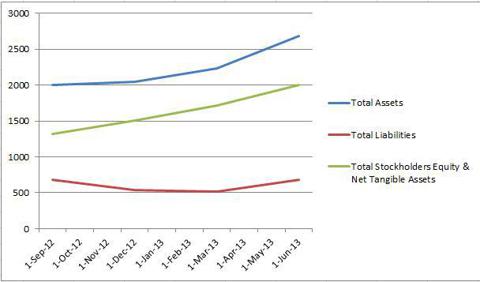 Click to enlarge
(Click to enlarge)
Even more impressive than the company's recent quarter-over-quarter results is a two and a half year snapshot looking back into just how much PFHO has improved heading into Q3 earnings.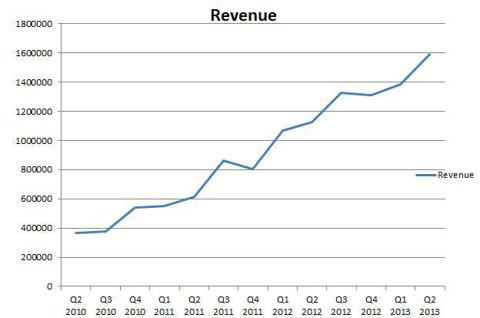 Click to enlarge
(Click to enlarge)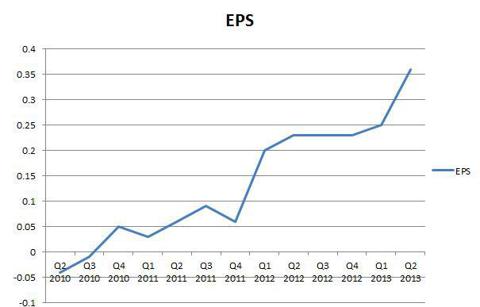 Click to enlarge
(Click to enlarge)
In addition, like NGS, there's major insider holdings. PFHO's CEO, Tom Kubota, has purchased shares as low as $1.75 in 2012 and as high as $9.25 in May of 2013, showing that he appears to have enough confidence in his company to not sell off his 600% gains from 2012, but rather to continue to invest in his growing company. Insider transaction history can be viewed at PFHO's Yahoo Finance page, located here.
Kona Grill - (NASDAQ:KONA)
I love Kona Grill, and not just because I'm a fat slob. Also, because I love investments that will likely make me money - they produce more money to buy food with. Talk about horizontal integration.
I first recommended KONA earlier in 2013. Since then, it has provided more than 50% returns for investors that went long.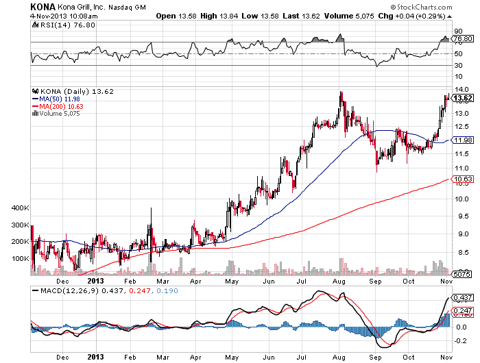 Click to enlarge
(Click to enlarge)
Kona Grill is a hip, casual, American style restaurant that features, interestingly enough, fresh made sushi and outstanding happy hour specials.
From Kona's website, "Kona Grill offers guests freshly prepared food, personalized service, and a warm contemporary ambiance that creates an exceptional, yet affordable dining experience. The menu features a diverse selection of appetizers, salads, sandwiches, chicken, seafood, steaks, pasta, and pizzas that incorporate over 40 signature sauces and dressings that are made from scratch using high-quality, fresh ingredients. Kona Grill also offers guests a wide selection of award-winning sushi, including sashimi, traditional favorites, and several proprietary dishes created by our talented sushi chefs. Our restaurants feature a contemporary design with dramatic interiors which contribute to a superior value for moderate prices. Kona Grill restaurants offer guests distinct dining areas, including a main dining room, full service bar, patio and sushi bar. Our restaurants seat approximately 275 guests and are open daily for lunch and dinner."
In August, the company updated us on its Q2 metrics, and there's been several items that I continue to find impressive about Kona.
Like NGS and PFHO, KONA has exceptional room for growth: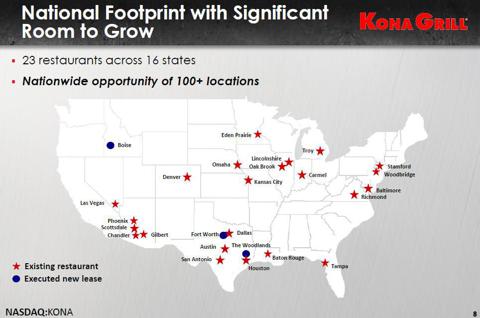 Click to enlarge
(Click to enlarge)
Why would you choose KONA over other restaurant picks that still have room to grow? KONA's margins are very favorable versus its peers.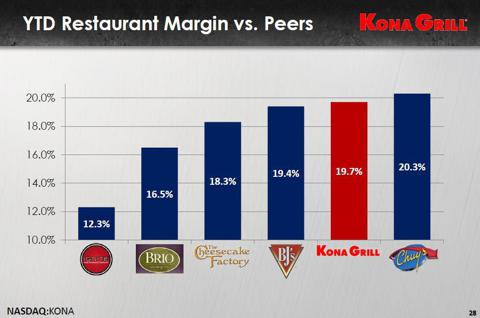 Click to enlarge
(Click to enlarge)
In addition, Kona's loyalty program, which almost all new restaurants and casual chains are implementing already, has over 200,000 members. This means it is averaging 8,695 loyalty club members per restaurant Kona is opening. This is an extremely impressive number, and one that should continue to rise as sales and popularity increase.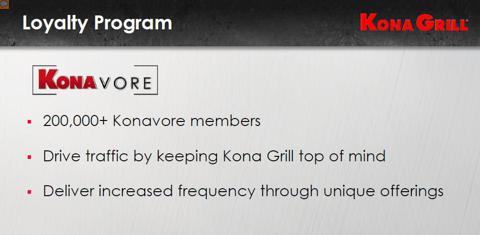 Click to enlarge
(Click to enlarge)
The company has no debt, and to boot, an untapped $20MM credit line available to them.
Finally, like our two other picks, KONA has insiders that have serious stake in the game - always a good sign.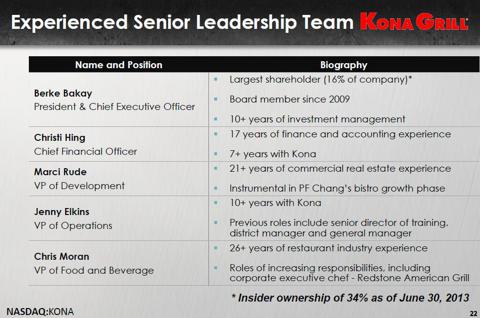 Click to enlarge
(Click to enlarge)
Conclusion
I hope this article was able to provide you with a look into a couple of names that may not have crossed your radar in the past. With strong insider holders, continued growth and plenty of potential room for growth, I believe all three of these stocks to be poised for continued lucrative gains as they hit their strides.
Best of luck to all investors.
Disclosure: I am long OTCQB:PFHO. I wrote this article myself, and it expresses my own opinions. I am not receiving compensation for it (other than from Seeking Alpha). I have no business relationship with any company whose stock is mentioned in this article.