A year ago I first wrote about the value opportunity in ClickSoftware (NASDAQ:CKSW). At that ti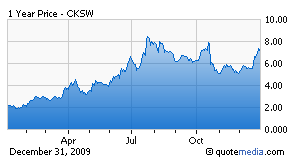 me the stock price was about $1.85/share. Now the price is $7.00/share. The increase in price is noteworthy.
Underpinning performance are remarkable increases in revenues and earnings, and expansion of market opportunities. These were powered by organic growth and by a sequence of deliberate acquisitions principally directed to strengthening the product suite. Earnings improvements are the more commendable when considering that they were achieved in an environment of soft aggregate demand and financial uncertainty caused by a global financial tsunami.
This article reviews some of the progress achieved in 2009. It also discusses unique characteristics of CKSW's products as they are capable of modifying the clients' operations and enhancing their enterprise value. Also discussed is CKSW's free cash flow generation and efficiency in the use of capital which are important attributes in the creation of fundamental value.
Competence, performance, and opportunity suggest continuing appreciation in the value of the firm and in price of the stock. Currently there is a gap between the stock price and the estimated fundamental value of $9.50/share. The methodology of this estimation has been discussed in earlier articles. It is primarily based upon the present value of projected free cash flow stream discounted at the firm's the cost of capital.
This discussion also touches on the constructive role of management in the creation of shareholder value and more specifically in carefully balancing the quarterly financial scorecard on one hand; and strengthening the core competency of the firm and concomitantly expanding opportunities for sustained growth, on the other.
Industry Leadership
During 2009, ClickSoftware's forward-thinking leadership became increasingly clear. Beyond consistency in winning deals, a fast expanding client base, and an increasingly robust product suite, ClickSoftware became the de-facto voice in defining the "Service Chain Optimization" industry. This subject is discussed in "Service Chain Optimization for DUMMIES", by ClickSoftware; and reports from Gartner and Aberdeen Group, leading industry analysts.
The size of the addressable market expanded considerably to an estimated $46 billion. This is primarily due to a strengthened product suite capable of providing solutions to more clients and more prospects; in more verticals and to companies of all sizes, large and small. Product and delivery were organized into channels that appropriately balanced the needs and the economic formulas of diverse client profiles. Well thought out acquisitions accelerated product expansion, which in turn expanded the addressable market and buttressed the prospects for rapid and sustained growth.
As it stands today, ClickSoftware is an organization with sizeable market opportunities, a global footprint, robust product suite, an international client base, and a reliably growing stream of diversified revenues from North America, Europe, and Asia.
Product Suite
ClickSoftware's products are important to clients. The proposition is that "clients are able to do more with less." This is true, but also is a gross understatement. It is like calling the all-time tennis champion, Roger Federer, a tennis player. Sure, Roger is a tennis player, but certainly he is a lot more than that to the game.
CKSW provides solutions that optimize the use of the client's resources and are economically feasible from the view point of the client's ROI. CKSW's products can and do transform the way the client's service chain works To be sure, the service chain is an integral component of the client's working capital operations, which is one of the three basic management tasks in any firm. The other two are management of capital investments and management of the firm's capital structure (discussed below).
Management of working capital is at the heart of the value stream of the CKSW client who seeks to organize end-to-end processes and resources, and upgrade knowledge to deliver quality services to their own customers (in this article, a customer is the client of a CKSW client). Implicit in such value stream is the opportunity to add value to the service provided in the eyes of the customer. This ability to shape the clients' value stream is distinct and somewhat unique to CKSW's products.
The benefit accrued to the CKSW client is in optimization in the use of resources within the client's chosen policy constraints (customer waiting time, internal costs, regulatory requirements, etc.). Optimization is the "best" result every service day --customers are happy, suppliers are happy, regulators are happy, service personnel are happy, and the CKSW client is happy at the outcome at the optimized cost.
The optimization for the client is strategic and far reaching – it improves service quality, reduces costs, and enhances revenue growth (by improving the client/customer relationship, strengthening customer retention, and promoting customer expansion), enhances regulatory compliance, and allows for controlled experimentation and policy testing.
The role of CKSW extends into the clients' strategies as clients test their customer servicing policies and gain insight through the experimentation and with improvements achieved with CKSW's products. CKSW's consultative role with clients fosters information exchange and a mutually constructive dialog which leads to improvements in the clients' businesses and in CKSW's services.
ClickSoftware's services produce many interconnected and mutually supporting benefits, such as improvement in the effectiveness of the clients' value chains, stronger client / customer relationships, and ultimately enhancement in the clients' own enterprise value. With CKSW products clients are able to grow revenues (service quality gains new clients and improves client retention), reduce costs, and reduce capital investment (reducing service equipment idle time).
In summary, CKSW's products enhance both, the clients' value chain and their shareholder value. In this regard ClickSoftware's role is of critical importance.
Value Creation
Underpinning ClickSoftware's value creation is the nature of the company's activities, namely operating (working capital), investment (MUTF:CAPEX), and financing (capital structure and WACC, defined below). These activities are distinct, interconnected and mutually supportive. When in harmony and appropriately balanced they are the engine of value creation.
- The operating cycle entails the working capital activities in the firm and the concomitant use of resources to provide services to clients. The cycle's activities (e.g. buying, storing, selling, delivering, and servicing) encompass the value stream discussed earlier.
- The investment cycle encompasses the purchase of fixed assets and development of long term assets to be used in many short term operating cycles.
- The financing cycle refers to the firm's capital structure and related financing activities.
CKSW's drivers are discussed below:
- Net Operating Profit After Taxes (NOPAT) / Revenues
This is a measure of operational profit generation per Dollar of revenues. NOPAT / Revenues is 16.8% (FYE estimate). It has shown notable improvement over many quarters and years (a detailed discussion is available in the November 9, 2009 article)
NOPAT = EBIT (1 - Tax Rate).
- Net Operating Working Capital (NOWC) / Revenues
This is the amount of working capital investment required to support a Dollar of revenue. NOWC / Revenues is minus 4.6% (FYE estimate). This means that NOWC is a net source of funds. In other words, spontaneous liabilities more than finance the increase in operating assets required by growing revenues. This is an important reason behind the company's ability to sustain fast revenue growth without using bank debt, while increasing surplus cash.
NOWC = (operating assets) – (operating liabilities, including all deferred revenues).
- Net Fixed Assets (NFA) / Revenues
This quantifies the investment in fixed assets to support a Dollar of Revenues. NFA / Revenues is 13.4% (FYE estimate). This measure indicates that CKSW is a capital light business (despite the recent acquisitions); another reason behind the buildup of surplus cash.
- Revenue Growth
Guidance for revenue growth for 2209 is between 15% and 16%. Such growth ought to lead to increases in NOPAT, which in turn should contribute to increases in FCF (see below).
- Weighted Average Cost of Capital (OTC:WACC)
This represents the investment return required by investors based on their expectations of risk and return. It is estimated conservatively at 11.0% p.a. This is the rate used to discount the future stream of FCF.
A comprehensive measure of performance (that includes many of the drivers discussed above) is Free Cash Flow (NYSE:FCF) / Capital Investment
This is the effectiveness of free cash flow generation per Dollar of Capital Investment.
- FCF = NOPAT - increases in NOWC – increases in NFA
- Capital Investment = NOWC + NFA
FCF / Capital Investment is estimated at 80.0%+ for 2009. This is based on YTD9/30/09 results, current guidance, and normalized increases in NFA.
All in all, CKSW produces strong free cash flow relative to the capital used. In other words, operational cash flow is robust enough to cover the investment requirements for working capital and capital expenditures, even when these are steep in support of fast growing revenues. The strength of the drivers can be seen as structural and "sticky", not subject to sudden quarter-over-quarter changes.

In summary, performance and the characteristics of the company's activities, value drivers (including high FCF / Capital Investment figure) for ClickSoftware present a compelling investment story, by itself, or within the universe of competing investment alternatives. The value drivers discussed above support a fundamental value of $9.50/share. Included in the value is $0.90/share corresponding to the benefit from the $45.0 million in tax loss carry forward.
Financial Results
Financial performance is 2009 was strong despite the macro-economic headwinds. CKSW executed very well during the year. 3Q09 results represented one more step in a continuum of progress. Excerpts from the October 21, 2009 earnings report are shown below.
"The third quarter was another strong quarter for ClickSoftware with record revenues and operating profit, and considerablegrowth in cash. Taking a longer term view, since the end of the third quarter of 2008,shareholders' equity has grown by 87%", said Dr. Moshe BenBassat, ClickSoftware's Chairman and CEO.

"The acquisition of AiPoint that was announced last week joins the two other acquisitions we completed earlier in the year. These acquisitions, together with major newproductdevelopmentsincludingtherelease of Version 8, and the productive partnerships we havesolidified,mark major milestones in our long term plan to establish a strong growth engine for the future", he added.

The company reported that it expected revenues for the fourth quarter, in the approximate range of $16.0 to $16.7 million dollars, representing 13.5% to 14.1% growth over the same quarter last year.2009 revenues are expected in the range of $60.0 to $60.7 million, representing year over year annual growth of 14.7% to 16.1%.
The CKSW report is very favorable. From a fundamental value point of view, the notable increase in year over year shareholders' equity mentioned reflects the strength of the value drivers discussed earlier. Further, the release expressed CKSW's management balanced view --keeping a close eye on both, current performance and on the development of future opportunities.
More recently, on December 28, 2009, CKSW announced the expectation of record performance for 2009. Excerpts are shown below.
Revenues at the fourth quarter of 2009 of about $17 million, exceeding its previous guidance of an approximate range of $16.0 to $16.7 million. These anticipated quarterly revenues will lead to annual revenues of about $61 million in fiscal year 2009, compared to annual revenues of $52.3 million in fiscal year 2008.

"With excellent performance in the fourth quarter, we are approaching the end of 2009 with solid financial results giving us another year of significant revenues growth," says Dr. Moshe BenBassat, ClickSoftware's Chairman and CEO.

"Strong bookings in the fourth quarter will contribute to the existing backlog and deferred revenues, providing us with high visibility into 2010. Our sales pipeline also keeps growing, and we believe that the level with which we start 2010 will generate strong growth in 2010."
Conclusion
ClickSoftware performed very well in 2009. Revenues, net profits, and EPS, are expected to reach record levels. By all indications 2010 is a very promising year.
The competitive position of ClickSoftware improved notably due to the expansion of the addressable market and the robustness of the product suite. During the year ClickSoftware reinforced his industry leadership position and became the de-facto industry voice.
CKSW's products and services by their nature are strategic and of critical importance to CKSW's clients --in the organization of their value streams and enhancement of their shareholder value.
ClickSoftware's value drivers -- growth, NOPAT, NOWC and NFA –were reinforced during 2009. These financial building blocks underpinned the company's perhaps most important financial attribute; robust net free cash flow and efficiency in the use of capital.
Thank You
I'd be remiss if, as a shareholder, I did not take this opportunity to thank ClickSoftware's management and the entire team for the hard work and for the notable achievements in 2009.
Thank you for your actions and effort regarding all and each one following:
- Creating shareholder value by helping clients improve in the management of their businesses and expand their own shareholder value.

- Focusing on client needs and on the daily "blocking and tackling" without distraction from uncontrollable events, such as "stock market volatility".

- Protecting corporate resources and controlling expenses judiciously, as if the money came from your own personal wallets.

- Investing steadily in core competences and utilizing leading technology to strengthen competitive advantages and industry leadership.

- Making (difficult) business decisions and trade-offs that are balanced and reasonable; and that consider both, short term results and expanded future opportunities.

- Fostering a corporate culture of clarity and transparency --regarding purpose, teamwork, accountability and performance-driven rewards.

- Reaching to industry and to the financial community to disseminate the remarkable ClickSoftware story.

- Communicating with stakeholders, including investors and analysts, substantively and honestly.

- Continuing to under-promise (even in the face of unpopular opinion) and over-deliver.

With best wishes for a prosperous 2010.
Disclosure: I own CKSW stock.