First Solar (NASDAQ:FSLR) easily beat third quarter earnings and revenue estimates, but provided mixed full-year guidance. The company has made two strategic acquisitions this year, TetraSun and General Electric's (NYSE:GE) assets related to its CdTe intellectual property. Both acquisitions provide the company with important new technologies that will enable it to compete better in the very competitive solar industry. While the third quarter report and full-year guidance are largely dependent on revenue recognition, which was responsible for the substantial earnings surprise, the overall industry and company specific development are in favor of First Solar, and there is plenty of upside left despite the share price being up more than 400% from its 2012 lows.
Q3 earnings highlights
First Solar reported third quarter earnings per share of $2.28, easily surpassing analyst estimates for $1.00, and 128% higher from a year ago. Revenue increased 51% to $1.26 billion, significantly above analyst estimates for $988 million. This increase in revenue was attributable to the Desert Sunlight project revenue recognition, the sale of ABW projects in Canada and higher sales volume to third-party module-only customers.
First Solar's cash and marketable securities were approximately $1.5 billion at the end of third quarter, an increase of $247 million compared to the previous quarter. The cash and marketable securities more than doubled when compared to last year's $717 million. Total outstanding debt at the end of Q3 was $229 million.
The company has also increased the average conversion efficiency to 13.3%, a 30 basis point increase sequentially, and a 60 basis point increase over Q3 2012. Cost per watt declined from $0.67 in Q2 to $0.59.
Full-year guidance was mixed, with a lower revenue range, and higher expectations for gross margin, operating profit and earnings. New full-year revenue range stands at $3.4 billion to $3.6 billion, down from a previous range of $3.6 billion to $3.8 billion. Management now expects earnings per share to be between $4.25 and $4.50, up from a previous range of $3.75 to $4.25. The company remains focused on growing its addressable markets, and had approximately 860MWdc of new bookings since the Q2 conference call. Total bookings in Q3 increased to $7.8 billion, despite more than $1.2 billion in recognized revenue in the quarter.
First Solar's opportunities outside of U.S. are 4.2 gigawatts and represent 55% of total opportunities. The company is clearly making progress in creating demand in sustainable markets, and management is confident in their ability to replenish the company's platform after 2016 and beyond.
Improved long-term outlook on TetraSun acquisition and GE partnership
In early April, First Solar announced that it would acquire TetraSun, a solar photovoltaic technology startup which has developed a break-through cell architecture capable of conversion efficiencies exceeding 21 percent with commercial-scale manufacturing costs comparable to conventional multicrystalline silicon solar cells. This deal enables First Solar to enter the markets where limited space requires higher efficiency, such as rooftops. First Solar intends to begin mass-producing TetraSun-based modules in the second half of 2014.
In August, First Solar and General Electric announced a technology partnership to advance thin-film solar cells and modules. First Solar has acquired GE's global CdTe solar intellectual property portfolio. The combination of the two company's technologies and First Solar's existing manufacturing capabilities are expected to accelerate the development of CdTe solar module performance and improve efficiency at manufacturing scale. GE and First Solar research teams will collaborate on future technology development to further advance CdTe solar technology.
These two deals are very important for First Solar, and put the company in a better position in the solar industry, and will accelerate the development of more competitive, cost-efficient products, and help the company to achieve additional revenue growth and enhanced profitability.
Favorable industry trends
The prospects for the solar industry have improved significantly in the recent quarters. U.S. solar panel installations were up 15% to 832 megawatts of photovoltaic solar panels. Utility-scale systems were responsible for much of the increase. The improvements in the residential projects are also visible, since SunPower (NASDAQ:SPWR) signed a new financing deal with Digital Federal Credit Union (DCU). GTM Research estimates that U.S. home solar financing will reach $5.7 billion by 2016, up from $1.2 billion last year.
I noted in my article on SunPower that the situation in the global markets is also getting better with China and India increasing their solar power generation. India aims to reach 10GW solar target by 2017, while China has substantially increased their 2015 PV target, from 21GW to 35GW.
SolarCity (NASDAQ:SCTY) has reported key operating metrics for the third quarter in early October. SolarCity deployed 78MW of capacity in Q3, above its guidance of 70MW to 77 MW. SolarCity has raised 2014 deployment guidance to 475MW-525MW, which would be 71% to 88% higher than the 2013 guidance. Shares of SolarCity have surged more than 50% in the days following the announcement. On the other hand, SunPower's share price was down following its earnings report, although the company beat its earnings and revenue estimates. SunPower's Q4 guidance was below analyst consensus estimates, which perhaps contributed to the selloff, but shares are now at new 52-week highs at the time of this writing. Shares of all three companies remain in a solid uptrend, and the prospects of the solar industry are getting better. But several potential challenges remain. Capacity expansion of the competing companies, especially from those from China, which might again go ahead of the demand, could renew the oversupply situation in the industry and once again put pricing pressure and negatively affect profit margins.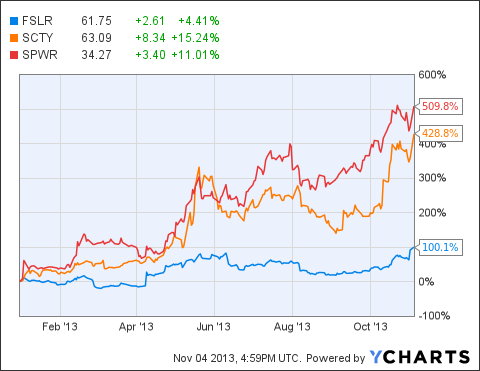 Conclusion
First Solar's long-term prospects are improving, and the following aspects will drive the share price higher in the future:
- TetraSun acquisition, as well as the GE partnership and assets purchase.
- Third quarter results were far ahead of estimates, and the full-year guidance was favorable, despite the lowered revenue guidance. You should look at longer term revenue and earnings trends, because of the long-term nature of the business.
- Although some uncertainties in the solar industry remain, the prospects are improving, and global demand should improve in the following years.
- First Solar's valuation remains attractive, with a 13 TTM P/E and the company has a very strong balance sheet, with over $15 cash per share, which is likely to increase in the future, given the company's strong cash generation.
I believe that there is plenty of upside left despite a significant increase in share price over the last 18 months.
Disclosure: I have no positions in any stocks mentioned, but may initiate a long position in SPWR, FSLR over the next 72 hours. I wrote this article myself, and it expresses my own opinions. I am not receiving compensation for it (other than from Seeking Alpha). I have no business relationship with any company whose stock is mentioned in this article.