Seadrill Limited (NYSE:SDRL) is positioned to take advantage of the coming boom for offshore exploration and has a significant advantage against peers in fleet age. Forget the explorers, demand for platforms and other equipment will help this picks-and-shovels play outperform.
A New Gold Rush is Coming
When gold was discovered at Sutter's Mill in 1848, it wasn't the hundreds of thousands of miners that got rich it was the people that sold them the necessary tools and consumer goods. These businesses took the risk out of exploration but were still able to profit on the boom.
With all the talk of a renaissance in U.S. energy production, it may surprise you that global oil production has increased at an annual pace of just 0.87% over the last five years. Investment in global exploration and production is projected to slow to a compound annual rate of just 3.4% next year. That's just a quarter of the 12.2% growth rate over the last three years.
Much of the drop in capital spending is driven by a 7% decline for North America E&Ps and a leveling of onshore production over the last decade. The weakness masks the faster growth in offshore and deep-water production.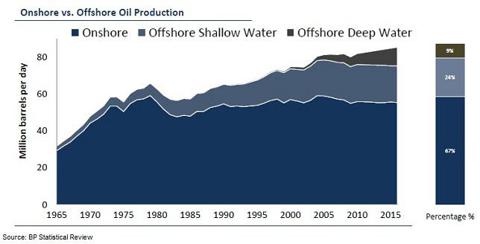 Click to enlarge
(Click to enlarge)
Spending by non-North America E&P is forecast to grow by 6.6% next year with the potential for some massive growth in offshore areas over the next few decades.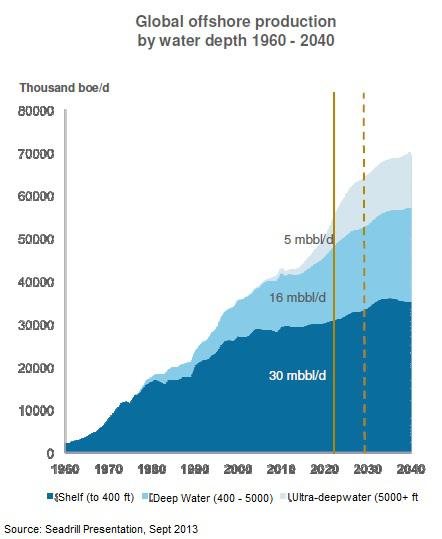 To get to this booming source of energy, companies will need platforms (floaters), drillships and other rigs. Demand for platforms is estimated at 455 for 2020, while the current fleet across the industry is just 256 platforms with 50+ retirements projected.
The problem over the coming years will be an aging inventory of platforms. Among the major equipment suppliers, the average age of platforms in service is well over 10 years old and up to more than 30 years.
Except for one company.
Seadrill Limited is the world's largest offshore driller and boasts the most modern fleet among peers with an average floater age of five years, less than half that of peers. The company is also almost completely leveraged to the high growth, ultra-deepwater segment.

Click to enlarge
(Click to enlarge)
Seadrill currently has 30 drillships & semi-submersibles with 11 under construction, 31 jack-up rigs with 12 more under construction and three tender rigs. Its exposure to ultra-deepwater helps it achieve the strongest utilization rate (94%) on equipment within the industry.
Beyond market demand for more platforms, the company is able to charge a premium on new equipment. Dayrates for the new fleet are running at $500k, more than 25% higher than the $400 dayrate on vintage fleet (2004 and older).
Debt maturity is fairly light with an average of about $1 billion each of next three years though $3 billion in debt will mature in 2017. The company has built this into their capex plans with an increase in spending until 2016 to allow for debt payment. The one-year lapse in capital spending should not be a problem given the age of the company's fleet.

Click to enlarge
(Click to enlarge)
Management is estimating EBITDA of almost $4.5 billion by 2016 and I think cash flow from operations could easily top $3 billion. Projected capex of just $500 million and a reduction of approximately $3.5 billion in long-term debt through 2016 means that the company should have no problem refinancing its 2017 maturity while still maintaining the dividend payment. I do not see much of a dividend increase but the shares could increase substantially and still pay an extremely attractive yield.
Seadrill's top three customers account for 50% of revenue but all are strong companies with solid credit ratings. BP Plc. (NYSE:BP) accounts for 25% of total revenue, followed by Total (NYSE:TOT) for 14% and Exxon Mobil (NYSE:XOM) at 11% of revenue. I would be more worried about the 7% of revenue from Brazilian E&P Petrobras (NYSE:PBR) because of its status as piggybank for an economically-struggling country with a high current account deficit.
Shares of Seadrill trade fairly expensive on $2.22 trailing earnings and 20.6 times trailing but this is primarily due to extremely weak third and fourth quarter earnings last year. The company has beat by more than 24% in each of the last two quarters and is expected to earn $2.98 for full year 2013. On 2013 consensus earnings, the shares trade at the industry average of 15.3 times trailing.
On a 2016 EBITDA of $4.5 billion and net income of $5.39 per share, I have a 2016 target of $80.89 per share. That gives investors a 20% annualized upside on top of the almost 8% dividend yield.
Transocean Limited (NYSE:RIG) is a strong competitor and another possibility on the offshore theme. Transocean has a significantly older fleet and only about half are ultra-deepwater, but the shares trade at a cheap 11.1 times trailing earnings. The company also has an impressive floater utilization rate (91%), second only to Seadrill. Shares of Transocean have struggled since the 2010 Deepwater Horizon Spill but the company stands to benefit from a 28% surge in rig rates this year and strong growth over the next few years. I prefer Seadrill for its stronger operating margin, 40% versus Transocean's 18% margin, and its focus on ultra-deepwater but shares of Transocean could be used for industry diversification.
The future of oil and gas exploration is clearly offshore and increasingly in deepwater, high-risk fields. The large integrated explorers carry the risk of failure while the companies that make the platforms and rigs stand to make the big money. I like Seadrill for its overweight exposure to ultra-deepwater and an average fleet age less than half of its nearest competitor. A strong upside on the shares complements the dividend yield for a good long-term addition.
Disclosure: I have no positions in any stocks mentioned, and no plans to initiate any positions within the next 72 hours. I wrote this article myself, and it expresses my own opinions. I am not receiving compensation for it (other than from Seeking Alpha). I have no business relationship with any company whose stock is mentioned in this article.