Glu Mobile Inc. (NASDAQ:GLUU) and Zynga Inc. (NASDAQ:ZNGA) both develop games for the mobile platform. Zynga, the more famous brother (market capitalization of $2.7b), has received a lot of media recently for its "not as negative as thought" earnings. Glu is about 10% the size of Zynga with a market capitalization of $270 million.
Glu Mobile releases their games internationally via multiple platforms including iOS, Android, Amazon, Windows Phone, and Google Chrome. Embodying the "freemium" model, games created by Glu are typically free to play. Glu generates revenue through in-game micro-transactions consisting of $1.99 or less.
Zynga Inc. became better known after releasing their first game, Texas Hold'Em Poker. Furthering their reputation for addicting games, Zynga released the world-famous Farmville on Facebook's platform. Boasting 20 million daily and active Farmville users, Zynga had truly made a name for themselves. Zynga, too, streams monetization through in-game transactions. However, unlike Glu, the transactions are typically no less than $4.99.
As of 2013, the entire mobile gaming market (smartphones & tablets) is valued at $12.2b. The mobile gaming market is only expected to grow.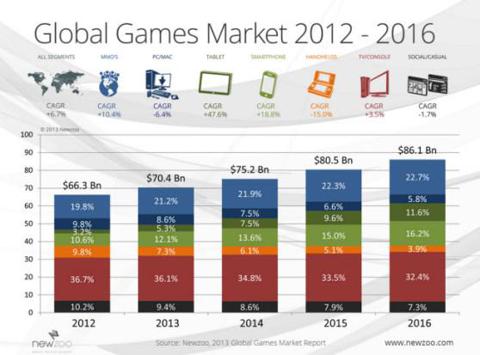 Looking at the mobile market exclusively (green margins in chart):
2014: value of $15.8b
2015: value of $19.8b
2016: value of $23.8b.
Glu and Zynga, two colossal giants in the mobile gaming industry, ride the wave of their market. Their market is only increasing in value. In the long, the value of Glu and Zynga will be commensurate with their market value.
How is the technology sector responding to mobile gaming?
In the most recent version of Apple's (NASDAQ:AAPL) iOS update (iOS 7 - the software running on Apple's mobile devices), Apple officially recognized mobile games. Before iOS 7, game developers were forced to rely on 3rd party libraries of computer code for writing the code of their games. With iOS 7, for the first time in iOS history, Apple released a developing package called "Sprite Kit." Sprite Kit was designed purely & exclusively for making games. Realizing the lucrativeness, Apple wants game developers to "stay native" and use Sprite Kit (Apple's proprietary code library for making games). This is Apple's way of hyping the mobile game market: an endorsement. Apple would not have spent the time and money developing such a comprehensive piece of software if they knew that mobile gaming was not a growing market.
Logitech (NASDAQ:LOGI) is a prominent computer hardware company that develops cutting edge peripherals for gaming across the board. Leaked to the public, on September 18th, Logitech filed for the "Power Shell Patent."
This is Logitech's Powershell: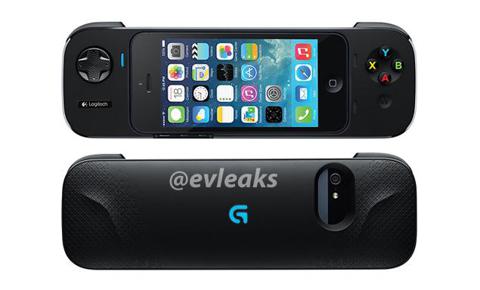 This Powershell is a piece of hardware that transmogrifies an iOS device into a heavy-duty gaming device. This hardware is indicative of Logitech's mobile gaming outlook: growing. Like Apple, if Logitech did not think the mobile gaming market was only appreciating in value, they would not have exsanguinated the many resources necessary to prototype the Powershell.
Bottom Line
When the mobile gaming market thrives, Zynga and Glu will thrive.
With the mobile gaming market starting to seed, Apple's Software and Logitech's Hardware will provide the nutrients and sunlight requisite to the market's growth into the massive tree that Glu and Zynga will dominate.
Zynga is worth approximately 16% of the entire mobile gaming market. In particular, Zynga has such deep market penetration that their revenue is solidified with the market. That is, if the market goes up, Zynga's revenue goes up correspondingly; Zynga has already accrued such an eclectic & diversified user base, which will allow them to ride the forthcoming wave of growth with minimal effort.
Glu is worth approximately 2% of the entire mobile gaming market. With much less market share than its counterpart, Glu's EPS has not frequented headlines. However, Glu has just as much potential (if not more) than its behemoth counterpart, Zynga. Because of Glu's size, it can adapt to market variables quicker than Zynga - a behemoth.
With a twelve-month horizon, Zynga and Glu are the two best opportunities for investing in this growing sector for the long. In hopes of normalizing other relevant variables (management, location, employment, etc), Zynga and Glu are sure-fire ways to buy into the mobile gaming market. These two options provide substantial diversification while maintaining the integrity of their market at large. Investing in Glu and Zynga is tantamount to investing in the mobile game market.
Due to the nature of the sector with which Glu and Zynga operate, these two companies fluctuate with great volatility. With such volatility as basis, holding these two stocks for the long is not an easy task. Their market has much impending growth and capitalization. When placing an order for the long, commit to the future of the mobile gaming market - just like Logitech and Apple have done.
Disclosure: I am long GLUU, ZNGA. I wrote this article myself, and it expresses my own opinions. I am not receiving compensation for it (other than from Seeking Alpha). I have no business relationship with any company whose stock is mentioned in this article.