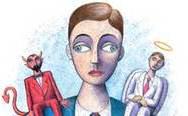 Investors are confused. The Fed says the economy is still "very challenging" (that's political speak for "bad"), millions remain under or unemployed, wages are stuck at 1992 levels, yet the stock market is not plummeting like everyone thinks it should be. What gives?
Of course much of the cause for this economic downturn continues to be demographics, the rapidly aging of ours, and the entire developed world's populations, which I discuss in depth in Facing Goliath - How To Triumph In The Dangerous Market Ahead. However, there are 6 not so obvious themes helping stocks right now that could buy prices for longer than you think, that is until our massive debt catches up to us.
1. Investors are overwhelmingly pessimistic. The AAII Investor Sentiment Survey measures the percentage of individual investors who are bullish, bearish and neutral on the stock market. Currently the long-term average shows that only 39% are bullish while 61% are bearish or neutral. During a bull market , those numberss are reversed. Very simply, markets do not crash when everyone expects them too.
2. Corporate earnings are strong. Companies are quick to adjust to the slowing economy, rapidly laying off unneeded workers and adjusting their output to meet demand. In addition, the incredible low rates orchestrated by the Federal Reserve allow them to refinance debt at historically low levels. This has allowed companies to become much more efficient and productive.
3. Energy costs have plummeted. Due to the massive discoveries of oil and natural gas inside the U.S., so large that some say we will be the new Saudi Arabia in a few years, energy costs for American factories are the lowest in the world. But there are 100 additional ways that energy supply is improving and demand is falling.
4. Productivity is accelerating. U.S. corporations have been introducing new technologies and cutting costs faster than at any time in history which has caused corporate profitability to soar. This, combined with low energy costs, means manufacturing jobs will be coming back to the US.
5. The U.S. remains the sole superpower. The peace dividend continues to pay. Two decades after the fall of the "Evil Empire," the U.S. still faces no major enemy with none on the horizon either. If reasonable heads were to ever take over, defense spending could be cut by half.
6. Inflation and interest rates stay low. With wages in check, commodity prices falling and demographics dictating that deflation will rule the day for another 10 years, the lack of inflation could be the wildcard that surprises everyone.
Although these positive themes could create a best case scenario, my friend John Thomas, The Mad Hedge Fund Trader, has taught me one thing, all that is forecast never happens, and all that happens was never forecasted.
My belief is that the market will continue to go higher in the face of all this pessimism or as they say, climbing a wall of worry. Once the public fears that they will get left behind and jump on the bullish band wagon, the market will then have its overdue and devastating bear market, probably sometime after the first or second quarter of next year. Of course no bell will ring when it's over, so prepare your finances now.
Investor Strategy
With no taper on the horizon expect a stronger market ahead investors can load up on quality growth stocks, especially technology companies that possess an advantage in business innovation and personal solutions that will lead to greater efficiencies for years to come. Investors who can withstand volatility with a big potential reward can buy Apple (NASDAQ:AAPL), which just brought out its new line of goods and is seeing strong sales: Google (NASDAQ:GOOG), which has new products out with many more on the horizon, and many periphery companies that will support these new innovative developments that will revolutionize the communications market such as Intel Corporation (NASDAQ:INTC), Qualcomm (NASDAQ:QCOM), Microsoft (NASDAQ:MSFT), Cisco Systems (NASDAQ:CSCO) and VMware Inc. (NYSE:VMW). For a more diversified approach, buy the broad market ETFs like the SPDR S&P 500 (NYSEARCA:SPY), PowerShares QQQ Trust Series 1 (NASDAQ:QQQ) and iShares Russell 2000 (NYSEARCA:IWM).
Gold and silver have had a little resurgence with the Fed's announcement, but I am still wary and would sell the metals, such as the SPDR Gold Shares (NYSEARCA:GLD), PowerShares or Market Vectors Gold Miners ETF (NYSEARCA:GDX) on any strength.
Disclosure: I have no positions in any stocks mentioned, and no plans to initiate any positions within the next 72 hours. I wrote this article myself, and it expresses my own opinions. I am not receiving compensation for it. I have no business relationship with any company whose stock is mentioned in this article.