Everyone has heard the saying before, probably after getting impatient around friends, colleagues or loved ones. However, it's true: Rome wasn't built in a day. If you've ever been lucky enough to visit the Eternal City, you'll know it is an amazing place of vision, hard work and know-how. Great things don't come easily or quickly. The same thing applies to my investment call in MoSys Inc. (NASDAQ:MOSY), led by a technology visionary Len Perham, who has surrounded himself with some of the best chip designers in the valley. It's been 14 months since I initiated coverage on MoSys at $3.40 per share last August when I asked, "MoSys: The Next Netlogic?" Like Rome, MoSys has taken longer to build than anticipated, but after listening to last month's conference call, I'm more convinced than ever that it's still on course to be one monumental investment. I see MOSY being $8 in months, $12 in a matter of quarters and $20, $30, $40 in the years to come.
MoSys was incubated, founded and spun off by Perham, Michael Miller and others at IDTI back in 1991. In 2008, they retook control of the company and in 2009, decided to move the company in a new direction. Foreseeing the increase in Internet demand and the bottlenecks it would cause in networks, MoSys designed a chip that would solve the inherent problem in how data flows through a network. The chip would not be a standard commoditized black DRAM chip, but a system on a chip (SoC) that could open up data lanes on the networking data highways that reside on the line cards in our servers and routers. The company built a high barrier to entry, highly intelligent and highly patented chip, which is now a family of chips called Bandwidth Engine (BE).
Len Perham and his team are not rookies and they knew that you cannot just introduce a new chip and expect it to be designed into networks. For your chip to be designed in, someone else's chip has to be designed out, and the multi-billion dollar chip makers have a vested interest in not having this happen. In order to increase its chances of success, MoSys built an ecosystem around Bandwidth Engine by developing an interface, the GigaChip Interface (GCI) that allows chip to chip communication. MoSys gave this technology to the logic companies such Altera (NASDAQ:ALTR) and Xilinx (NASDAQ:XLNX), and to the Asics makers such as Avago (NASDAQ:AVGO) and LSI Corp. (NYSE:LSI), all of whom have all embraced the technology and have joined the GigaChip Interface Alliance that is pushing to make it an industry standard. One result of the GigaChip Interface being embraced by the industry is that we have seen a significant increase in the number of design wins for MoSys's Bandwidth Engine chips.
Competitive Landscape:
Every technology company has its competitors and MoSys is no exception to the rule. Instead of me telling you where MoSys sits amongst its competitors, I'll let Len Perham sum up the competitive landscape. He explained on the last conference call that competitors are trying to increase speed by "using an enormous number of pins" or "with larger and larger arrays of RLDRAMs" or "with multichip modules." However, all these solutions still have latency and access issues. The same is true of Micron's (NASDAQ:MU) Hybrid Memory Cube, which has been gaining a lot of interest in the media and by investors. While Len acknowledged that the Hybrid Memory Cube will find uses lower down the food chain, he argued that it cannot compete with the Bandwidth Engine family on access speeds and bandwidth preservation and therefore cannot compete in the Core or at the Edge where accesses are critical.
Additional competitors to the Bandwidth Engine family are Micron's RLDRAM and Renesas's LLDRAM. Perham points out that these solutions are DRAM solutions with 2 transistors as opposed to a single transistor. He noted, "BE1 was positioned against RLDRAM Gen 2 and BE2 was positioned against RLDRAM Gen3. For Bandwidth Engine 3 which is capable of 8 to 10 billion accesses per second, there hasn't been any response from the RLDRAM or the LLDRAM camp." It may be important to point out that Renesas -- as noted, a competitor of MoSys -- is also a recent supporter of the GigaChip Interface which could mean it has come over the wall.
Out with the Old:

GigaChip Interface & Bandwidth Engine (BE) Status:
Compared to equivalent DRAM chips, Bandwidth Engine chips have 4 times the access speeds and require half the power, thereby reducing the number of chips required on the line card. MoSys's strategy as laid out by Perham on the conference call is "once the customer has adopted the Bandwidth Engine solution and comes to understand the uniqueness of the GCI interface, the customer is very likely to use it again and again." As such, MoSys's target is to get as many chips as it can on every board. Bandwidth Engine I (BE1), the first generation of the chip family, is in full production mode and is being ramped as you read this article. Bandwidth Engine II (BE2) is a more specialized chip and comes in three unique products that target specific applications: burst mode, access mode and intelligence mode.
The CEO announced that the number of design wins for BE2 "continues to outpace BE1 in the sales funnel as customers opt for a more specialized chip." MoSys has started the design of Bandwidth Engine III (BE3), and according to Perham, "BE3 is anticipated to find its way into the very highest-performance, next-generation networking systems." I believe that BE3 will be targeting 400G and 1Tb networks and it has already generated a lot of interest. To again quote the CEO, "We are seeing early interest from customers beginning the development of cards that run in excess of 400 gigabits per second. Their interest is in our feature Bandwidth Engine 3 product. We are currently in the process of collaborating with a number of these companies and formalizing strategic customer and partner relationships." Management believes that BE3 will be head and shoulders above any possible alternatives from Micron Technology, Cypress Semiconductor (NASDAQ:CY) and others that compete in the space. Bandwidth Engine is becoming recognized and appreciated by Tier One players in the global networking world. It is a clear sign that Perham and his astute team are doing what Len proclaimed when he first introduced the BE family: "If you want to compete with us you better stay up late and work hard because we're serious people tackling a serious problem."
Today, the GigaChip Interface sits proudly in a host of key semiconductor architectures. MoSys has reported Xilinx, LSI Corp., Avago Technologies, Altera Corp. and NetLogic (now part of Broadcom (BRCM)) have all joined the GigaChip Interface Alliance. In addition to the companies who have joined the GCI Alliance, I believe that the multicore processor companies such as Cavium Inc. (NASDAQ:CAVM), Freescale Semiconductor (NYSE:FSL) and EZchip Semiconductor (EZCH) have all embraced the technology. My due diligence has also discovered that Texas Instruments (NYSE:TXN) and IBM Corp. (NYSE:IBM) could be discreetly supportive of the interface too, potentially leading to a much stronger uptake at some point down the road for MoSys. I feel very comfortable on the acceptance level the GigaChip Interface receives and I believe in another 1.5 - 2 years it could be a formal industry standard. Overall, the GigaChip Interface is garnering market respect both publicly from the members of the Alliance and I believe even more so by industry giants who haven't yet stepped out to show support.
In With the New:

Here's why I'm more bullish than ever on the shares of MoSys Inc:
Social Media, Video & Mobile Drive Internet Usage:
When MoSys entered the bandwidth arena in 2009, the majority of the networks were running on 40G. Today, many of those networks have upgraded, or are in the process of upgrading, to 100G networks with some stopping at 80G first. A lot has transpired since 2009 when MoSys created its first BE1 chip to solve what was then a congested network running on an antiquated roadway. Since 2009, Facebook (NASDAQ:FB) has grown from 100 million to over 1 billion users. Netflix (NASDAQ:NFLX), the internet's biggest bandwidth user, had maybe 1 - 2 million subscribers back then; it now boasts 40 million users (mostly streaming). Instagram wasn't even formed, Twitter was just forming a tweet, Amazon (NASDAQ:AMZN) is now selling more goods than most countries, smartphones have skyrocketed from 200 million to over 1 billion units and tablets have since popped up out of nowhere to sell 500 million units. If the Internet and the pipeline it runs on were reaching critical mass back in 2009, then surely today even at 100G, with the legacy architecture still in place the networks are looking for that solution that opens the floodgates. Future networks will be 200G, 400G, 1 Terabyte and beyond. This all highlights the need for new innovative chips like MoSys's Bandwidth Engine family that can keep the bandwidth open and data flowing across new and future networks.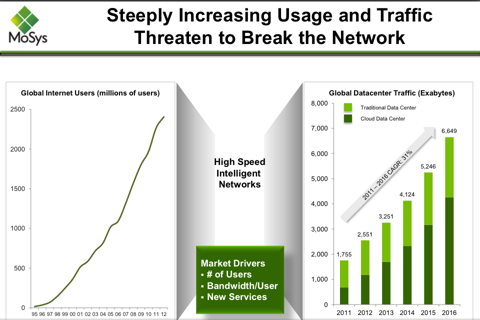 Design Win Momentum:
MoSys is like a biotech with FDA approval. In the last conference call, Len Perham announced that MoSys expects to have 10 - 15 design wins in 2013; these are new design wins as he has discounted the design wins from 2012. He also expects the number of design wins in 2014 to be double that of 2013. With the addition of a new product LineSpeed, MoSys has "increased the amount of face time we are getting with our customers now that we have multiple product lines to discuss with them. Which allows us to not only pursue many new design win opportunities for our existing products, but to discuss in substantial detail the requirements of our prospective customers' future networking systems." As MoSys better understands its customers' needs it will be better able to design more specialized chips targeting their needs, which will in turn lead to more design wins. The initial BE1 design wins from 2012 are now going into production. This is a monumental event for the company, yet the shares are coyly staying under the radar.
Tier One Customers:
MoSys is targeting the elite networking companies across the globe; the company currently has multiple design wins at one Tier One customer and by year end it hopes to announce a second Tier One customer. On the conference call, Perham said that conservatively more than half the Tier One players will be customers in 2014. However, MoSys will be having discussions with all the Tier One companies, including Alcatel-Lucent (ALU), Cisco Systems (NASDAQ:CSCO), Brocade (NASDAQ:BRCD), Ciena (NASDAQ:CIEN), Juniper Networks (NYSE:JNPR), Huawei and ZTE. All are migrating from 40G networks to 100G, 400G and 1Tb networks and MoSys believes it has the best, and at higher speeds, the only chips for these networks. MoSys has announced that it will be participating in a webinar with Xilinx to discuss 100G/400G networking solutions. While the Tier One companies will not be taking part in the webinar, I believe that they will be listening in closely.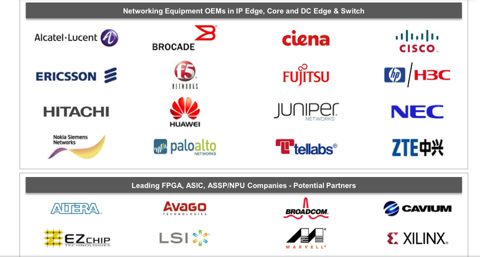 The table above shows a list of MoSys's target customers. We have heard a lot of news out of these companies as they announce customers taking on new upgraded networks. Alcatel-Lucent seems to be leading the pack as it was the first company to come out with a 100G network and it recently announced a deal with France-Telecom-Orange to deploy the first 400G network. It also announced further 100G networks with T-Mobile and South Korea Broadband. Cisco Systems has been ramping up its networks as it announced a flurry of 100G deals with Verizon (NYSE:VZ), Lumos Networks, British Telecom and Shentel. Brocade announced a deal with Megaport, an Australian telecom. Ciena has deals in place to build 100G networks for AT&T and Juniper Networks is building a 100G network for Verizon, and Nokia-Siemens. According to Infonetics Research, close to 5,000 100G networks will be built in China in 2013. This has led to Huawei and ZTE becoming two of the top three market share leaders (along with Alcatel-Lucent).
Production Ramp:
MoSys has now commenced production of Bandwidth Engine 1 with one or two of the companies mentioned above. Going forward, MoSys expects shipments to double quarter over quarter. CEO, Len Perham said, "At the end of fiscal 2012, we talked about something, I think, in the order of 5 platform wins, 5 design wins. And those are the ones that are entering early production ramps now. So we would expect that through 2014, the majority of our shipments would be of Bandwidth Engine 1." The company also said that Bandwidth Engine 2 will be ready for production by the end of December 2013. The company has stated that it could see as many as 16 BE chips per platform at $80 - $120 per chip on BE1 and BE2. Doing back of the napkin math a platform can range from $80 to $2000. The company is targeting $1200-$1500 to be the average in future platforms.
We look for a signed second source agreement from the company to strengthen its validity to its industry and to Wall Street. The CEO stated on the last conference call: "We continue to make progress toward a second source agreement, whereby there will be more than one supplier of the Bandwidth Engine product solutions. We hope to enter into an agreement by year end." This will be a major catalyst for the shares without question, as I've heard some investors encourage the company for a second agreement in past investor conferences. Len sounded like it's not impeding his ability to get customers and he'll deliver the deal when it's sensible to MoSys and its shareholders; yet another sign the company has a great CEO.
LineSpeed:
LineSpeed Gearbox and LineSpeed Retimer are two new products out of MOSY; they are high speed chips that go on the line card and provide SerDes conversion, timing synchronization, and signal conditioning for use on 40G/100G networks. Introduced in March 2013, the LineSpeed product line has already generated significant customer interest and sales activity.
Last month, MoSys attended the European Conference on Optimal Communications where it demonstrated extensive interoperability of its 100G LineSpeed Gearbox integrated chips ((ICs)) as they communicated with leading vendors Cisco, Fujitsu and Finisar Corp. (NASDAQ:FNSR). In fact, they met the Optical Internetworking Forum's (OIF) long-reach 100G standard by driving backplanes from Amphenol Corp. (NYSE:APH), Molex Inc. (NASDAQ:MOLX) and others with its 100G LineSpeed Quad Retimers. MoSys's LineSpeed Gearbox and LineSpeed Retimer products went 5-7 times further than competitors only offering very short-reach solutions.
Perham added, "These sockets are dominated by Broadcom and Infinera Corp. (NASDAQ:INFN) among others; we don't expect to dominate but we'll take our fair share, but at this European Conference on Optical Communication, there were 9 of these interoperability tests done and we were on 5 of them, where somebody would drive into our product where our card embodying our product is. And then it would feed out, and in many cases, we went to 10 kilometers of fiber to the receiving end. We had significantly excellent performance of our Gearbox and Retimer. It made us look very, very good, and it's going to generate a ton of excitement."
And of LineSpeed, the CEO added that "the first round of products was to see if we have the capability of being in the business, and we're extremely excited about the success we've had. And with the second generation of products starting in the first or second quarter of next year, we intend to be a major player." That MoSys is introducing a new, innovative line of products should surprise no one. The MoSys team is the same team who while at IDTI, spun off NetLogic Microsystems (acquired by Broadcom for $3.7 billion), Galileo Technology (acquired by Marvell Technologies for $2.7 billion), Quantum Effect Devices (acquired by PMC-Sierra for $2.3 billion) and MoSys. They are innovators and I expect that the LineSpeed product line will be expanded and MoSys will become, as the CEO said, "a major player."
Insider Buying:
The song remains the same for Len Perham. On May 14th, Perham put his money side by side the new investors that participated in the Roth-led secondary offering at $4 per share. Here's his insider purchases in chronological order:
May 2013 - 250,000 @ $4 per share
May 2012 - 146,000 @ $3 per share
Dec 2010 - 275,000 @ $4.38 per share
Oct 2009 - 250,000 @ $2.50 per share
After listening to Len Perham on the recent conference call I believe that he's not done buying shares of MoSys as he told investors and shareholders, who he holds in high regard, "I can tell you that things have changed, and it's going to be - it's a different world." I hope to see him follow those closing remarks with another insider purchase around these levels.
Again, to all investors, first timers, hedge fund Portfolio Managers (PM) both new and established, brokers and seasoned individual investors, insiders buy for one reason and sell for thousands. In this instance, Len's track record speaks volumes and his recent insider purchase and his closing remarks announce that it's time to pay attention at the very least.
Institutional Ownership:
MoSys Inc. has the institutional base of an established company. Len's stature, honesty, integrity and technology know how has brought a broad base of well-heeled investors to the stable. As a side note, to my AudioCodes (NASDAQ:AUDC) and AuthenTec (NASDAQ:AUTH) followers, we've done very well there and I've provided you with an orderly flow of articles. I'm on target to start with MoSys, now that I believe the company is ready to attract positive attention in its market and from institutional investors. Morgan Stanley owns 2.1 million shares and has been a patient long-term holder, but there's more institutional evidence to get long and stay long MoSys. Ingalls & Snyder owns 5 million shares or 10% of the company. I mentioned in an earlier article that the PM of Ingalls personally took a 2 million share position in MoSys or a 5% stake. The institutions mentioned above total 20% of the shares. I think we could see a few new names come into the shares with 5-10% stakes in the months to come.
Charts: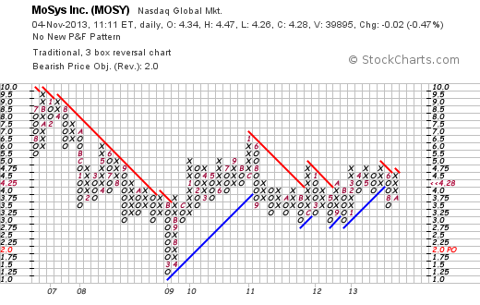 I wanted to use the Point & Figure chart to illustrate the line in the sand for the bulls and bears. As you can see $4.75 is major resistance as it has tried and failed 4 times over the past couple of years to break out. I think Len Perham saying "it's a different world at MoSys Inc." should allow my followers to see how explosive MoSys can be if it gets the $5 print and an X on the P&F chart. The shares have been consolidating over last 6 years and $5 would be a quintuple top breakout, which is a rare explosive bullish breakout and would signal that shares are going higher with the first stop being $6.50 then $8.00.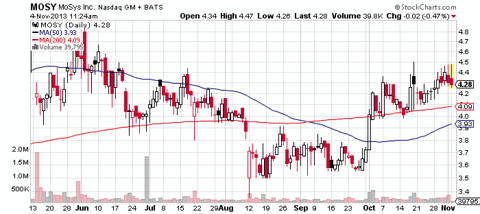 I have included the daily chart to show you that the 50-day moving average is about to cross the 200-day moving average, a so-called "Golden Cross" which is a very bullish signal to both technical traders and fundamental investors. My AudioCodes followers here on Seeking Alpha may remember the article when I recommended its purchase on an upcoming Golden Cross. AudioCodes was trading at $3.25 and over the next 11 months traded up to $7.50. Another company that recently saw a nice move after a Golden Cross was Brocade Communications.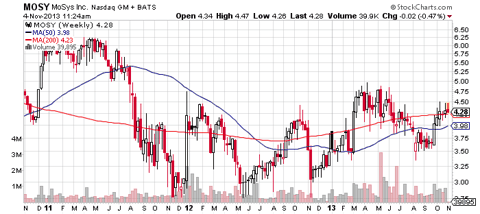 Looking at the weekly chart we can see that it made a triple bottom at $2.75 and has had a nice move off this bottom. We will see a Golden Cross on the weekly chart as the 50-day moving average continues to move higher. This will reinforce the Golden Cross on the daily chart and set the stock up for a large move to the upside.
Register for the MoSys and Xilinx Webinar:
I would recommend that all investors sign up to hear the MoSys and Xilinx webinar:
What: Discussion on "100G/400G Networking Solutions"
When: November 6, 2013 at 11:00AM Pacific Time
Register: Click here to register.
This webinar is sure to heighten your awareness of the close relationship between MoSys and Xilinx and more importantly how deep MoSys is drilling to get its BE chips into the next generation of line cards.
Valuation:
MoSys is not cheap and probably never will be cheap, especially if it continues to execute on its industry changing and industry leading next generation memory access solution. You can think of Cavium Inc. trading at 40 times EPS or NetLogic being acquired for 10 times revenues as companies that MoSys could be likened to in the future. Basically, Cavium and NetLogic have proprietary technology that is patent protected and as such presents a high barrier to entry for competitors. As a result, the market puts a premium on the shares. In essence, the technology becomes impossible to compete against so the company is either acquired by a larger player, or keeps on trucking higher alone. MoSys has all the ingredients to be a Cavium or a NetLogic and the management team has the pedigree to sustain it. MoSys is estimated to earn $22 million in revenues in 2014 and $55 million in 2015. I believe that once the company delivers more news that its chips are going into production then the company will trade on 2015 revenue estimates. I see the company trading up to 6 - 8 times 2015 estimates in 2014. Benchmark, Roth and Fethl all have $6 - $7 price targets on the company, all using different valuation methods. I believe MoSys is unique and like the CEO has stated on numerous occasions, "with networks at 200G then the networking companies cannot do it without us." I take that statement as a serious valuation metric.
Conclusion:
Do not sleep on a legend. Len Perham at a young 70 is not sleeping as he promotes his GigaChip Interface into becoming an industry standard and works hard on having his BE chips designed into the next generation of servers that serve our core networks. This past month Len left me thinking that MoSys has left the R&D stage and onto the initial ramping of production stage, a place that will show just how special his vision, hard work and desire will be looked at by the technology giants that bring bandwidth to our finger tips. This will be our Rome.
Disclosure: I am long MOSY. I wrote this article myself, and it expresses my own opinions. I am not receiving compensation for it. I have no business relationship with any company whose stock is mentioned in this article.