GLD Falling As Expected
Many of this site's readers know that I am generally bearish on gold. I am speaking now from a personal perspective as the metal's practical applications are negligible -- and, aesthetically, gold is tacky. I have never worn anything made of gold and I have no interest in seeing any of it in my home. Bulls like to cite the long-standing history of gold usage as a store of value and a hedge against inflation. But the sad reality is that this is no longer the world we are living in, and the time for excitement has long passed. Of course, there are plenty of people that disagree, as interest in emerging Asia shows evidence of increasing. For these reasons, it should be understood that not all of my articles on gold are bearish.
But I feel the need to give complete disclosure: Instances of bullish viewpoints will usually be based on mean reversion, the need for markets to correct themselves, or one-off fundamental events that are finite in nature. This is made even more true by the fact that there are some clearly troublesome issues involved when holding non-physical assets like the SPDR Gold Trust ETF (NYSEARCA:GLD). So, if I am bullish on GLD, expect the recommendation to come from a trader's perspective that is short-term in nature. But you can expect the bearish recommendations to be longer-term -- and more of "the real thing."
Momentum is Telling
Late last month, I suggested it made sense to sell gold as it posted a weak rally. This recommendation has been largely supported by price activity, which has fallen in line with the longer-term momentum in the markets: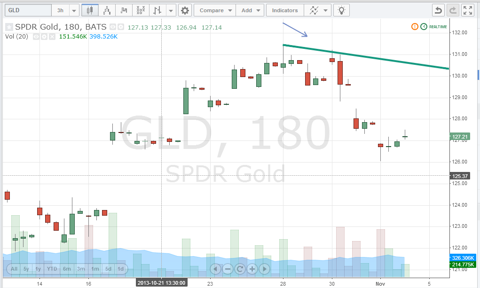 Click to enlarge
Valuations in GLD have fallen-off significantly from the time I made the recommendation, and upside bounces have been limited. There are two important arguments for why these declines will continue: We have yet to see the price gap filled after the move above 124, and Fibonacci support in the low 125s has yet to be tested.
Watch the Dollar
The majority argument in my October recommendation was based on the fact that GDP fundamentals in the US to not match the weakness in the country's currency itself. Weakness in the US Dollar has been propelled by the fact that the market feels the need to reposition itself for continued stimulus after the recent government shutdown. But these fears have yet to be matched by the overall growth performance, especially when we start looking at the macroeconomic situation in Japan, the Eurozone, and the UK. As the Dollar goes, so goes gold (in its inverse correlation):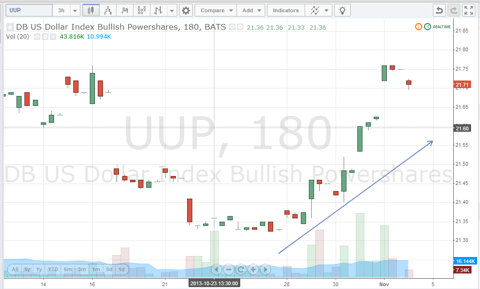 Click to enlarge
ETFs like the PowerShares DB US Dollar Index Bullish ETF (NYSEARCA:UUP), which track the US Dollar have seen impressive gains. After bouncing from 21.30 we quickly saw a break of resistance at 21.75 with almost nothing to be seen in the way of corrective retracements. The suggestions here in the impulse move are clear, and the Dollar set for substantial moves higher. Recent weakness is a buying opportunity.
Disclosure: I have no positions in any stocks mentioned, and no plans to initiate any positions within the next 72 hours. I wrote this article myself, and it expresses my own opinions. I am not receiving compensation for it (other than from Seeking Alpha). I have no business relationship with any company whose stock is mentioned in this article.