Major Changes to the Seeking Alpha Website Taking Effect Today.
Today we are unveiling some major web 2.0 enhancements to the Seeking Alpha website. Many of these changes come directly from your suggestions and we believe they will enhance the exposure you receive, as well as increase the traffic and new business leads we drive to you.
Please note:
All screenshots contain random data and do not accurately reflect the content of our site. Click to enlarge the screenshots.
Direct Messaging
It's time to expect so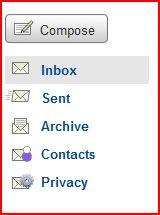 me fan mail. Beginning today we have introduced direct messaging on our website. This means that users, journalists, and potential clients can now easily contact you via our direct messaging system. You will also now be able to connect more easily to your fellow authors and users, and have private conversations with them. We expect our direct messaging system to generate new customer leads, as well as increase the number of interview requests you receive. Of course, if you do not want to receive direct messages from certain individuals, you can always choose to ignore them or block these users with a simple click.
You can email another user from any page their photo appears; including articles by them, comments by them, or their instablog. You can also email other users by entering their user name in the "To" field exactly as it appears on the site (see screenshot). Once you've emailed another user, their information will automatically be saved to your contacts folder. Emails are completely private and can only be seen by the recipient.
Bringing you More Followers

When new users register on the site, we now recommend authors for them to follow based on their interests (see screenshot). We will generate this list of suggested authors based on your articles and StockTalks. So the more articles and StockTalks you publish, the more followers you will likely gain.
Tracking your Discussions
You will notice some new additions to the Seeking Alpha toolbar that runs along the bottom of your screen. One of these is "tracking" which, when clicked, will bring you to your tracking dashboard. The tracking dashboard is the location for you to easily track all the conversations you are a part of on Seeking Alpha:

The dashboard consists of two tabs, "Comments on my posts and articles" (see screenshot) and "Conversations I'm part of" (see screenshot). The former tab will list any comments that were left on your articles and instablog posts. The latter tab will display any new comments left on articles that you previously commented. A quick glance at the toolbar will show you if the tracking dashboard contains any new information since your last visit.

(Click to enlarge)
This new dashboard will greatly enhance the conversations built around your articles and encourage additional comments on your posts from our users. It will also help you keep track of all the activity around your posts. For instance, you'll find this feature quite handy if users begin commenting on a long forgotten article that has suddenly become relevant again due to recent market developments.
Notifications
In addition to tracking your discussions and email, the toolbar will also have a new link called "Notifications." It is indicated by an icon of a yellow notepad. When you have a notification, you will see an orange flag which, when clicked on will open a notification window. This window notifies you of any new comments on your Tracking Dashboard and/or new emails in your Inbox since your last visit (for a total of up to 10 notifications).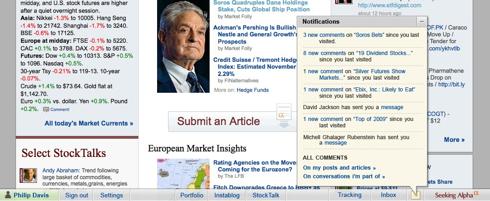 (Click to enlarge)
Improved Comments with More Exposure for You
Due to popular demand by our authors, we are happy to introduce nested comment replies which create a better flow of communication on our article pages (see screenshot). Additionally, you will find that you now have much more exposure within the comments section of our site. When a user's mouse hovers over your name, a pop-up window appears to highlight you and your accomplishments:
(Click to enlarge)
Remember, you also now have 20 minutes to edit your own comment once posted. This means you no longer need to contact us to correct minor commenting errors.
New Profile ID Cards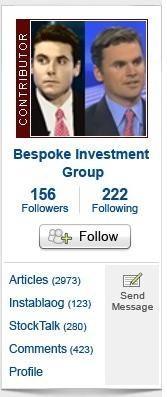 We've spruced up your profile cards with larger photos, a larger "Follow" button and an overall cleaner look. We've also integrated a "send message" button, making it simpler for journalists and potential new clients to get in touch with you (see screenshot).
As always, underneath this card there is still room on your sidebar to include various links and a free ad to promote what matters to you most (see screenshot). To update your sidebar, simply contact us at contributors@seekingalpha.com.
Improved Leaderboards
We created the leaderboards at your request to give you a sense o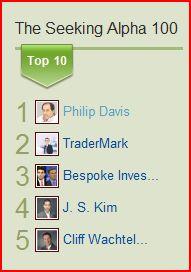 f how you are ranked by our readers. The leaderboards have also been very successful at bringing you more exposure and additional followers. However, some authors who no longer blog would often remain on the leaderboards long afterwards, stealing the limelight from the rest of you.
To ensure that only active authors such as yourselves are featured on these leaderboards, we have revamped them to more accurately represent these rankings in real-time and to reward authors who still actively contribute. For instance, authors on the SA Top 100 list are still ranked by followers, but only active authors who have had at least one article published in the last seven days will appear.
Additionally, the Fastest Climbers leaderboard has become even more competitive as it now includes active non-authors as well. We hope you will also appreciate the new, overall cleaner look of the leaderboards.
Try These New Features Today
We believe that these changes will dramatically improve our authors' effectiveness at attracting new followers and business leads, and ushers in a new level of usability never before seen on Seeking Alpha.
We would love your feedback to further improve these latest products and though you need not use these new features, we think you'll be pleasantly surprised at just how helpful, and even addictive they can be. So please login now and take a look at your tracking dashboard, or direct message another user and let us know what you think!
Good Luck and Enjoy!
All my best,
Boaz Berkowitz
Director of Contributor Relations
Seeking Alpha