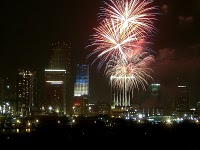 Now that we are in a new year and a new decade, Americans are making their New Year's resolutions, everything from losing weight to getting a new job to exercising more. Fortunately, there are many publicly traded companies that are available to fill these needs.
For example Weight Watcher's International Inc. (NYSE:
WTW
), founded in 1963, is one of the oldest weight loss companies. The stock has a forward P/E of 10.4, and pays a fairly generous yield, at least compared to other New Year's stocks, of 2.4%. The company just declared another dividend of 17.5 cents per share, and went ex dividend on December 31, with a payable date of January 15.
Another company that has a lot of weight loss customers around the world is Herbalife Ltd. (NYSE:
HLF
). The company, which also provides nutritional supplement and personal care products, has a forward P/E of 11, with a yield of 2%.
For those that want to exercise more this year, you first need to have the right clothing. Lululemon Athletica Inc. (NASDAQ:
LULU
) is a Vancouver, Canada based company that produces and markets fitness related apparel for yoga, running, dancing, and other exercise related activities. The stock has a forward P/E of 32.4, which is a bit on the high side compared to its competitors.
Once you have the clothes, you can join the health club. Life Time Fitness Inc. (NYSE:
LTM
) operates sports, athletic, and fitness centers. The stock has a forward PE of 12.7.
Once you have your weight and health under control, maybe you want to look for a new and better job. Robert Half International Inc. (NYSE:
RHI
) is the Menlo Park, California based provider of temporary and permanent staffing around the world. The stock has a very high P/E of 65.2, but does pay a yield of 1.8%.
Last but not least, if you are single, maybe now is the time to start looking for a mate. IAC/InterActiveCorp. (
IACI
) owns two of the largest online dating services, Match.com and Chemistry.com. The stock has a forward P/E of 28.9.
If you want to see a free downloadable Excel databased of a dozen
New Year's Resolution stocks
, half of which pay dividends, check out WallStreetNewsNetwork.com.
Disclosure: Author does not own any of the above.