Williams-Sonoma (NYSE:WSM) is a specialty retailer of high-quality products for the home, marketed through two channels: direct-to-customer (e-commerce and direct mail catalogs) and 590 retail stores, predominately in the United States. The company released its second-quarter results on Aug. 28, 2013, with the following headline:
Revenues grow 12%, EPS increases 14% to $0.49. Raises financial guidance for fiscal year 2013.
The result was a precipitous drop of about 12.0%, while the market gained 8.4% for a net underperformance of 20.4%. Ouch!
Why the Sell-Off?
They are victim of "guilt by association." People associate the company name with its namesake retail outlets, and those retail outlets are underperforming -- plain and simple. However, per the most recent 10-Q, Pottery Barn represents the company's largest brand. Its revenue grew 9.9% quarter over quarter, which represented a slower rate of growth compared to the prior year quarter-over-quarter growth of 11.7%. Nevertheless, with the help of West Elm and PBteen brands, quarter-over-quarter comparable brand revenue growth was 8.4% this quarter compared to 7.4% last year. Despite the underperformance of the better-known brands, the company reported accelerating revenue growth. In addition, the direct-to-customer (DTC) channel represents nearly half of revenue and is on track to overtake the retail channel in a year or so. Operating profits are significantly higher in that channel as reported in the quarterly release, which drove diluted EPS growth from $0.49 to $0.43.
Another negative from the earnings release was the drop in gross margin. The gross margin percentage dropped 70 basis points from a 10-year high of 38.3%, to 37.6%. During the last 10 years (excluding the crisis years of 2008 and 2009), it has ranged between 37.0% and 38.3%, making the current margin near the long-term midpoint.
Finally, there have been macro issues -- including uncertainties surrounding Fed monetary policies (i.e., "taper talk"), the government shutdown, and the debt ceiling -- all of which added fuel to the fire. High-end retailers have underperformed the market since the company released its earnings. The perceived negative effects of these uncertainties on consumer behavior have caused investors to shy away from retail stocks in general, and Williams-Sonoma specifically.
Reasons to Look Ahead to the Savory Pleasure of Market Outperformance
Since the earnings release, the stock has retraced nearly 50% of its 52-week high/low range and fully retraced its historic norms on a relative basis. So, I expect market participants looking to outperform the market through year-end to rotate into some of these high-end retail stocks, including Williams-Sonoma.
The company raised its revenue and EPS guidance in both the first and second quarters slightly upward. In response to a question during the most recent conference call regarding guidance for the rest of the fiscal year, the company's CFO Julie P. Whalen stated (emphasis mine):
Remember we've put out guidance that we believe we will be able to make, there are still questions, question marks around the economy today. We haven't really planned for either an economic downturn nor a housing recovery. And as far as how that Q3 is looking to date, we don't give mid-month, mid-quarter guidance. It's still very early in the quarter. We're only a few weeks in. And unfortunately, what's going to make it an even harder read all year is that because of the 53rd week, the weeks don't actually line up. But with that said, we are confident in our guidance, and we are confident in our strategies.
My takeaway is that the company had the option of just reiterating its guidance given some of the negative trends in its business and the uncertainties she mentioned. However, they "put their neck on the line," so to speak, by taking a more aggressive approach and raising guidance on top of the raised guidance announced in the first-quarter earnings release. Also, as discussed earlier, I believe emphasis has been unduly placed on their more popular bricks-and-mortar locations instead of emphasizing the holistic view that revenues continue to accelerate and EPS is growing faster than revenues.
The company has two shareholder-friendly long-term factors that should be supportive to the stock price. First, the company is in the first year of a three-year $750 million stock buyback program, representing roughly 15% of its market cap. To this point, share repurchases have tracked closely with the amount of time elapsed under the buyback program. Second, the company increased its dividend by nearly 41% and has a respectable 2.3% dividend yield, which is attractive for income-oriented investors.
From an operations perspective, management views itself as a leader in multi-channel retailing. The company sees substantial opportunities through its DTC channel and continues to allocate capital in that area. Management continually focuses on providing its customer an engaging e-commerce experience. The sites are engaging, and the company is well-positioned to capture growth and share with the continued consumer trend toward online shopping.
I view the company's multi-channel execution as a core competency and competitive advantage. It is often cited that many retail locations are becoming nothing more than showrooms for the benefit of online competitors. Unlike other retail companies, which sell well-known products where distribution of these products is commoditized through numerous online sites -- including Amazon (NASDAQ:AMZN) -- the company's products are differentiated by quality and uniqueness. This important distinction makes the company less susceptible to retail channel foot-traffic becoming sales of online competitors.
The international component has been a small part of its business (roughly 5% of revenue), but is growing rapidly. The most revealing statement from the most recent conference call with respect to management's view on the global opportunity was in response to a question regarding its launch in Australia. CEO Laura J. Alber responded (emphasis mine):
...We believe global is our greatest opportunity for growth, and we said we're looking for additional locations. Next, we're going to really -- we're fill out Australia, fill out the United Kingdom. We're also looking for relevant franchise partners. And as I've said, we're pleased with our relationship with Alshaya. We're equally excited to be working with Store Specialists in the Philippines. And while that's a smaller deal, we think it's a great way to get our foot into Asia. The most exciting thing, I think, to your question specifically is that we are seeing a large percent of our sales online, much larger than we expected. It's incredibly powerful for us and plays directly into our strength as a leader in multi-channel retailing. We've also learned that our brands in Australia are revered and loved, and we also learned the importance of a multi-channel launch, the importance of the experiential retail, the attraction of our cooking school, the power of in-home design services and connecting with our customers and that our customer-centered approach is going to resonate in other countries.
Finally, the (make-or-break) holidays are approaching. The macro issues that put downward pressure on the stock have abated. The high-end consumer has been steady. The company is well-positioned to provide customers with great value and an engaging experience. I expect WSM to significantly outperform the SPDR S&P 500 ETF (NYSEARCA:SPY) through the holiday season and leading up to the release of its annual results in March 2014.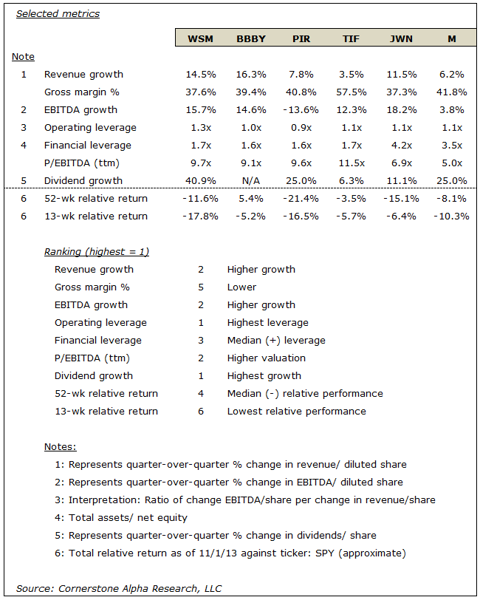 Disclosure: I have no positions in any stocks mentioned, and no plans to initiate any positions within the next 72 hours. I wrote this article myself, and it expresses my own opinions. I am not receiving compensation for it (other than from Seeking Alpha). I have no business relationship with any company whose stock is mentioned in this article.