Barrick Gold (NYSE:ABX) released the third quaterly financial report for the year last week. Financial results presented in this report were largely ignored due to two other news items released at the same time:
Barrick announced the suspension of development activities at the Pascua Lama project; and
Barrick announced the launch of a $3B bought deal equity offer.
Investors were clearly not impressed and the share price dropped by more than 7%. This drop in share price was interpreted by some die-hard commentators as yet another buying opportunity into a "value play" that Barrick Gold allegedly is. We beg to differ and would like to provide a view that we deem a little more realistic in this article. But let us start with fundamentals before we deal with polemics.
As was mentioned in one of the better pieces on last week's developments at Barrick, the cash flow statement and the balance sheet both look "OK" which is to say better than expected. Most metrics that can be deducted from the condensed numbers are within the range that is presently typical for the sector. Except one: the debt to equity ratio. The chart below shows the development of this ratio over the past five years for Barrick Gold and GoldCorp (NYSE:GG) for comparison. A value of greater than one means that creditors and suppliers have already invested more in this company than shareholders.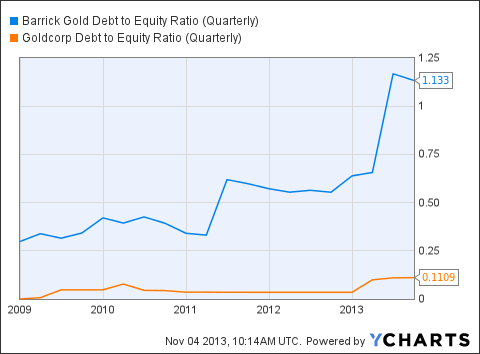 ABX Debt to Equity Ratio (Quarterly) data by YCharts
We have presented one of many ratios to measure debt, but no matter what ratio is applied the conclusion remains the same: Barrick carries a debt load that is significantly higher than for any of its peers. And it seems that holders of this debt have become nervous in the face of dropping gold prices and overspending on Pascua Lama.
The Debt
The diagram below was used by Barrick's CEO at a presentation in September. This diagram illustrates the debt repayment schedule for the coming years. The diagram tells only one part of the story and should be read in conjunction with the table below the diagram extracted from the latest quarterly report. It shows additional $10.5B of interest payments due over coming years.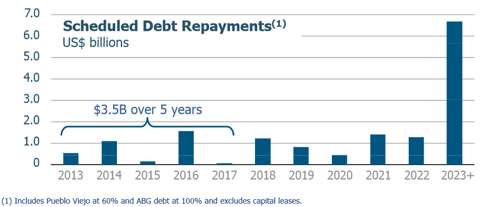 Approximately $2.6B generated from the capital raise will be used for debt repayment, mostly for debt coming due between now and 2016. Considering current total debt of $15.28B this will lead to a debt reduction by 17% - achieved by issuing 18% additional shares. In other words, existing shareholders are suffering significant dilution, while at the same time the debt load will still remain the heaviest in the sector by quite a margin.
Standard & Poor's rate Barrick's debt BBB with a negative outlook affirmed in late April. This rating is still one notch about the lowest investment grade. The negative outlook may well have contributed to the pressure on management to initiate the latest debt cutting measures.
How did Barrick maneuver itself into such a corner? Below is pretty much the only sentence in Emmet Kodesh's piece on the topic that we can agree with:
"The problems ABX has suffered in the past 18 months have their inception in a grand strategy whose various pieces never quite came together and whose failure to coalesce was rammed by falling bullion prices."
Or to put it bluntly: when the gold price tide receded Barrick was found to be swimming naked. Have the measures announced last week finally provided a much needed bathing suit for Barrick Gold? We think not; a decent set of swimmers will need to cover a lot more skin.
Reducing short- and medium-term debt will create some room to move and save some cash for future obligations. However, we believe that Barrick will either need a significant rise in gold price or additional measures to manage the remaining debt position. We therefore expect further fire sales in the short term, and further debt restructures that will come with some pain for shareholders in the medium term.
Pascua Lama
Pascua Lama is one of the straw-bales that broke this camel's back. The cost and time overruns have been financed by some of the debt that is now being repaid. Suspending the project means postponing revenue while paying interest on the capital sunk into this half-finished mine. It has become a loose-loose situation for Barrick where simply marching on and throwing money at this mis-managed project is not an option anymore.
There are still some considerable question marks overshadowing the future of this mine. Contrary to what Emmet Kodesh would like to make his readers believe, there are real and pressing environmental issues to be addressed. To quote our fellow author:
In fact, Chile's high Court has ruled that the project can proceed when the water management work is complete which is expected by late 2014.
He forgets to mention, that this water management work was supposed to be completed years ago, and Barrick has simply forgotten to comply with regulations. And contrary to what Emmet Kodesh wishes to convey, it did not take Greenpeace to influence the local people into opposition to the mine. The Daiguita Huascoaltino people are actually quite capable of thinking themselves. Incidentally, their thinking is supported by ample research available in the public domain.
A Good Entry Point?
The low-cost and long-life nature of Barrick's assets is mentioned as the foremost argument in favor of an entry at the present point in time. Our models do not support this argument. The cash flow from these assets might just be sufficient to repay the remaining debt if the gold price comes to the party. Speculating on much of the cash flow to be left over for investors seems overly optimistic in our humble view.
We view Barrick as a developing story, with more unpleasant news to come in due time. Debt is still very high and the Pascua Lama saga is still playing out. We expect more fire sales to eventuate, we expect dividends to be adjusted down in order to reflect share dilution, and we expect more painful debt restructuring measures.
Barrick was once the largest gold miner by market capitalization, and viewed by many as the flagship of this sector. The company has lost its position and has been falling behind. Whether or not the Pascua Lama mine is the iceberg that will sink this ship remains to be seen. Currently Barrick appears fully occupied fixing the leaks.
Disclosure: I have no positions in any stocks mentioned, and no plans to initiate any positions within the next 72 hours. I wrote this article myself, and it expresses my own opinions. I am not receiving compensation for it (other than from Seeking Alpha). I have no business relationship with any company whose stock is mentioned in this article.