Between mid-2005 and mid-2007, Japanese equities outperformed their global peers. Junichiro Koizumi's cabinets had apparently successfully ended the banking crisis, and with it, the Heisei Malaise that had afflicted Japan since the prior bubble burst in 1990. With the banking system apparently fixed and the Koizumi reforms apparently working, domestic and foreign investors came to believe that Japan was on its way back to sustainable economic growth.
But then came a merry-go-round of ineffective subsequent LDP governments and the effective dismantling of the Koizumi reforms. The global financial crisis that erupted following the failure of Lehman Brothers in September 2008 was doubly hard on Japan as, 1) the unruly unwinding of the JPY carry trade coincided with 2) a virtual implosion of Japan's exports, which knocked out the main support for economic growth from the 2003 trough.

Japanese voters, who essentially after 50 years of Liberal Democratic (LDP) rule, finally drummed up the courage for a change in government, voted in the Democratic Party of Japan (DPJ) in September 2009. The reasoning that anything could be better than an apparent return to the endless circle of political graft, wasteful spending and virtual ignorance of urban voters of the "old" LDP.
On the surface, the new Hatoyama Administration's promise to shift government resources to focus on people's livelihoods from just pouring more concrete sounded plausible enough. The promise to wrest control from a sclerotic bureaucracy and rein in wasteful spending sounded good for urban, salaried voters who had seen nothing but higher taxes and declining bonuses/salaries and an ever-shakier national pension system under the old LDP.

While the new administration at first enjoyed high support, Japanese stocks peaked just before the elections and continued to slide into December. Foreign investors were becoming increasingly despondent about the new administration's lack of a clear strategy to return Japan's economy to growth. Also, the Bank of Japan was looking much like a coffee shop intellectual, i.e., just sitting on its hands and pretending to be an interested observer rather than a key participant in fixing what ailed Japan. As a result, Japanese stock prices slid nearly 20% between August and early December, as developed world stock markets were rallying some 15%.
Click to enlarge: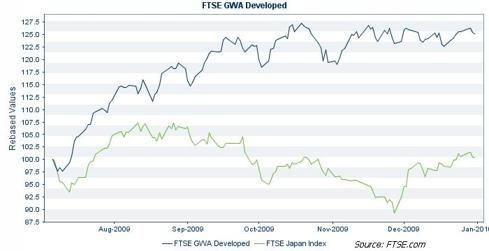 Yet, just as foreign investor sentiment regarding Japanese equities was hitting new lows, Japanese stock prices from early December began to outperform their global peers. What has changed?

The Hatoyama Administration has yet to come up with a credible growth strategy, and its support continues to deteriorate as voters realize that the DPJ has just as many political scandal skeletons in its closet as the LDP. The billions of yen Mr. Hatoyama's election office received from his Bridgestone fortune heiress mother is either, a) an evasion of inheritance taxes or b) illegal political funding. This threatens to topple the new government, if another funding scandal by the party's man-behind-the-scenes (Ichro Ozawa) does not.

The new government's math about implementing "people (voter) friendly" policies without blowing up Japan's fiscal finances is fuzzy at best, and it is generally believed that the shift in policy initiatives will be a net detriment to Japan's GDP growth in 2010. Given ongoing deflation, the Nikkei (Japan Financial Journal) is forecasting a big fat zero for Japan's nominal GDP growth in 2010, even if real GDP manages 1%~2% growth.

But market sentiment regarding JPY and USD have appreciably shifted. Basically, Japanese equities have begun to outperform their global developed market peers because the gods of global monetary policy have begun to smile on them. Firstly, the Bank of Japan surprised investors by getting off its derriere and actually pumping about JPY10 trillion of liquidity into Japan's financial markets, while also openly signalling they were prepared to do more (such as purchasing more JGBs with its balance sheet). Secondly, the U.S. Federal Reserve is clearly but cautiously implementing its exit strategy, signalling to investors that a good deal of the $12 trillion of extraordinary liquidity provided to backstop the U.S. (and world) financial system during the crisis will be dismantled starting from February 2010.

As a result, the unrelenting appreciation in JPY has been stopped in its tracks, while the USD index staged a sharp rally on what looks like short covering, but could evolve into a 6-month or more USD rally/JPY consolidation.
Click to enlarge: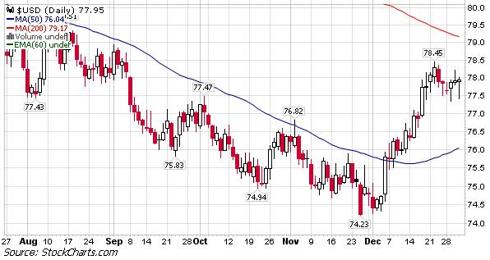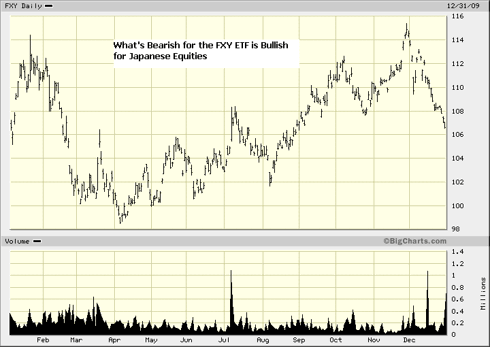 While this is bad news for those betting on a strong yen and new highs in the FXY ETF, it's good news for Japanese stocks--especially the export sector--as these stocks move inversely in real time to moves in JPY (particularly when JPY is trading above JPY100/USD) in real time. The following table shows just how highly correlated different sectors of the Japanese equity market are to movements in both JPY/USD and JPY/EURO.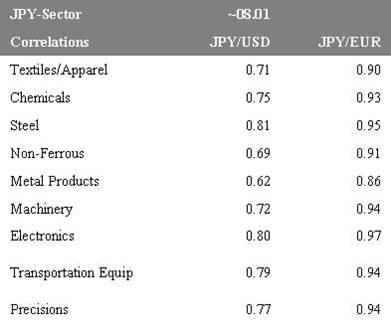 The U.S. Fed of course is encouraged enough by signs of recovery in the U.S. economy to begin cautiously withdrawing what has historically been extraordinary stimulus. The OECD index of leading indicators shows that this recovery is more than a U.S.-specific phenomenon. While GDP growth expectations for the OECD nations remain quite low, the OECD index of leading indicators continues to recover from a bottom seen in February of 2009. Historically, Japanese stock prices have tracked the OECD index of leading indicators quite well, but there has been a noticeable lag this time.
Click to enlarge: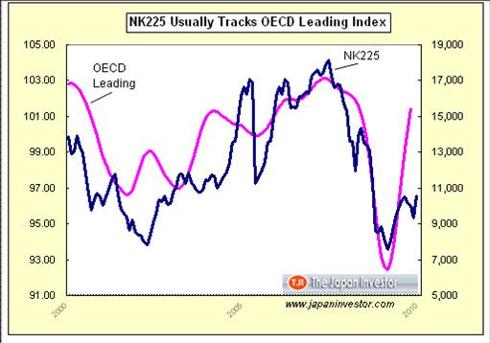 Finally, while the back-up in U.S. treasury yields in 2009 has already produced one of the worst years for U.S. bond market performance on record, major investment banks like Morgan Stanley see U.S. 10yr treasury yields rising another 40% to 5.5% in 2010. While this could well be problematic for the U.S. recovery and U.S. stock prices, the Nikkei 225 has historically shown a high positive correlation to rising U.S. bond yields.
Click to enlarge: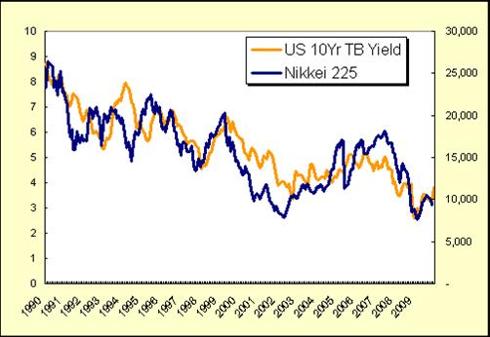 Thus given, a) a rising USD index, b) rising U.S. treasury yields and c) continued recovery in the OECD index of leading indicators, Japanese stocks can rally despite anemic GDP growth and the ongoing issue of Japan's high government debt, even though we suspect that current market sentiment is already quite bearish on the cyclical recovery in Japan's GDP. A hint of what is doable in Japanese equities is the 76% rebound already seen in Japan's precision sector index in 2009, from a low of 1,733.27 in February 2009 to a high of 3,058.20 in December as the year was ending.

This sector has several stocks tradeable as ADRs in the U.S., including Advantest (NYSE:ATE), Canon (NYSE:CAJ), Kyocera (NYSE:KYO), Nidec (NYSE:NJ) and TDK (TDK), a group that also fits into the U.S. tech recovery theme. The major caveat is that this rally will not lift all boats, particularly those stocks still mired in what is still a domestic economy malaise.
Further, some see Japan's big banks as the ultimate contrarian play. But new international accounting rules that dictate Japanese companies must release statements of comprehensive earnings (which include unrealized gains/losses on cross holdings) as well as more stringent BIS (Bank of International Settlement) capital requirements. This could well stunt any attempted rally in the big banks which still hold a noticeable amount of stocks in other companies and vice versa. Since "domestic only" stocks will continue to be a noticeable drag on the benchmark indices, we suggest selective exposure to Japanese equities rather than a simplistic "buy the index" approach.

Disclosure: No positions in ATE, CAJ, KYO, NJ, TDK, EWJ, FXY