In an article published on August 29th, I advised investors to sell BofI Holdings (NASDAQ:BOFI) going into its earnings report, which was released this morning. I was both right and wrong, but I was mostly wrong. In this article I come clean about my mistake, dig down into the latest 10-Q and analyze where to go from here.
Going into the earnings report, the market became increasingly worried about BOFI's reported results. After the results were reported this morning, the stock zoomed back upwards: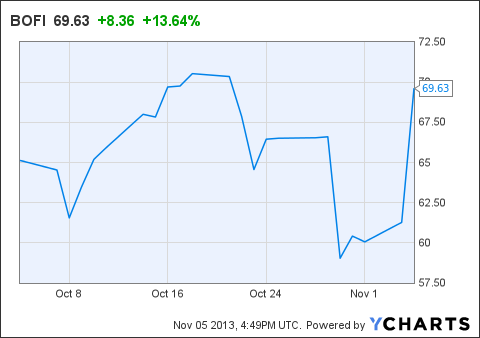 I have no idea if my article contributed to the diminished expectations, but it was clear that others had begun to see things my way.
The key point in my short-term bear case was that mortgage refinancings had fallen off a cliff in Q3, and that without significant mortgage banking income, BOFI was likely to see a slowdown in growth. Before we proceed, I just want to be clear that I like the company and am bullish in the long run, but I was increasingly worried that the company's lofty valuation was not sustainable if growth began to decline.
As it turns out, I was right about some details but wrong about the big picture. Mortgage banking income fell even more than I had anticipated: whereas I predicted that this line item might fall 20% year-on-year, it fell 70% from $6.5M to $2M in the quarter ending September. Yet despite this significant setback, the company just reported diluted EPS of $0.85, up 26.9% year-on-year. This result was right on line with the analyst consensus. So in this case it was better to trust professional analysts than some random SA contributor.
Now I could say that the stock's run-up this morning was just a return to normal after pre-earnings worries and that BOFI is only a bit higher than it was when the original article was published, but I think that would be a cop-out. There's no way around it: my forecast was wrong. I think it is more productive to dissect the quarterly report to get a sense of how the company managed to achieve such impressive growth numbers despite the tough business environment.
As I see it, there are two main stories here: structured settlements and reduced loss provisioning. I will tell each in turn.
The company reported a $3.1M "gain on sale-other", which it elsewhere described as a structured settlement. According to last quarter's conference call, the company has begun to sell these settlements as productivity ramped up:
So we have a business that originates and factors structured settlement and lottery payments. And we have a variety of sources that purchase those payments and we've expanded our sales force a bit. We typically portfolio-ed those but, given the increase and expansion of the sales team and the enhanced productivity of that sales team, we've decided to originate certain of those products for sale. And they tend to have very high margins when they're sold, not only because of their credit quality but also because of their long duration -- relatively long duration, so the -- we get a significant premium for those products.
It seems like the company had great foresight about shifting the mix of fee income just when mortgage banking declined. I have to admit that although I read the August conference transcript when it came out, I did not attach much importance to structured settlements, partially because management was non-committal about future prospects. Yet management may have been right to hedge: it is not clear how predictable such income will be in the future. Perhaps this line of business will help to prop up non-interest income (still up only 3.2% year-on-year) until the mortgage market picks up again, or perhaps not. It is clear, however, that given the poor forecast for mortgage banking over the next several quarters, the company will become increasingly reliant on this business for growth.
If BOFI's earnings before taxes grew from $15.1M to $20.1M year-on-year and $3.1M can be attributed to structured settlements, the additional $2M can be found in the sharp drop in provision for loan losses. This figure declined to $0.5M last quarter. The key driver was an unexpected (at least for me) improvement in credit quality: non-performing loans to total declined from 1.07% in Q3 2012 and 0.80% in the June quarter to 0.63%. Just when I thought that the company's loan portfolio had reached the peak of quality, the company did it again.
So should I just capitulate in the face of my faulty forecast and buy the stock? After all, I sold out at around $70 last month and can buy the stock for the same price right now. After some thought, I have decided to stay on the sidelines. The key drivers of growth this quarter, structured settlements and reduced provisioning, seem unreliable in the future. I suspect that the structured settlement business is quite volatile and I just cannot count on the company delivering steady growth in this area. I also find it hard to believe that there can be much upside in credit quality, although I have clearly been wrong about this point in the past. Yet credit quality does have an upper limit (0% non-performing loans), and it periodically declines even for banks as well-run as BOFI.
Perhaps I am overly pessimistic about these two points, or next quarter management will pull another rabbit out of its hat. I'll definitely pore over the transcript to the conference call later today to get a better sense of the future. But at nearly three times tangible book, I think that the valuation risk is just too high given uncertain growth prospects. So to those of you who bought on the recent dip or take a long-term view, congrats for holding on. You are braver than I am and smart enough to ignore a stock recommendation from a stranger on the internet.
Disclosure: I have no positions in any stocks mentioned, and no plans to initiate any positions within the next 72 hours. I wrote this article myself, and it expresses my own opinions. I am not receiving compensation for it (other than from Seeking Alpha). I have no business relationship with any company whose stock is mentioned in this article.