I recently initiated a position in Ritchie Bros. Auctioneers (NYSE:RBA) and am writing to share my investment thesis here. Ritchie Bros. is the world's largest auctioneer for industrial equipment. If you have heavy duty construction equipment that you wish to sell, then Ritchie Bros. can sell it for you. They were established in 1958 in Kelowna, Canada.
Background
According to the company's website, they sold over $3.9 billion of heavy equipment in 2012. All of their auctions are live and unreserved. An unreserved auction is one in which there is no minimum bid necessary for an item. In addition, Ritchie's does not permit the owner of the equipment to bid on its own items. So if you list equipment with Ritchie's, it's going to sell.
Ritchie's allow both on-site and online bidding in their auctions. Indeed, about 60% of bidders at an average auction are bidding online, which gives the auctions more geographic scale than one might expect.
While the company is primarily an auctioneer, they have launched new services that integrate well with their core business. In 2011, they began to offer financing, warranty, and insurance services related to the equipment they are selling. In 2013, they opened a website, EquipmentOne, which is an online marketplace for people to buy and sell heavy equipment privately.
Finally, and a key point to the investment thesis discussed later, Ritchie Brothers is the world's largest industrial auctioneer.
The Rear-View Mirror
Before going on, I want to review some historical performance metrics before giving my view of the future performance. First a look at the stock price chart taken from Morningstar. The price action shows a growth story, which has gone sideways in recent years.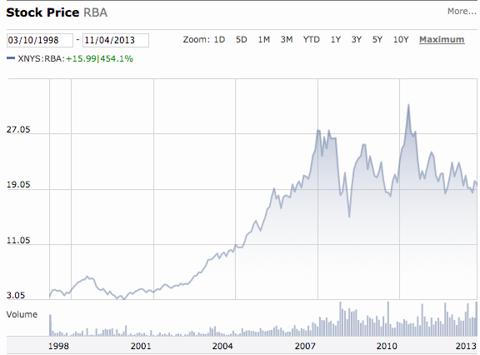 Next, the Earnings per share [EPS], Dividends per share [DPS], and the payout ratio over the last ten years. Of particular note to me is the steadiness of the dividend given some of the volatility in the earnings. One concern is the payout ratio steadily moving up. We might infer a commitment to the dividend but should be cautioned to temper our expectations for future dividend growth if we are solely relying upon the historical picture.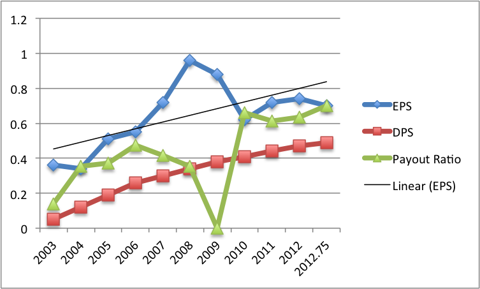 Next, I look at the operating margin, the asset turnover ratio, and the current ratio. All three are showing worrisome trends: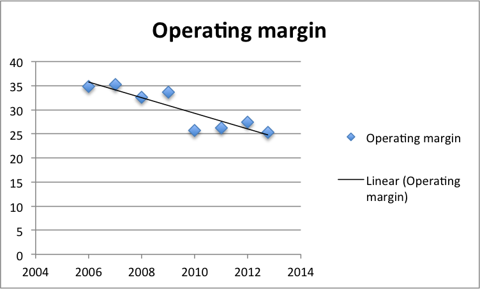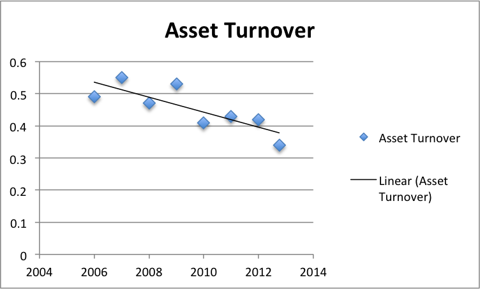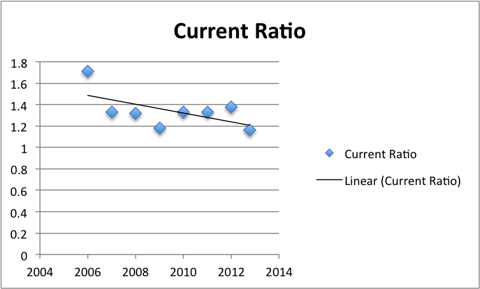 The balance sheet is sound. The long-term debt to equity ratio is about .31 with total debt to equity at .69. Operating income covers the interest servicing on the debt just over 17 times.
*All data in this section sourced from Morningstar.
The Investment Thesis
From the numbers, the past trends look worrisome. So what's the investment thesis? First, as the world's largest industrial auctioneer, Ritchie Brothers benefits tremendously from its size. This is a business in which bigger is better. If you are large, then buyers will come to you because they know that you will have a wide selection of items on sale. If you are large, sellers will come to you because they know there will be a larger number of buyers, giving them the best chance to sell their equipment at a good price. In discussing the business model and the prospects for competition cutting into market share during the Q2 2013 earnings call, transcript available from SeekingAlpha here, Peter James Blake, the CEO and Director, says:
And the people that know our business well understand that's very, very much based on relationships. And those relationships are very important to us. You don't form those by walking in and doing a 30-minute presentation and then moving along. We're selling more than a can of peas. We're selling something that has intrinsic value. And people have to understand what that value is. So they can try. And people do try to do it on their own. But there are many parts of what they would have to do on their own that are not easy. And our solution isn't designed to be easy. So things like, for a guy who's going to try to sell it on his own, he's got issues about pickup, he's got issues about payment, he's got issues about trust and logistics. And there are so many things that get in the way of making it easy from an owner trying to sell it on his own. He could do one piece probably relatively easily, and my 13-year-old daughter could sell probably 10% of a guy's fleet because it's real easy, and people are phoning. But it's the other 90% that becomes much more difficult and much more challenging to make a market or to create a marketplace that will create global value.
There is competition from large machinery manufacturers, such as Caterpillar (NYSE:CAT). See for instance http://www.catauctions.com/. However, auctions are not the primary business line for these companies. In addition, a brief scan of the equipment listed shows that it is predominantly equipment made by Caterpillar. While other equipment is listed, an owner with a mixture of equipment from different manufacturers might feel that they can get better value from Ritchie's. At the time of this writing, Ritchie's is holding an auction with 657 items for sale. Caterpillar's Las Vegas auction on November 8 has 146 items listed. Ritchie's also has significantly more auctions scheduled in the month of November. As a buyer or seller looking for the widest selection, I know where I would go.
Second, management has shown the ability to expand their capabilities while remaining focused on their core business. Adding financing, warranties, and insurance services makes a lot of sense and provides additional income opportunities. The EquipmentOne website is also a strong move as it provides an outlet for smaller players who want to sell one or two items of equipment. It also lets larger sellers try to sell it themselves before deciding if they want to list their equipment in an unreserved auction. In the Q2 earnings call transcript, management mentions that some listings have begun life on EquipmentOne and then moved over into an auction. When asked about the strategy behind EquipmentOne during the Q2 2013 earnings call, Robert McLeod, the CFO, responded:
So strategy is unchanged, still developing as a complementary marketplace. But we have already seen a number of people with listings on EquipmentOne that don't sell, then move those listings over to the auction. And that was always one of the divisions, that these 2 would be complementary market places that would, in fact, provide a broader range of solutions to our customers. So when we see customers using both, starting at one then moving to the other, that's pretty cool. That's capturing the full transaction. And that was always one of the reasons we wanted to launch it as a complementary strategy.
I should say why I feel that now is a reasonable time to initiate an investment. Over the past two years, Ritchie Brothers has hired a large number of Trade Managers and Regional Trade Managers. This has meant they are spending a relatively large amount of money on training and don't have a mature sales force out there and working. However, that is changing as those hires are maturing, and we should expect stronger performance going forward. Compensation for these positions comes in the form of a competitive base salary with large room for bonuses for people who produce. So I think we're looking at a maturing sales force aligned with a compensation system that incentives performance.
Finally, going forwards, we should expect to see CapEx go down, which will increase free cash flow, making it possible for management to further fund the dividend or a share buyback should they choose to allocate the available cash in that manner. Again, from the Q2 2013 earning's call, the Robert McLeod (NASDAQ:CFO) had this to say about CapEx and future cash:
Our CapEx certainly has diminished over the last couple of years. And going forward, as I said, we'd likely expect it to be lower than $60 million annually. That will generate free cash flow. And our expectation is to return that to shareholders, both by dividend and also, for sure, the investigation to make sure that we are -- we have the ability to buy back shares when the time is right.
I believe an investment in RBA ultimately comes down to whether or not you believe in the industry. If you think that individuals selling their own equipment, even in the digital age, is hard and that there is a role for a dedicated industrial auctioneer, then RBA might be something to investigate. I do, and I'm long at $18.78 per share as of October 17, 2013.
[Note: RBA just announced 3rd quarter earnings and beat analyst expectations. At the time of writing, shares are up 8% on the news. I don't know if this is a sign that the ship has turned and has smooth sailing ahead or if it's a more one-time event. I look forward to reading the earning's call transcript with curiosity.]
Disclosure: I am long RBA. I wrote this article myself, and it expresses my own opinions. I am not receiving compensation for it (other than from Seeking Alpha). I have no business relationship with any company whose stock is mentioned in this article.