Direct participation in the commodity value of natural gas and tax-efficient distribution of income make us want to own units of buy-recommended San Juan Basin Royalty Trust (NYSE:SJT). Looking at the price chart of six-year natural gas we see a base that has formed after a steep decline (see chart below, Natural Gas Six-Year Futures Strip). The forced selling of the 2008 financial panic appears to have run its course while a new uptrend has not yet been confirmed despite several attempts. Further sustained decline seems unlikely, barring an unfavorable political/economic surprise. In other words, the downside looks limited. Instead the main risk may be further delay before a renewed uptrend begins.
Considering that SJT is concentrated 100% on natural gas with no debt and no hedging, it is logical that the stock price chart for SJT looks like that for the long-term resource (see chart below). Like most energy stocks, SJT price has begun an uptrend with current quote above the 200-day average. That may be a leading indicator for natural gas price to move to an uptrend as it was for a downtrend last year.
Natural gas price translates directly to income for SJT. Monthly Declarations are likely to rise considering we already know the price trends through February because of the two month lag from real-time production to distribution declaration. If current natural gas futures prices materialize, distributions will likely be higher for the rest of 2010.
Estimated Distribution Yield of 8.0% for the Next Twelve Months looks competitive among attractively priced income stocks. Actually it is better after our latest estimates as we take account of a narrower price discount for San Juan Basin natural gas relative to Louisiana and slightly better than expected volume. Moreover, as we roll forward our Next Twelve Months period by another calendar quarter, expectations automatically rise with the price trend. McDep Ratio at 0.82 also looks attractive for new investment. Finally, unlevered cash flow multiple (EV/Ebitda) is modest at 10.0 times considering the quality of the trust's properties and the equivalent of direct ownership combined with the liquidity of a publicly traded security.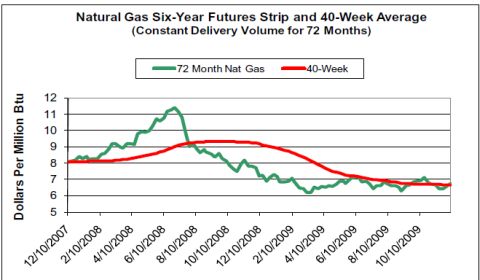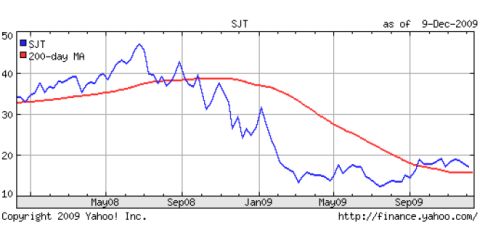 Originally published on December 11, 2009.