On August 27, 2013, I published an article entitled, "Including Second-Quarter Results, I'm Neutral on Workday."
At that point, the share price was at $76 following an increase from the $60-$65 per share range, which is where I got bullish on the company.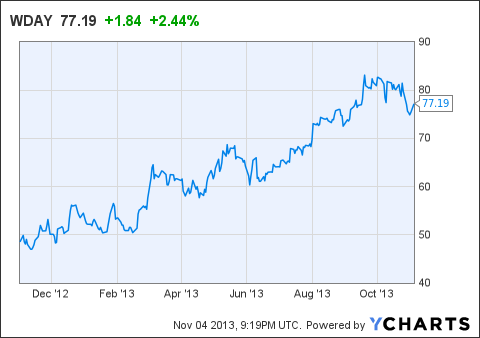 With Workday's (NYSE:WDAY) share price starting to trend lower again, how should I be thinking about this company now?
Well, I think Workday is overvalued: I will not pay 30 times sales and 17 times book value for any company.
But it is still useful to examine the industry and forecast Workday's fundamentals to better understand how to think about Workday.
Fundamental Analysis
Workday increased working capital through financing activities, which is partly attributable to an increase in financial leverage.
There appears to be an excess of working capital which could be used to make a strategic acquisition and/or expand capacity.
According to management, their focus is on organic growth but some small acquisitions could occur.
Such a deal could be made to boost the financials product offering customer count.
Without even an acquisition in this area, Workday could see a substantial increase in financials customers as this offering's customer count is much lower than the HCM customer count and there are benefits from integrating the two products.
Longer term, management plans to use it TCO advantage over legacy vendors to go from 500 to 5,000 customers; that could mean consolidated revenue above $3 billion.
The applications' TCO provides a larger relative benefit to international customers than to customers located in the U.S., who are primarily large enterprises.
In terms of valuation, at the current market price, Workday would be trading at roughly 4 times sales of $3 billion, which would mean that Workday is currently overvalued.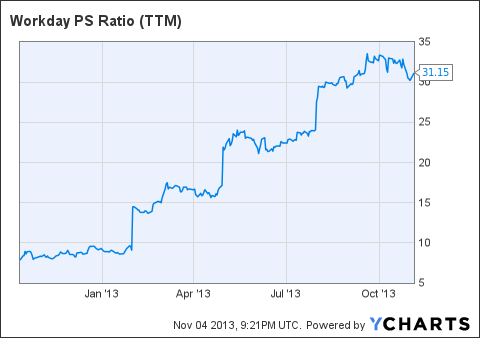 TTM) Chart">
WDAY PS Ratio (TTM) data by YCharts
Comparing the fundamentals, salesforce.com has a longer reported operating history than Workday and generates significantly more cash flow from operations than Workday.
Ultimate Software Group (NASDAQ:ULTI) is a consistent y/y revenue growth story with cash flow from operations that are significantly larger than Workday's cash flow from operations, but Workday is set to overtake Ultimate in terms of the size of consolidated sales. Consequently, Workday should generate a substantial amount more cash flow from operations in the coming quarters. Additionally, Ultimate trades at steep multiplier model valuations.
Concur Technologies, Inc. (NASDAQ:CNQR) is larger than Workday Inc by consolidated revenue and cash flow from operations. Concur is increasing financial leverage, which makes its market-based valuations less extreme than Workday's valuations. But Workday's recent debt offering could weigh on its market-based valuations.
NetSuite, Inc. (NYSE:N) is about the same size as Workday by consolidated revenue and provides a basis for what Workday's financial results could look like in the coming quarters.
This industry has lofty valuations; also, the leverage is increasing, and GAAP net losses are prevalent.
The questions is, who will be the winners and who will be the losers? Time will tell and, at these valuations, waiting for the shakeout may be the best play.
But I will examine my Workday financial performance forecasts to see if there is a good potential entry point based on valuation.
First things first, I am maintaining my fiscal 2014 revenue forecast of $450 million.
Next, I'm maintaining the forecast of $664 million of fiscal 2015 revenue, which implies a roughly 50% revenue growth rate.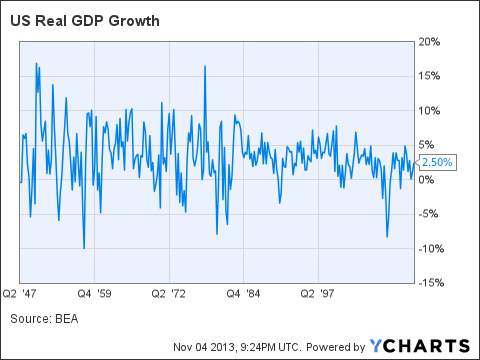 US Real GDP Growth data by YCharts
Lastly, if I assume a 50% growth rate of fiscal 2015 revenue, revenue would be just under $1 billion; meaning, I would be buying Workday at 13 times fiscal 2015 revenue.
Point being, I would not accumulate shares of Workday above $40 per share.
Disclosure: I have no positions in any stocks mentioned, and no plans to initiate any positions within the next 72 hours. I wrote this article myself, and it expresses my own opinions. I am not receiving compensation for it (other than from Seeking Alpha). I have no business relationship with any company whose stock is mentioned in this article.