The S&P 500 ended the year up over 26%. Technology led the way posting a 60% return for the year with Google (NASDAQ:GOOG), Microsoft (NASDAQ:MSFT) and Apple (NASDAQ:AAPL) all adding ~$100 billion in market cap in 2009 or ~$274 million a day.
Apple was up ~150%, Google up over 100%, and Microsoft up over 60% for the year. We analyzed the key business metrics below to evaluate the attractiveness of the companies as we move into 2010.



Market Capitalization
Microsoft's Market Cap is the largest at $276 billion up from ~$173 billion at the end of 2008. Google's Market Cap is approaching $200 billion up from ~$97 billion at the end of 2008. Apple's Market Cap is now $190 billion up from ~$76 billion at the end of 2008.
Growth and Profitability
Apple continues to have the strongest top line revenue growth at 25% YoY. Google's revenue is up 7% YoY and Microsoft dropped 14%. See revenue growth chart below.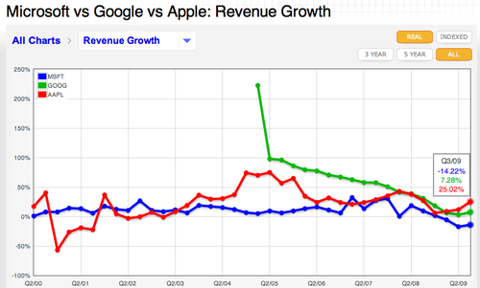 Click to enlarge
Apple's revenue is driven by innovative products including the iPhone, Mac and expectations are high for the iSlate tablet. Google's revenue growth has declined steadily as the search business matures and it has been unable to find a new revenue source beyond text ads. Microsoft's issues have been well documented but they do have the Windows 7 release that should improve revenues.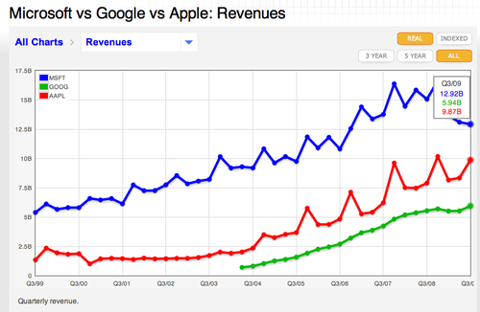 Click to enlarge
Microsoft generates the highest gross margins at 78%, Google is consistently 63% and Apple is 37%. See 10 year trends below.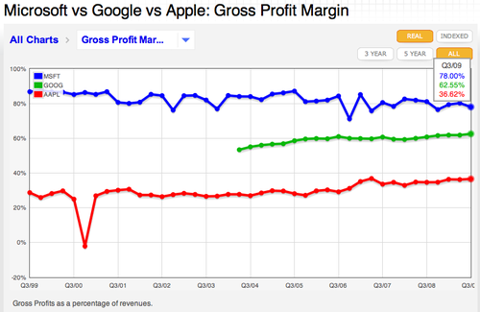 Click to enlarge
Research & Development
Microsoft and Google both spend about 20% of their profits on research and development with Apple at just under 10%.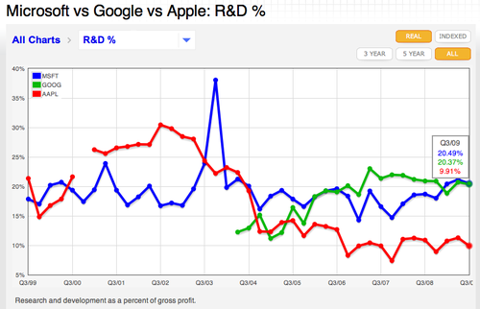 Click to enlarge
Microsoft and Google have both consistently delivered profit margins in the 25 to 30% range. Apple's margins are lower at ~17% but have risen for the last 5 years with higher margin product launches like the iPhone.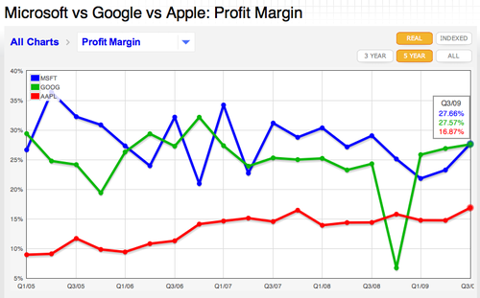 Click to enlarge
Microsoft more than doubles both Google and Apple in terms of net income but you can see that the difference is getting smaller as Google and Apple continue to grow at a faster pace. Check the indexed chart to compare the growth rates.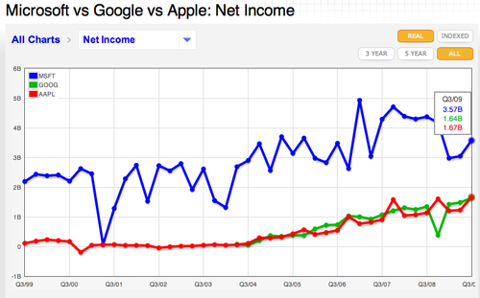 Click to enlarge
EPS
The chart below shows the indexed EPS values beginning Q105. You can see that Apple has grown EPS the fastest at 435% with Google at 298% and MSFT at 74%. EPS has the highest correlation to price and explains why Apple has outperformed both Microsoft and Google during this timeframe.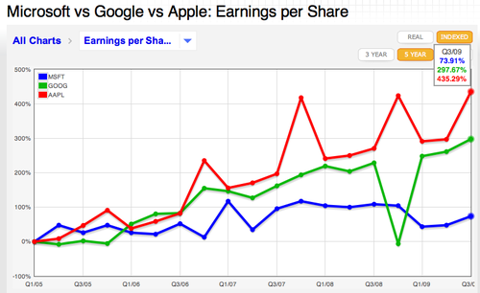 Click to enlarge
All three companies have enormous cash positions. Google has been the most opportunistic on the acquisition front but you would expect Microsoft and Apple to do more deals given their large cash piles and higher stock prices.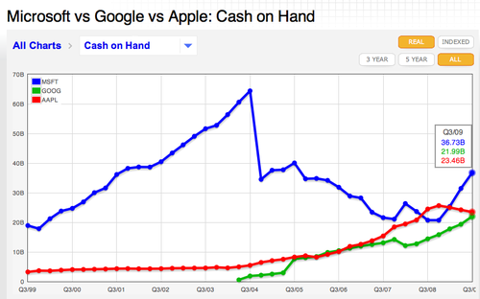 Click to enlarge
We see that all 3 companies have strong and consistent margins with Microsoft and Google having stronger margins but weaker on the top line than Apple. Let's move to valuation.
Valuation
Google's TTM PE Ratio is over 40 with top line revenue weakening. This includes Q408 which looks like an aberration. Analyst estimates are for Google to earn $26.42 next year which gives you a 23.47 forward P/E and YoY revenue growth of 17%. Google is trying everything to grow top line revenue including acquisitions, Chrome browser, Chrome OS, mobile hardware and software. Time will tell if they can enter these new markets successfully and diversify its revenue stream. Google will continue to deliver strong profits but the growth story is concerning and the multiple looks a little rich right now.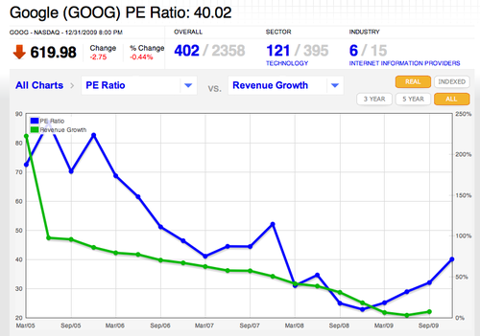 Click to enlarge
Apple's P/E is over 33 but top line revenue growth is strong. Analysts expect Apple to earn 7.81 this year ending Sept which gives you a forward PE of 27. Revenues are expected to increase 23% YoY. Apple is approaching our fairly valued price of $220 to $230 in the near term so we would not be adding to positions here.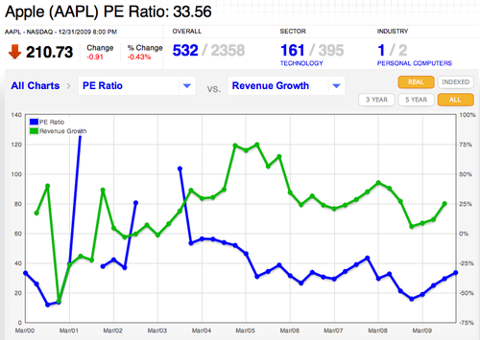 Click to enlarge
Microsoft has the lowest P/E Ratio at just under 20 with weak top line growth but it appears to be stabilizing and Windows 7 should improve things. Analyst consensus is for 2.7% revenue growth in the year ending June 2010 and 8% in 2011. The forward PE for the year ending June 2011 is ~15 based on 2.09 EPS estimates. We see fair value in the $30 to $35 range.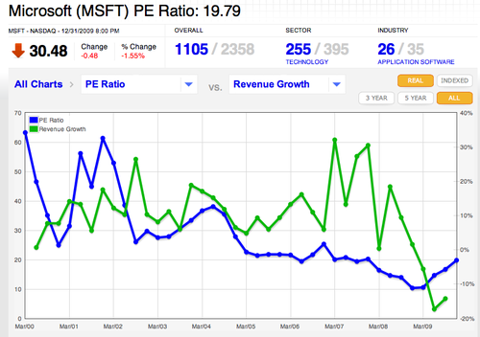 Click to enlarge
Conclusion
Microsoft, Google and Apple have all had $100 billion plus increases in market cap during 2009 but continue to get into each others' markets which should be good for consumers but may hurt margins over time. They are all trading near our fair value estimates so the upside may be limited in 2010 given the huge runs experienced last year. We would hold positions but not be adding at these levels.
You can access all fundamental, growth and valuation rankings here.
Disclosure: Long GOOG, AAPL