Producers of natural gas, such as Chesapeake Energy (NYSE:CHK) and Devon Energy (NYSE:DVN), are willing to sign long-term contracts. This could anticipate a prolonged period of reduced prices.
Despite rises in natural gas prices this year, investors in UNG have seen returns eroded by contango in futures markets.
Due mainly to seasonal factors, but maybe influenced by the long term factors factors that could weigh on prices,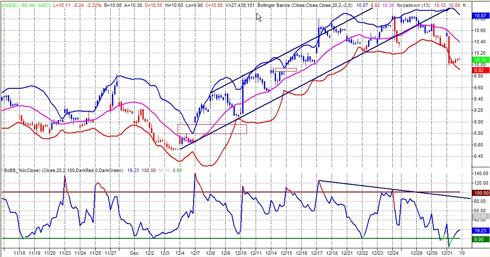 the contango in natural gas futures markets has flipped. This could be good news for UNG because if prices remain stable or increase the fund will be able to roll its holdings at a profit.
Long Term Deals: Bad Omen For UNG?
Some recent news:
UNG lately was boosted by drawdowns in gas inventories and Exxon's bet on the natural gas sector. In fact, the news came out that Exxon Mobil (NYSE:XOM) is taking out XTO Energy (NYSE:XTO) for $31 billion, becoming the fossil fuel of choice for power generation in the United States.
The Energy Information Administration reported another drop in U.S. natural gas supplies. After nearly nine months of build-ups, natural gas in storage in the U.S. fell for the second week in a row, this time by 207 billion cubic feet, the EIA said. The drop was much bigger than expected.
The United States Natural Gas Fund printed a breakout of the trendline that contained prices since the beginning of December. Cold weather continues to stay with us, but apart from this no important news on natural gas. UNG force index indicator is negative. The %b indicator is near the oversold level.
In my charts, I used two indicators. The force Index indicator. I used the force index indicator, which is an indicator measuring the force of bulls during uptrends and the force of bears in downtrends. It takes into account price and volume. I applied a 13-day exponential moving average (EMA) of the force index to help track the trend. When the trend is positive, the color is blue; when the trend is negative, the color is red. You can see that the weekly trend has been up since last March. I applied also the %b indicator, which is derived from the Bollinger bands. It measures where the last price is in relation to the bands and it tells us where we are within the bands. %b in this time frame is near the overbought level.
Here is my old post about natural gas.
Disclosure: no positions