Stratasys (SSYS), one of the leading players in 3D printing, has been an investor favorite in the 3D industry after the recent Gartner report regarding 3D printing sales. As per this report, worldwide shipments of 3D printers that are priced less than $100,000 will double by 2015 from the expected 56,507 units in 2013. This report supports our previous article's conclusion regarding the industry being at the nascent stage with lots of growth potential for Stratasys. Since the acquisition of Makerbot, Stratasys is positioned perfectly to benefit from the growing low priced 3D printer segment, where it had low presence earlier.
Makerbot Acquisition Brings Bright Future Prospects
Makerbot's products are focused on both the professional and consumer segment. Due to its wide target audience, Makerbot is poised to capitalize on 3D printing market growth. Stratasys had low presence in the growing consumer segment earlier, but with the acquisition of Makerbot, the company has made a strong move towards this segment. The consumer segment is going through a "do it yourself" trend, where consumers utilize low priced 3D printers for making objects from available materials. Therefore, Stratasys' Makerbot acquisition will provide it an opportunity to capitalize on this current market trend.
Stratasys will report its third quarter result on November 7 this year, and we believe its Makerbot and Objet acquisitions are going help it post strong top line growth. The company started shipping its revolutionary 3D scanner called Digitizer in October. This $1,400 scanner is a user friendly product that can scan small objects for making a digital design, thus enabling 3D printing of the object via a printer. To boost sales of its Makerbot products, including 3D printers and the Digitizer, the company is building its distribution channel via opening retail stores and signing distribution agreements.
Makerbot's distribution was limited to online booking from its website, purchased from its own store in New York, or a limited number of resellers operating in the U.S. Makerbot, being an independent entity after acquisition, has signed a new agreement with the world's largest wholesale technology distributor, Ingram Micro (IM), for distributing Makerbot 3D printers and the Digitizer in the U.S.
This is an important step for extending its footprint in U.S. as Ingram Micro will extend the number of resellers for Makerbot, thus increasing product sales. Ingram Micro markets and distributes products of some of the leading IT companies like Acer, Apple, Cisco, Hewlett-Packard (HPQ), IBM, Lenovo, Microsoft and Samsung.
Before this agreement, Makerbot collaborated with Microsoft for selling in products through its retail stores. In addition to this, the company is also selling its products through e-commerce giant Amazon.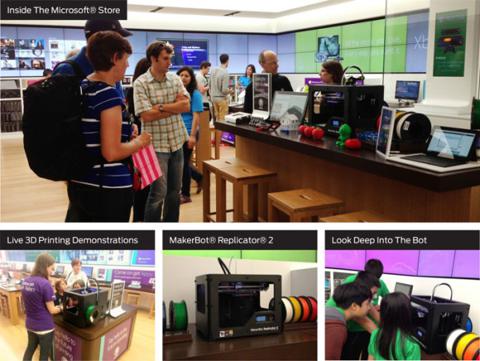 Source: 3ders.org
Gartner reported that the combined end user spending on 3D printers is expected to increase 43% year over year to $412 million in 2013, and this figure will increase 62% year over year to reach $669 million in 2014. Therefore, increasing the distribution reach of Makerbot products will help it capitalize on the increased spending by professionals and consumers. Makerbot's low priced, user friendly 3D printers have been popular among the professional and personal consumer segments, and by extending the distribution reach, the company will capitalize on the current demand growth due to the Maker movement. Maker movement is the trend where individuals employ do it yourself techniques and processes to develop unique objects.
Makerbot's low cost printers compete with 3D Systems' (DDD) Cube series of printers. 3D Systems is the leading provider of 3D content to print solutions. The company has a wide product offering compared to Stratasys, which positions 3D Systems among the fastest growing companies in the world. 3D Systems has been expanding its product line by its value based acquisition strategy. These acquisitions have been filling the gaps in 3D Systems' product offerings, thereby increasing value for its customers. The most recent acquisitions being companies like Sugar Labs and CRDM. Sugar Labs will give access to its new technology to manufacture customized sugar based 3D objects, and CRDM will expand 3D Systems' footprint in the U.K. CRDM is the U.K.'s leading 3D printer and rapid prototyping provider, and due to its strong client base, the company has a chance to capitalize on 3D printing market growth in the U.K.
HP a Threat to Stratasys and 3D Systems?
The 3D printing market operates in a duopoly state, with Stratasys and 3D Systems commanding most of the market. This low competitive situation is expected to change soon with IT giant Hewlett-Packard, which is expected to launch its first 3D printer in 2014. The 3D printing market's attractiveness has been one of the reasons that HP decided to develop its own 3D printer in house and launch it in 2014. The $120 billion revenue generating giant has been facing headwinds from the fall in its top line due to weak PC sales worldwide. The company is in its turnaround phase to transform its product offering toward growth areas so it can become an industry leader in key areas in 2016. In its recent Securities Analyst Meeting, HP reported that its restructuring initiatives are on track with its job cut program reducing up to 29,000 positions to finish by 2014, thereby reducing the company's fixed cost.
HP's CEO, Meg Whitman, confirmed that HP is developing its own 3D printer in its research lab with plans to launch it next year. Although the company didn't disclose the type of 3D printer it is developing or the type of technology it will use, if it delivers a low cost competitive 3D printer, then HP will make the 3D printing market more competitive. HP's presence in printing isn't new; the company has been dominating the 2D printing segment via its deskjet and laser printers, and it has the opportunity to capitalize on the 3D printing market opportunity. HP has the strong financial strength required to excel in the 3D printing market, therefore companies like Stratasys and 3D Systems will soon see the rise of an IT giant in 3D printing. It is too early to predict if HP will become a market leader in 3D printing in a short span of time, but one thing is sure, the industry will become more competitive after entry of HP.
Conclusion:
Stratasys has reported that Makerbot's revenue for the first half of this fiscal year grew 360% year over year, while it reported operating income of $3.04 million as compared to an operating loss of $2.14 million in the first half of 2012. This strong top line growth is expected to continue as Makerbot expands its product offering via its Digitizer and increases its distribution to reach the masses.
Stratasys currently has a negative dilutive trailing 12 months EPS of $0.55, and it has forward P/E of 43.68. This denotes that the company will increase its earnings from the strong top line growth coming from the 3D printing market growth.
Investors have been positive towards this 3D printing market growth; the recent Voxeljet (VJET) IPO is a good example. Germany based Voxeljet is the newest entrant among public listed 3D printing companies, and it is taking advantage of the positive investor sentiment toward 3D printing market growth.
Therefore, Stratasys, with Makerbot, is riding on 3D printing market growth. This is expected to be reflected in the upcoming quarterly results.
Disclosure: I have no positions in any stocks mentioned, and no plans to initiate any positions within the next 72 hours.
Business relationship disclosure: Fusion Research is a team of equity analysts. This article was written by Rohit Gupta, one of our research analysts. We did not receive compensation for this article (other than from Seeking Alpha), and we have no business relationship with any company whose stock is mentioned in this article.